Standing up for science means standing for election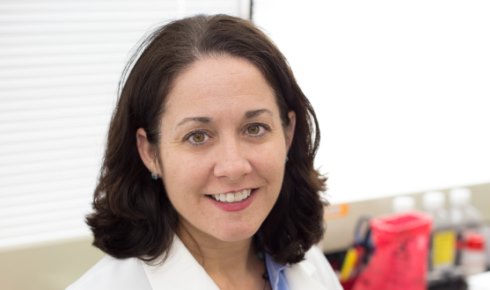 In the US, scientists are running for office in record numbers. Julia Biggins explains why she has her sights set on Congress in Virginia's 10th district
The Biologist 65(2) p7
I have been interested in pursuing a career in science for as long as I can remember. What began as a general interest in the life sciences grew into an academic curiosity about infectious organisms as I progressed through college. I graduated with a bachelor's degree in microbiology, but with a strong interest in viruses. After initially studying the transmission of the HIV virus, I went on to lead a team at the United States Army Medical Research Institute of Infectious Diseases in the development of vaccines and therapies against Ebola. My current position is with a small biotech company, where I am broadening my infectious disease experience to a larger set of emerging diseases – Zika, dengue, influenza and MRSA.
As my career grew, so did my family. I had my fourth child in 2015 and my husband and I could not have felt more blessed in our family life and careers. Everything we worked for reinforced our values of inclusivity, compassion and respect. On a national level, we saw these same values reflected in President Obama's administration.
However, during the 2016 presidential campaign, I had the growing feeling that the world was being turned upside down: we saw our would-be leaders perpetuating falsehoods, suggesting blatantly discriminatory policies, and acting with a disregard for the normal course of politics.
When some of the first actions by President Trump were to silence the public sharing of science at the Environmental Protection Agency (EPA) and Department of Agriculture, I knew that, as a scientist, I had to step out of the laboratory and stand up for the scientific community and for science itself. After joining women on the streets of Washington DC for the Women's March, I first considered heeding President Obama's farewell speech advice: "If something needs fixing, lace up your shoes and do some organising. If you're disappointed by your elected officials, grab a clipboard, get some signatures and run for office yourself. Show up. Dive in. Persevere."
My decision solidified after Trump's installation of Scott Pruitt as head of the EPA. Pruitt is an Oklahoma attorney general known for receiving donations from the fossil fuel industry and filing lawsuits against the EPA. This, and the nomination of countless other individuals who were not only unqualified but actively working against the scientific missions of the federal agencies they would be heading, such as the Centers for Disease Control and Prevention, the National Oceanic and Atmospheric Administration and the Department of Energy. So, with the support of my family, I grabbed my clipboard and filed my paperwork to run for Congress in Virginia's 10th district.
Science underpins our entire modern society and those who work to answer its questions must also be the ones to protect it. It is our responsibility as scientists and citizens to stand up for what is right and what will move the country forward.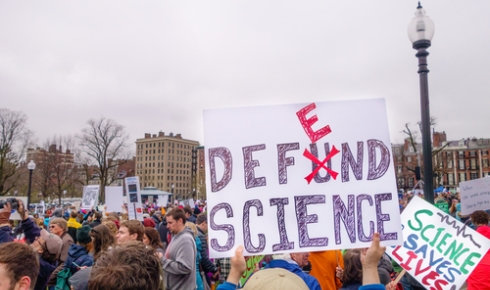 Crowds at the 'March for Science' in Boston, one of many similar rallies organised across the US last year.
Scientists bring a unique and much-needed perspective to politics: we follow the facts simply and clearly, and we share the results of our work publicly and honestly. Good scientists do not have hidden agendas or loyalties to special interest groups. Our understanding of complex systems and the ability to implement them will also serve us well in the political arena. Scientists are already good public servants: we seek answers to scientific questions for the greater good or to mitigate against problems that threaten all populations.
Scientists themselves do not perform research in a partisan manner. Rather, the political process has caused many scientific issues such as climate change and healthcare to become partisan. The American people deserve representatives who can cut through the politics and form clear, fact-based legislation. But we cannot wait until 2020 to vote Trump out of office. We need to act now – we need to send more scientists to Congress. My challenge to my fellow scientists is to grab your own clipboard and make real change wherever you can. We are all in this together.
Julia Biggins is an infectious disease scientist and Democratic candidate for the 10th Congressional District of Virginia
More information on STEM professionals running for public office can be found at www.314action.org