The Evolution Of Science Education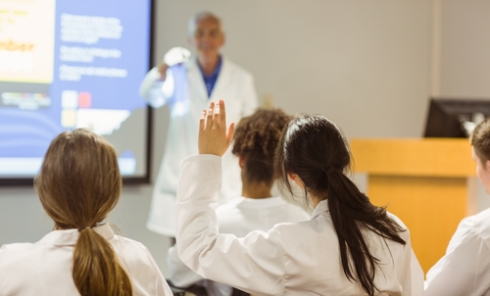 After decades of education reform, T levels represent a genuinely exciting opportunity to close the skills gap in UK science and healthcare, writes Rachel Lambert-Forsyth
The Biologist 66(1) p7
In December last year, employment minister Damien Hinds spoke under the striking towers of Battersea Power Station on reforms to technical education and the development of Technical levels (T levels) in the health and science sector. As a member of the Healthcare Science T level panel I followed his speech closely, interested to hear his opinion on how these new technical qualifications, for students wishing to undertake an alternative route to A levels in the health and science sector, had met his and the Government's expectations.
I joined the Healthcare Science Panel in October 2017 and have met my fellow panellists monthly for the last year, discussing and developing core and specialist content for the occupations under our remit.
It has been a challenging yet rewarding process, and we have worked tirelessly to ensure that these new qualifications will be based on rounded and appropriate knowledge, understanding, skills and behaviours that meet the needs of the occupations now and into the future.
The content is currently out for public consultation and we wait with bated breath to hear what the science community's views are on our work. We hope that it will be met positively, but expect some constructive criticism and discussion in the months to come.
The skills gap in the UK, and the gap in productivity between the UK and other countries such as Germany, France and the US, is a real concern. We need workers who are more skilled, and in turn more skilled jobs for these workers. In 2017 employers reported that they struggled to find workers with the right skills, experience and qualifications for 42% of their skilled trade vacancies, and this gap is not closing.
I have spent the last decade responding to one education reform after another, so it was pleasing to hear that the minister views the development of technical education as a long-term solution that will not happen overnight. He talked of evolution rather than revolution, which is important when implementing education reforms. Schools and colleges require time to prepare to ensure the right resources are in place (staff and infrastructure); parents and students require time to understand the difference in qualification outcomes and potential employment opportunities; and employers require time to undertake workforce planning and to develop placement opportunities for students.
One of the driving forces behind these reforms was a desire to improve the clarity of pathways open to young people choosing technical qualifications, and the educational and employment outcomes available once complete. T levels will drastically change this landscape. The Government is reviewing and rationalising the 10,000 plus technical qualifications currently available at Level 3 alongside the introduction of new qualifications.
T levels across 15 pathways, of which health and science is one, will be introduced, with a clear line of sight from each one to a set of skilled occupations.
There is still much that requires further development, training and preparation in order for these qualifications to have the impact that the government and the panels hope they will have. However, as a panel member, I am hopeful for the future and will work to ensure that the RSB supports the sector to secure their successful delivery.
More information about T levels can be found here.
Rachel Lambert-Forsyth CBiol FRSB is Director of Membership and Professional Affairs at RSB