Member profiles: Deep-sea worms, malaria and policy
Our latest member profiles explore the working lives of marine ecologist Laetitia Gunton MRSB, cell biologist professor Jake Baum FRSB, and science policy expert Nicola Marchant FRSB
These profiles appeared in the June / July 2020 issue of The Biologist (Vol 67 No 3)
A Day in the Life
Marine ecologist Dr Laetitia Gunton MRSB on life in the remote waters of the Southern Ocean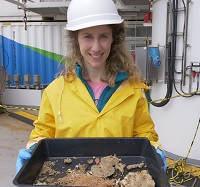 Marine ecologist Dr Laetitia Gunton studies deep-sea annelid worms. She is currently based at the Australian Museum, Sydney, on the Chadwick Biodiversity Fellowship.
My day starts… at 2am, with a phone call. It's pitch black, there's a low humming noise and my room is rocking. A few seconds later I remember, I'm on the Australian research vessel Investigator steaming south of Tasmania in the Southern Ocean. The call is from the leader of the biological processing team, who tells me a deep-sea beam trawl will be on deck in 30 minutes. I climb (fall) down from the top bunk, just as my cabin mate comes back from the end of her shift. I try not to step in the sick bucket as I fumble around. I put on my overalls, boots, hard hat and lifejacket, and drop by the galley and grab some leftovers from last night's dinner. Then it is on to the back deck to watch the trawl being winched on board. There is a sense of anticipation as it is dragged up from the seabed 1,000m below. What will be in the catch?
My work involves… understanding the species diversity, distribution and connectivity of Australian deep-sea fauna, which is extremely poorly sampled. Information on the fauna is vital to the designation and management of marine parks, and as a baseline study to quantify the effects of climate change, ocean acidification, pollution and mining in these remote habitats.
On a typical day… while on a research vessel most of my time is taken up processing the samples that are brought up in the deep-sea trawls. In the wet lab, we start rough-sorting the trawl into higher taxa and species where possible. A diverse array of fish, crabs, lobsters, sea urchins and, importantly, annelid worms are caught in the net. These are quickly transferred into containers of cooled sea water surrounded by ice. The specimens are sorted, photographed and fixed in ethanol or formalin as soon as possible to preserve them in the best possible condition.
The processing of a catch takes on average four hours, depending on how large the catch is. The rest of the day is spent identifying annelids with my colleague from Museums Victoria (Melbourne) in the dry laboratory. We are often joined there by two colleagues from the Tasmanian Museum who are identifying molluscs, and another two colleagues from Australian Marine Parks who are analysing underwater towed-camera footage. This is followed by 'lunch' and bed at 2pm, when my shift ends.
Sometimes I also… help a colleague at the Australian Museum with her research and fieldwork on upside down jellyfish (Cassiopea sp.) in shallow waters. Fieldwork involves kayaking along transects on a large coastal lake north of Sydney trying to spot jellyfish resting on the bottom of the lake.
Right now I am… at the Australian Museum, Sydney, writing papers on deep-sea annelids collected from the Australian abyss, describing new species, and using morphological and molecular techniques to understand species connectivity. I am collaborating with colleagues at the Natural History Museum in London to describe the fauna living on a whale skeleton found in the eastern Australian abyss, and we have discovered a new species of Osedax (bone-eating worms), which is very exciting.
The Career Ladder
Professor Jake Baum FRSB on the difficult decision to choose biology over medicine
Jake Baum FRSB is a professor of cell biology and infectious diseases at the Department of Life Sciences, Imperial College London. His laboratory works on the cell biology of the malaria parasite and translating that research into potential therapeutics.
I first discovered Biology at home. I am one of four brothers, and my mother is an abstract painter and my late father was a paediatrician, so it's perhaps not surprising that two of us are now artists and two are scientists – a classical genetic cross. My biology teacher, Mrs Jeffries, showed us the movie The Race for the Double Helix, with Jeff Goldblum as the young James Watson, and I was hooked.
I studied Biology at Oxford University. It was very nearly medicine, but a niggling feeling kept me in biology. At the end of my degree I missed out on a promised scholarship to go to Cambridge and had to take a year out instead. During that time, working in a laboratory in Jerusalem extracting ancient DNA from fossilised samples, I found a new passion for evolutionary genetics. So I returned to Oxford to do a master's in human biology before moving my PhD to the London School of Hygiene and Tropical Medicine.
The best thing about my job is getting to see science from a distance, the real privilege of being a laboratory head. I love the nitty-gritty of a western blot or PCR result, but what I really love is seeing data and results take shape. We're often wrong, but that moment when you see all the data from different people in the laboratory, and you've understood something for the first time, that is golden. And even more so when it is with a student or someone at the start of their journey in science.
This is an interesting area to work in because the malaria parasite is a marvellous, unusual cell. To pursue research that might help control malarial disease keeps my laboratory energised to keep prodding the cell, to keep asking questions.
A key piece of advice would be science will be 90% failure, unless you're very lucky. With so much disappointment along the way what you work on has got to be something you are passionate about, not what you just happened to fall into. So find a question that has enough interest to keep you motivated come rain or shine.
Any regrets? I can't deny I'd love to have done medicine. I'd love to be where I am in research, but be able to then work with patients and plan experimental work that translates our findings from bench to bedside. And perhaps staying with my university band, Oi Va Voi, which went on to global fame after I left! Ah, what could have been!
In the future I hope to keep working for the global malaria eradication programme. I hope our science can contribute to a world without malaria. More generally I also love bridging scientific gaps, bringing people from very different disciplines together to ask questions. Irrespective of how my own research goes, I'd love to keep doing this interdisciplinary matchmaking at a leadership level.
My Society and Me
Nicola Marchant FRSB on connecting scientists through the Scotland branch of the RSB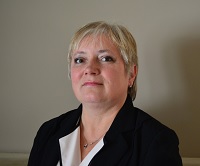 On retiring in 2014 I relocated with my family to Scotland – a long-held plan to return to where I had grown up. As a biologist of many years, and having worked in science policy in the pharmaceutical industry, I was keen to keep in touch with science and take the opportunity to meet new people. My role prior to my retirement had included working closely with the Society and hence I reached out to the Scotland branch to see how I could help. As Scotland has many devolved areas of science and education it soon became clear that my experience in science policy could benefit the branch and HQ in London. We now have a small group of biologists who work together to provide input to RSB responses to consultations and calls for evidence.
Through being involved in the Scotland branch I have met a wonderful set of like-minded people. We meet regularly and stay connected throughout the year. Currently one of our areas of focus is to reach out to members who are scattered across a very large area to see if they are interested in providing input into our policy and education network.