Celebrating success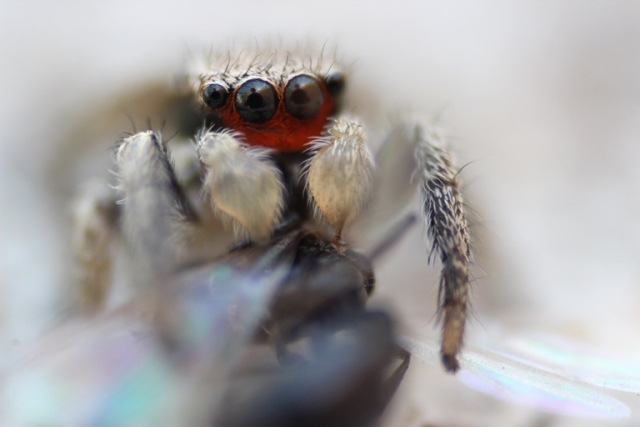 More than 120 people attended the annual Biology Week awards to celebrate the winners and highly commended entrants from the Society's various competitions.
Book Awards
In its first year, the Society's Book Awards attracted over 70 entries across three categories. Spillover: Animal Infections and the Next Human Pandemic, by the American author David Quammen, was named best general bioscience book and publishing director of The Bodley Head, Stuart Williams, collected the award on his behalf.
Photography Competition
The Society's photography competition continues to grow, with over 600 entries received this year. Putu Sudiarta, from Indonesia, won the main prize for his picture of a honey bee. The winner of the Young Photographer of the Year, 13 year old Jack Settle, travelled all the way from Oklahoma to receive his £500 prize for his amazing picture of a jumping spider eating an insect (above). See the full gallery of images.
Communication Awards
In the Science Communication Awards, Rebecca Williams from the Wellcome Trust Centre for Cell Matrix Research, won the New Researcher category. Alongside her PhD, she runs biology workshops for local schools and encourages students from under-representative backgrounds to consider a university education.
In the Established Researcher category, Dr Sheena Cruickshank from the University of Manchester was named overall winner for her initiative 'Worm Wagon' scheme, which fuses art and interactive activities to improve understanding and awareness of global health issues. She also works with 'Inspired Sisters,' a community group of immigrant women, to raise awareness of the causes and impacts of worm infection. Both winners will be writing about their science communication projects in the next issue of The Biologist.
Essay Competition
The 2013 essay competition was based around the theme of the use of animals in research. Judge Tim Jameson, from drug research group Covance, announced the four winners: Carmel Edwards, Emily Robertson, Jan Botthof and James Iremonger.
Degree Programmes
The top graduates from the Society's accredited degree programmes were also announced; Sam Menzies, University of Bristol; Alice Pollard, Royal Veterinary College; and Robin Willows, University of York were rewarded for outstanding performance during their courses.