Celebrate the Biosciences with Biology Week 2023
Innovation in biology will help us to support all life on Earth now and in the coming decades. Biology Week aims to celebrate and raise the profile of these achievements and the important work that bioscientists are doing, and to highlight this to all public audiences.
Biology is an incredibly wide field - the broad range of disciplines that our member organisations cover demonstrates this. Research in these fields will be instrumental in overcoming some of our most pressing global issues, including climate change, developing sustainable food and fuel, and diagnosing and treating diseases.
We would love to see every biologist celebrating their work with events and activities that appeal to all audiences. Help us to achieve our vision of a world that understands the true value of biology and how it can contribute to improving life for all.
Inspiration for Online Events
This year Biology Week will take place from Monday 16th to Friday 20th October. Explore our events calendar to see what's happening online or near you. If you want to plan an event during or around this week, we've provided a guide to online events below for inspiration.
We will monitor the hashtag #BiologyWeek for posts to retweet/share, so use this for any posts covering biology related topics or events over the week.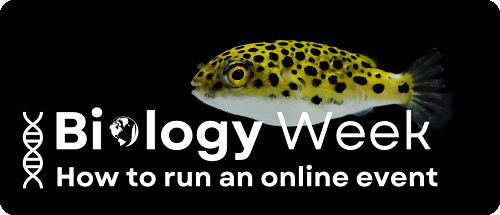 Already Running a Biology Week Event?
If you have an event during Biology Week that you would like us to help promote and deliver, fill in our Biology Week events form and we will add it to our Biology Week calendar.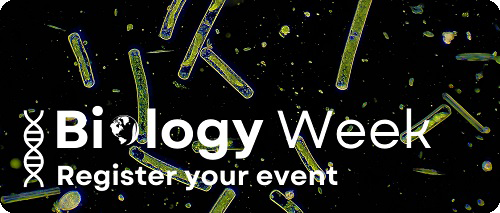 Download the Biology Week Logos
Visit our Biology Week logos and branding page to download your own Biology Week logos.
Find out what your local branch is doing for Biology Week!
We have volunteer-led branches across the whole of the UK (and also some more further afield!) who will be running events during Biology Week, so find out what is happening near you.
Any other questions?
Contact us to find out more about how you can get involved and help celebrate Biology Week.