Young scientists and engineers will descend upon the Houses of Parliament to question to the Government's Chief Scientific Adviser, Minister of State for Universities, Science, Research and Innovation, the House of Commons Science and Technology Select Committee and the Shadow Minister for Business, Energy and Industrial Strategy and Science.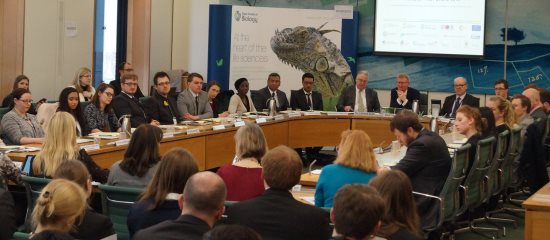 On 15th March 2017, young scientists & engineers will have the opportunity to ask MPs questions about the burning issues of science policy that matter to them at
Voice of the Future
.
This event is held in the Boothroyd Room, a room which has heard prime ministers as well as eminent scientists and experts give evidence. This time the tables are turned - the committee seats will be occupied by young people and the MPs will sit in the witness seats ready to answer your questions.
Participants are sure to find it an interesting and educational experience and will hopefully emerge with a better understanding of how Parliament and Government function.
The Royal Society of Biology would like to nominate 6 representatives to attend this event. To apply you should submit up to three questions for the MPs. Successful applicants may then get the opportunity to ask a question on behalf of the Royal Society of Biology on the day.

Please note:
If you are selected to represent your organisation, you may not get to ask the exact question you submitted due to time restrictions and potential repetitions.
Eligibility

This event is for 'Young Scientists and Engineers'. To be eligible you must be between 18-35 years old.
How do I ask a question?

The deadline for submitting questions was Friday 17th February. Everyone who submitted a question will be contacted by 1st March.
Twitter
You can follow and contribute to the Twitter feed by using the hashtag #VOF2017.
Contact

If you have any questions about this event contact Karen Patel at
events@rsb.org.uk