News
A different route into science
For the students gathered in the Royal Society of Chemistry's historical library at Burlington House, yesterday was a chance to celebrate a dual achievement: completing their Access to Science Higher Education Diploma, and being awarded the status of Registered Science Technician (RSciTech), both achievements the result of hard work in both the classroom and the research lab.
The Access to Science Diploma is a qualification that prepares students who may not have the necessary A levels for study at degree level. In collaboration with the Royal Society of Chemistry, the Royal Society of Biology, and a number of industry partners, the Gatsby Charitable Foundation is supporting exceptional diploma students to gain RSciTech status by carrying out a research project in an industry or academic setting as part of their diploma course.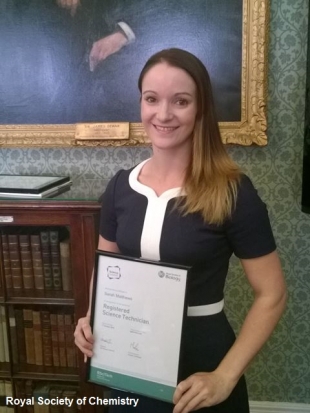 Returning to education
Sarah Matthews was always determined to become a personal trainer, and her A level in sport equipped her well for a fulfilling career assisting her clients with a range of personal goals, from losing weight to climbing Mount Everest. Over the years however she became more and more interested in the nutrition side of things, and started to feel held back by not having a science degree.
With no science A level, she started looking into her options and came across the Access to Science course at Cambridge Regional College. "I just went for it", she says. "It had been eight years since I had been at school, and apart from the odd personal training course I hadn't done any science, especially maths, so it was a shock to the system."
As part of her course she worked at Johnson Matthey, carrying out research into potential treatments for Chagas disease, a tropical parasitic disease that damages the heart and nervous system. She is now a Registered Science Technician, and studying molecular biology and genetics at UEA, Norwich. "Science doesn't come naturally to me so I had to really work for it, and it feels really good to have achieved this now," she says.
Real-world implications
Another student at Cambridge Regional College was Chisomo Zimphango, who spent several months during the course of his diploma working at the University of Cambridge Department of Clinical Neurosciences.
Chisomo's project led to the development of technology that could deliver treatments to specific sites in the brain, in patients with traumatic brain injuries, brain tumours, or diseases such as Parkinson's, and found it exciting to work on something with such serious real-world implications. "It's got the potential to have an impact not just now but in years to come", he says.
Like Sarah, Chisomo now has the status of RSciTech, and believes it will help him in his future career. "Having RSciTech shows that I am competent to work in a lab setting with minimal supervision, and it shows I've got what it takes to be a scientist. I know this is just the beginning and I've got a long way to go, but the grounding that it has given me so far is really amazing."
Vital for progress
According to a survey by the Confederation of British Industry last year, one-third of businesses have or expect difficulties in recruiting STEM graduates, but even more – nearly half – face a shortfall in technicians.
RSC President, Professor Sir John Holman, presenting the students with their RSciTech certificates, emphasised how important the dual scheme is in addressing the shortfall. "We need to give more people the opportunity to develop technical skills and get 'hands on' experience in industry", he said.
"Being accredited as a Registered Science Technician is a great asset – it's a nationally recognised quality stamp showing your expertise and experience."
A longer version of this news story is available on the Royal Society of Chemistry website.
Find out more about becoming a Registered Science Technician.