News
Accreditation Awards Ceremony held in Westminster to honour HE institutes and students
Over 1,000 degree programmes at 101 Higher Education (HE) institutes have been formally awarded degree accreditation by the Royal Society of Biology at the 2023 awards ceremony in Westminster.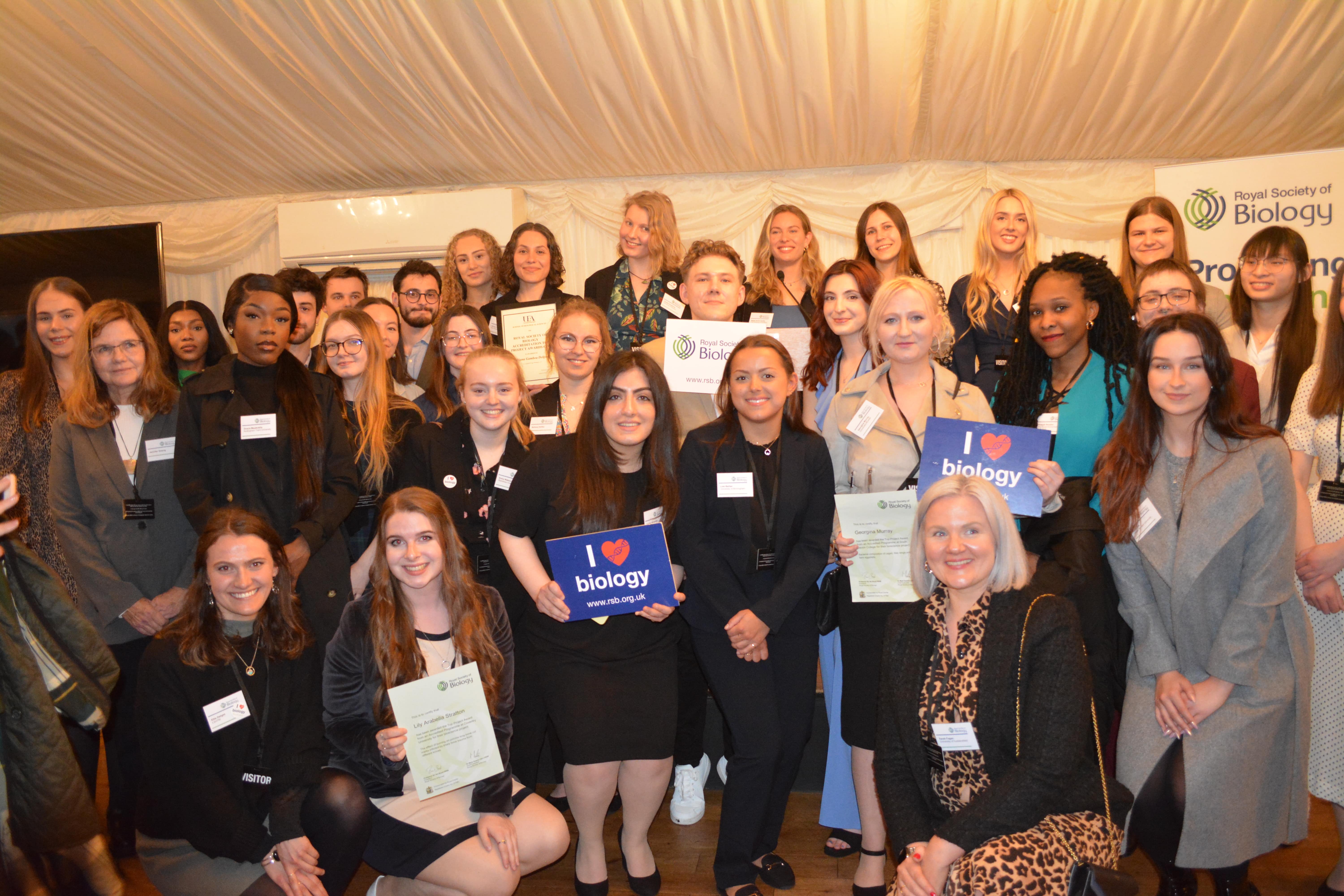 The day started with RSB's annual Accreditation Conference, which brings together university representatives and industry employers from around the country to discuss best practice in higher education.
Guests were welcomed by Professor David Coates MBE CBiol FRSB and the day was chaired by Professor Robert Slater CBiol FRSB. The first presentation was given by Dr Donald Ward from the University of Manchester, who spoke about the wide range of external placements the university provides.
Afterwards, Dr Lydia Mosi spoke about the training and research the West African Centre for Cell Biology of Infectious Pathogens provides, which was then followed by Dr David Gaze who discussed how the University of Westminster is embedding work-based learning into their programmes.
Further talks were given by Professor Ian Turner FRSB from University of Derby, Dr Julian Mitchell MRSB from the University of Portsmouth, and Ashleigh Steele from LearnSci, who spoke about generative artificial intelligence, inclusive curricula, and workplace skills, respectively.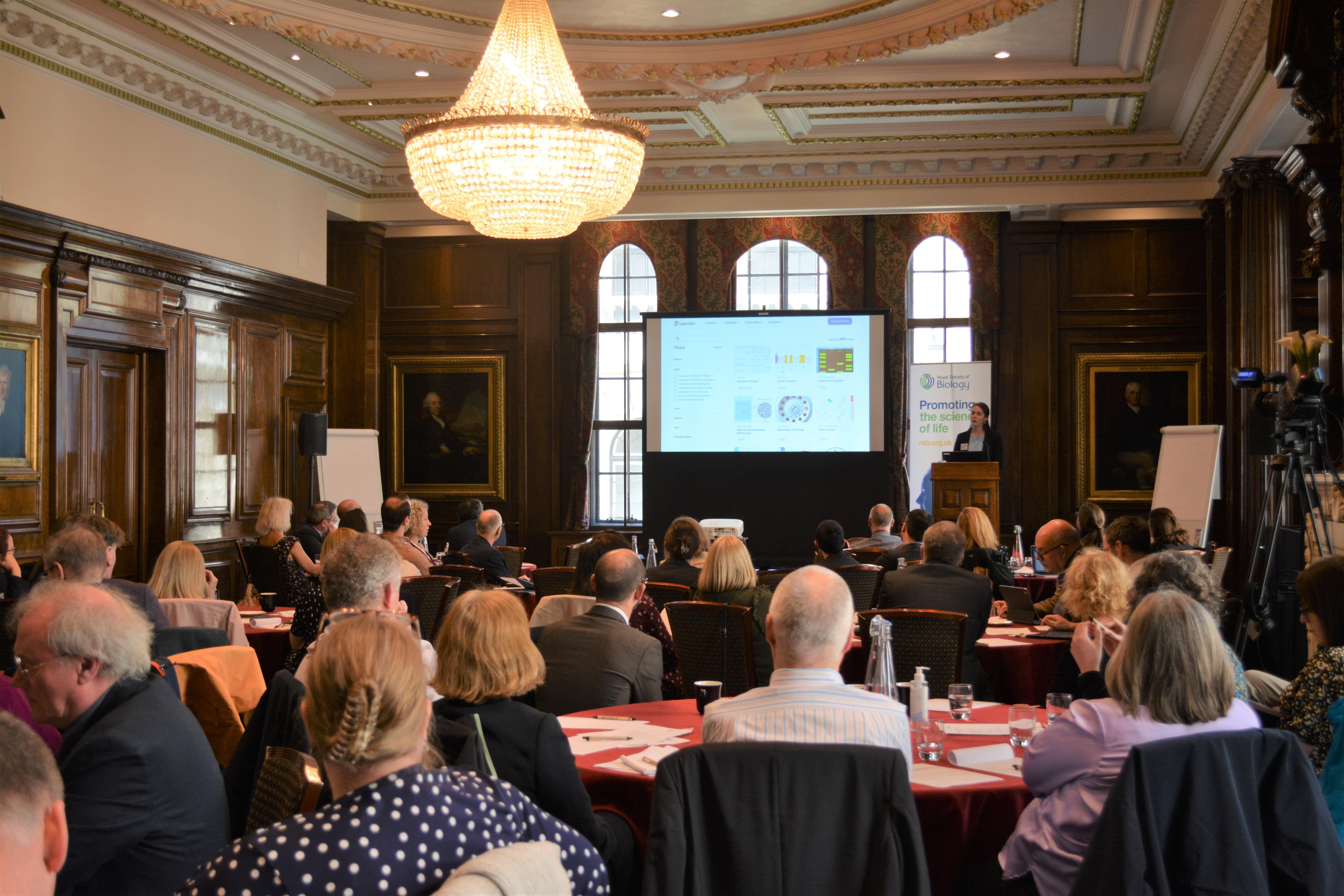 The conference then ended with a creativity and problem solving workshop from Professor Robert Slater CBiol FRSB, and talks given by Dr Sarah Conner from the University of Birmingham and Professor David Whitworth FRSB from Aberystwyth University about their institutions.
The evening festivities of the Degree Accreditation Awards Ceremony then kicked off with a few words from the sponsor of the evening, The Viscount Stansgate, who then introduced Professor Sir Ian Boyd, president of RSB to welcome guests.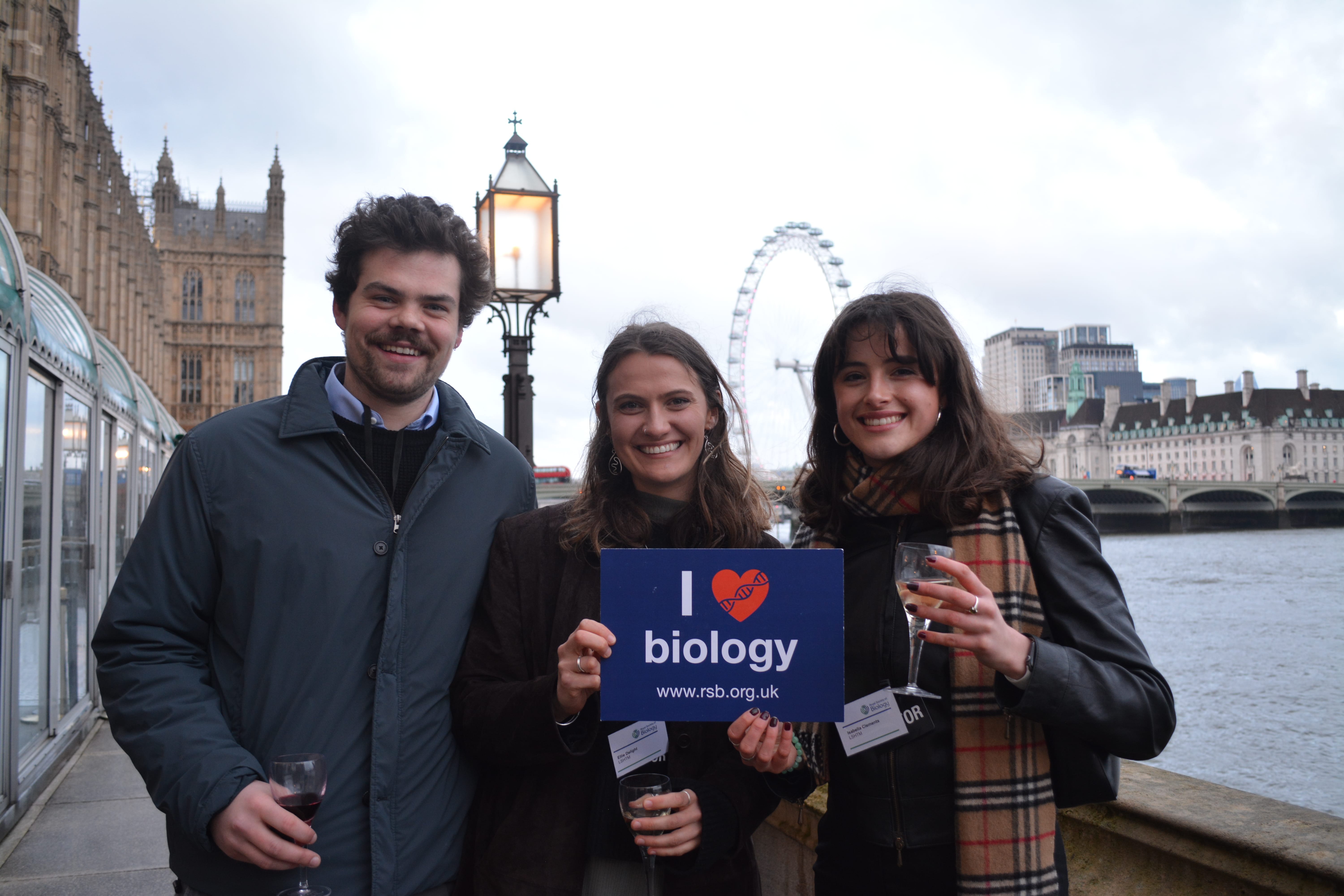 Professor David Coates MBE CBiol FRSB, chair of the Accreditation Committee presented this year's awards and gave certificates to Top Project recipients (see below) from accredited universities, and universities who have received Accreditation in the last year, including: Foundation Degree Accreditation, Degree Accreditation, Advanced Accreditation, Master's Degree Accreditation, Doctoral Training Accreditation, and International Degree Accreditation.
The accreditation programmes recognise academic excellence, drive up standards and meet the needs of employers. Please contact the accreditation team if you would like to find out more about becoming a supporter of accreditation.
Accreditation Awards Ceremony 2023: Top Project Award Winners
Top Project Award from a Foundation Accredited Degree Programme –
• Rachel McGreevy – Solihull College
• Georgina Murrary – South Devon College
Top Project Award from an Accredited Degree Programme –
• Arshia Afrasiabi – Leeds Beckett University
• Aaron Bailiff – Sheffield Hallam University
• Lois Barber – University of Birmingham
• Jenny Blackmore – University of Warwick
• Elizabeth Brearley – University of Huddersfield
• Chloe Brookes – York St John University
• Ella David – Loughborough University
• Alessia Di Cecca – Swansea University
• Anna Diekmann – Robert Gordon University
• Emilio Duberry – University of Wolverhampton
• Amy Fearnhead – Liverpool John Moores University
• Poppy Froggett – Manchester Metropolitan University
• Amandine Gaillard – Royal Veterinary College
• Adriana Gamboa Delgado – University of East Anglia
• Ella Gant – University of Hertfordshire
• Jennifer Granig – The Open University
• Maya Griffin – University of Glasgow
• Liberty Hazelgrove – Kingston University
• Luke Herring – University of Derby
• Kimberley Holmes – University of York
• Lauryn Jewkes – Queen's University Belfast
• Achira Karunaratna Mudiyanselage – Royal Holloway, University of London
• Lidia Kodymowska – Edinburgh Napier University
• Shanel Miah – Staffordshire University
• Dominika Mikova – University of South Wales
• Gracia Mwakobila – Nottingham Trent University
• Alice Newell – University of Portsmouth
• Gabriela Nikolova – Aberystwyth University
• Kelejah Nnodim – Cardiff Metropolitan University
• Zaid Patel – Keele University
• Demi Phillips – University of Suffolk
• Phoebe Potts – University of Salford
• Mia Radinović – University of Worcester
• Brooks Rady – University of Sheffield
• Alberto Romero Villoria – Anglia Ruskin University
• Julia Soh – University of Dundee
• Lily Stratton – Coventry University
• Elliot Turner – University of Plymouth
• Ella Zahra – University of Aberdeen
Top Project Award from an Advanced Accredited Degree Programme –
• Lucy Bailey – Loughborough University
• Gabrielle Clarke – University of Birmingham
• Eleanor Delight – University of Leeds
• Jacinta Guirguis – Queen's University Belfast
• Bethany Hartley – University of East Anglia
• Alecia Hogan – Sheffield Hallam University
• Ingelise Holland-Kaye – University of York
• Charlie Humphrey – University of Warwick
• Mika Katay-Fodor – University of Dundee
• Amy Mensah – Nottingham Trent University
• Michal Przedwojski – Royal Veterinary College
• Joaquin Rusco Perez-Portabella – University of Manchester
• Megan Smith-Cerdán – University of Sheffield
• Emily Watson – Aberystwyth University
Top Project Award from a Master's Accredited Degree Programme –
• Sarah Fagan – University of Huddersfield
• Leah Fox – Leeds Beckett University
• Shennice Knight – University of Glasgow
Top Project Award from an International Accredited Degree Programme –
• Saskia Brown – University of Canterbury
• Shanelle Gilkes – St George's University
• Lim Kai Shuan – Universiti Sains Malaysia
• Kirivasan Krishnanathan – Business Management School
• Isaac Meza Padilla – Universidad de las Américas Puebla
• LIU Mingkang – Hong Kong Polytechnic University
• Amna Saleh Mousa Altaee – United Arab Emirates University
• Poon Yu Ching – University of Hong Kong