News
Dr Mark Clements named HE Bioscience Teacher of the Year
Dr Mark Clements from the University of Westminster, has won the Society of Biology's prestigious Higher Education Biosciences Teacher of the Year Award 2015.
The £1,000 prize will be formally awarded this evening at the Heads of University Biosciences (HUBS) meeting in Milton Keynes.
Dr Clements, 44, is Director of Learning and Teaching in the Faculty of Science & Technology at the University of Westminster, where he teaches a range of courses in biotechnology, microbiology, molecular biology, stem cell biology and ethics.
Dr Clements, originally from Exmouth, works to develop innovative teaching methods within his faculty, as well as collaborative research projects between arts and sciences at the University. This award recognises his exceptional commitment to student learning.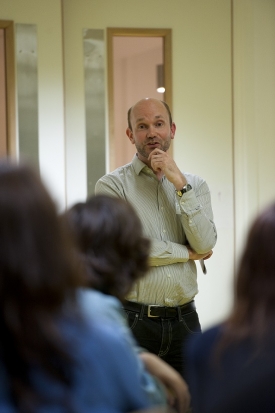 On receiving news of his achievement, Dr Clements said:
"I'm very excited to have won this prestigious award! I really enjoy teaching students about the biosciences, and it's a great feeling to have my teaching practice recognised by the judging panel.
"This award provides a fantastic opportunity to share the way in which I use technology to support learning, as well as how I inspire students to engage with interdisciplinary research and learning through the Broad Vision art/science programme at Westminster. These approaches help to equip graduates with the skills required to solve current and future global challenges."
The Society of Biology offers the annual award to teachers who have shown an outstanding contribution to higher education in the biosciences. The scheme rewards lecturers who have developed innovative and inspirational teaching methods, as well as undertaken professional development and supported colleagues.
This year's competition yet again saw a high calibre of entrants, and Dr Clements faced stiff competition from finalists Dr Alan Cann from the University of Leicester, Dr Dave Lewis at the University of Leeds and Dr Sohag Saleh of Imperial College London.
Rachel Lambert-Forsyth CBiol CSci MSB, director of education and training at the Society of Biology said:
"Dr Clements has been awarded this prize in recognition of his outstanding contribution to student learning, in particular his cross-disciplinary outlook and explorative student co-creation. Congratulations to Dr Clements and the three other finalists, who each play such a vital role in inspiring and educating the next generation of biologists."
Dr Clements will receive the Ed Wood Memorial Prize of £1,000; one year's subscription to an Oxford University Press journal of his choice; and one year's free membership of the Society of Biology. The remaining finalists will receive £150 and one year's free membership of the Society of Biology.
Last year's winner Dr Nick Freestone, associate professor and course director for undergraduate pharmaceutical science at Kingston University, was on the judging panel this year.
Dr Freestone said: "In a very competitive year, what particularly distinguished Mark Clements' work was its emphasis on creativity and interdisciplinary collaborations between science and the arts.
"I was personally very interested in his work with art students which resulted in the creation of 'living sculptures' made from bacteria. This kind of work greatly raises the profile of science amongst the general public which is something we are all striving for."
The short-listed candidates were required to write a case study as evidence of how their teaching practice has benefited students' learning experience. They were then asked to present their case study to a judging panel in London, followed by a 45 minute interview with the panel. The case studies will soon be publicly available on the Society's website.