News
Early career researchers come together to tackle antimicrobial resistance challenges
Early career researchers came together at the Royal Society of Chemistry last Monday to discuss the development of novel diagnostic tools to tackle the problems of antimicrobial resistance.
The workshop, which attracted researchers from various fields across the biosciences, was organised by the Learned Society Partnership on Antimicrobial Resistance (LeSPAR) and took place at the Royal Society of Chemistry, following World Antibiotic Awareness Week.
Professor Rosanna Peeling from London School of Hygiene and Tropical Medicine first gave an overview of the need for new diagnostic tools and introduced Daneil Berman from Nesta who highlighted the Longitude prize for the development of an affordable, accurate, fast and easy-to-use test for bacterial infections.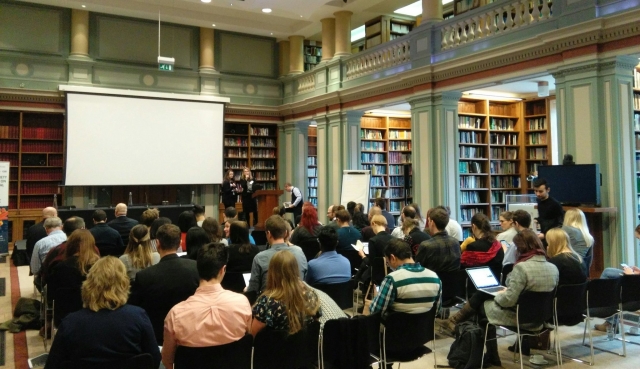 The event took place at the Royal Society of Chemistry (photo credit: SfAM)
Professor Neil Woodford from Imperial College London chaired the first panel discussion, which focused on framing the issue. The first panel speaker, Dr Bhargavi Rao, from Médecins San Frontières, introduced the need for appropriate diagnostics technology in the complex battle against diseases such as malaria in some developing countries.
Dr Jim Huggett from the University of Surrey spoke of lessons to be learnt from metrology – the study of measurements – and molecular tools, while Dr Annegret Schneider from University College London described the societal and behavioural challenges involved in combatting AMR, and how interdisciplinary engagement can help.
The second panel discussion looked at pathways to success and was chaired by Professor Rob Field from the John Innes Centre. Professor David Persing from Stanford University explained current examples of readily accessible, rapid, bench to bedside diagnostics development, whilst Dr Chris Walton CBiol MRSB from Cranfield University shared his research on the use of volatiles as a diagnostic tool. Dr Tim Rawson from Imperial College London also discussed how biosensors and machine learning can help to improve decision-making in hospitals.
An interactive exercise followed the talks: drawing on the challenges raised by the speakers, delegates from different disciplines were grouped together to design a funding call for developing novel diagnostics. Dr Chris Brown from the Society for Applied Microbiology then shared some the key issues which delegates agreed such a call should focus on.
To close Dr Jessica Boname from the Medical Research Council and Dr Bethany Mills from the University of Edinburgh provided an overview of upcoming funding opportunities and also promoted the AMR Diagnostics Challenge.
The day ended with a poster session and networking.
See more from the day in our Storify.
LeSPAR is a partnership of seven learned societies which collectively represents tens of thousands of members of the scientific community. The partnership aims to support UK research to tackle the global challenge of antimicrobial resistance.