News
Four medals for UK Team at International Biology Olympiad
A team of four students representing the UK have each been awarded medals at the 30th International Biology Olympiad (IBO) in Szeged, Hungary.
James Panayis (Sandringham School) received a bronze medal, and Ina Kruger (Chelmsford County High School for Girls), Benjamin Robinson (Marling School) and Henry Wei (Warwick School) each received a silver medal.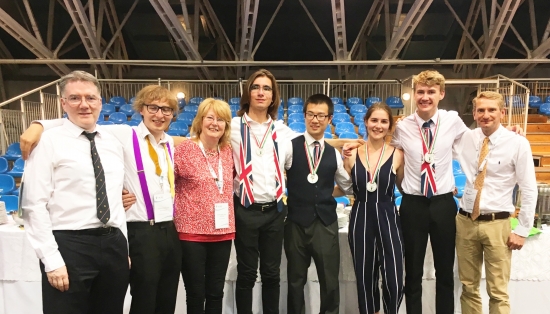 FLTR: Dr Andrew Treharne (UKBC Chair), Joshua Hodgson (UKBC committee member), Maggy Linford (UKBC Secretary) James Panaysis, Henry Wei, Ina Kruger, Benjamin Robinson, and Dr Jonathan Bennett (UKBC committee member)
More than 280 students from over 70 countries took part in the IBO this year, and participated in a series of practical and theoretical examinations at the international competition.
The IBO programme also included a range of social activities for the students, including excursions to the Szeged Museum and The National Historical Heritage Park.
The UK team were selected from among the 9,400 students who took part in the British Biology Olympiad (BBO) in February, organised by the Royal Society of Biology's special interest group, UK Biology Competitions (UKBC).
The highest-scoring students from the BBO completed further examinations from which the team were selected to represent the UK.
In preparation for the IBO, the team members, accompanied by UKBC volunteers, attended training sessions at the Royal Botanic Gardens, Kew, Imperial College London, the University of Reading, and the Natural History Museum, London. The sessions, led by experts, covered topics such as anatomy, biochemistry, botany and taxonomy.
Maggy Linford FRSB, UKBC Secretary, said "The UK team has been training incredibly hard in the face of greater competition with many more countries, and we are so excited to demonstrate that our young biologists are of an exceptional standard and we are very proud of their achievements with three Silver medals and a Bronze medal.
"The team will have made lasting connections that will stay with these students for years to come."
The RSB would like to thank BBSRC for their continued support of the school biology competitions.