News
Free online issue celebrates 50 years of biology education research
To mark the 50th anniversary of the Journal of Biological Education, editor Professor Ian Kinchin CBiol FRSB has put together a Virtual Special Issue highlighting some of the incredible research published in the journal over the past 50 years.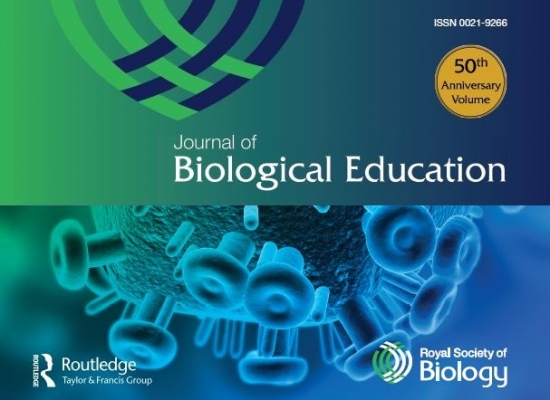 The special issue includes 40 of some of the most cited and downloaded articles including: Learning difficulties in biology, The effect of eco-schools on children's environmental values and behaviour, The epidemiology of a zombie apocalypse, and Using role play to debate animal testing. These articles will be free to everyone until the end of 2016.

In a video to celebrate the 50th anniversary, Dr Mark Downs CSci FRSB, chief executive of the Royal Society of Biology, said: "The Journal of Biological Education is quite unique in many ways, because it's so broad in its reach, it's a really accessible journal for people who teach the biosciences across the spectrum."

The editor, Professor Kinchin, added, "The journal's become much more international in the last 50 years with authorship now from all continents of the world. JBE actually accounts for 30% of all biological education research papers published in the last five years."

Sir Paul Nurse Hon FRSB, director of the Crick Institute, said: "a journal like this can help turning teachers into being better teachers which I think is crucial for all of science education."

Sir Paul also wrote a commentary to mark the journal's anniversary, where he argued for the importance of science education in democracy. Talking in the film he reiterates, "In advanced technological societies such as the one we live in democratic decisions have to be informed by scientific issues and on the whole the public has to tackle quite complicated issues...it's at school where they learn about the reliability of science in producing knowledge they can trust."

Looking to the next 50 years of the Journal of Biological Education, Dr Downs hopes for more research into the interface between school and universities and Professor Kinchin is looking forward to more viewpoints arising from international collaborations.

The RSB's Journal of Biological Education, is published by Taylor & Francis and launched in 1967 with each annual volume comprising four issues. The journal is now firmly established as the authoritative voice in the world of biological education; bridging the gap between research and practice, providing information, ideas and opinion, in addition to critical examinations of advances in biology research and teaching.