News
HE Bioscience Teacher of the Year shortlist – 2023
The Royal Society of Biology is pleased to confirm the final shortlist for the Higher Education Bioscience Teacher of the Year award for 2023.
The yearly award celebrates outstanding achievement in the teaching of biosciences at university level.
The shortlisted candidates have each shown individual excellence in teaching through innovative and inclusive teaching practices, dedication to personal development, and commitment to supporting colleagues within and beyond their own institution.
Dr Kelly Edmunds is an Associate Professor within the School of Biological Sciences at the University of East Anglia. She is a University Teaching Fellow and the 2022 recipient of the Sir Geoffrey and Lady Allen Award for Teaching Excellence. She holds roles as the Deputy Director of Learning & Teaching and as Deputy Lead for the Teaching and Learning theme.
Working with students and colleagues, Kelly has developed a suite of resources that support students in their transition into Higher Education before, during and after their arrival on their new course. She shares these examples of innovation and best practice within her own institution and beyond, speaking at conferences and workshops as well as publishing various articles.
Kelly believes that science can be exciting for all and has won awards for her science engagement work, presenting one of the 2022 UEA Children's Christmas lectures.
Dr Emmanuel Adukwu is the Deputy Head of the School of Applied Sciences at the University of the West of England, Bristol, United Kingdom. Emmanuel is a Non-Exec Director and Trustee at Applied Microbiology International (AMI).
Emmanuel is research active and leads a group of researchers utilising different approaches to further the understanding of antimicrobial resistance and control of infectious diseases. As a teacher, Emmanuel utilises a participatory, collaborative and inclusive approach to working with students and wherever possible, in the classroom or on projects, he ensures his students are as co-creators of knowledge and partners in their learning development.
As an academic, Emmanuel has developed leading innovations and inspired change at his institution including the development of transformative employability approaches, student support frameworks and tools enabling inclusive practices in higher education.
Dr Ellie Davison is an Associate Professor and Director of Teaching and Learning of the University of Lincoln Science Foundation Year, providing a year zero for students enrolled on over 40 bachelors and masters programmes.
Ellie draws on her research and collaborative skills, developed during her early career as a molecular geneticist, and her pedagogic expertise cultivated during her years as an 'outstanding' secondary school science teacher.
Ellie's holistic approach to embedding transferable academic, and non-academic skill development into the curriculum, including maintaining positive mental health, ensures students from all backgrounds continue to thrive in future years of their degree, and beyond.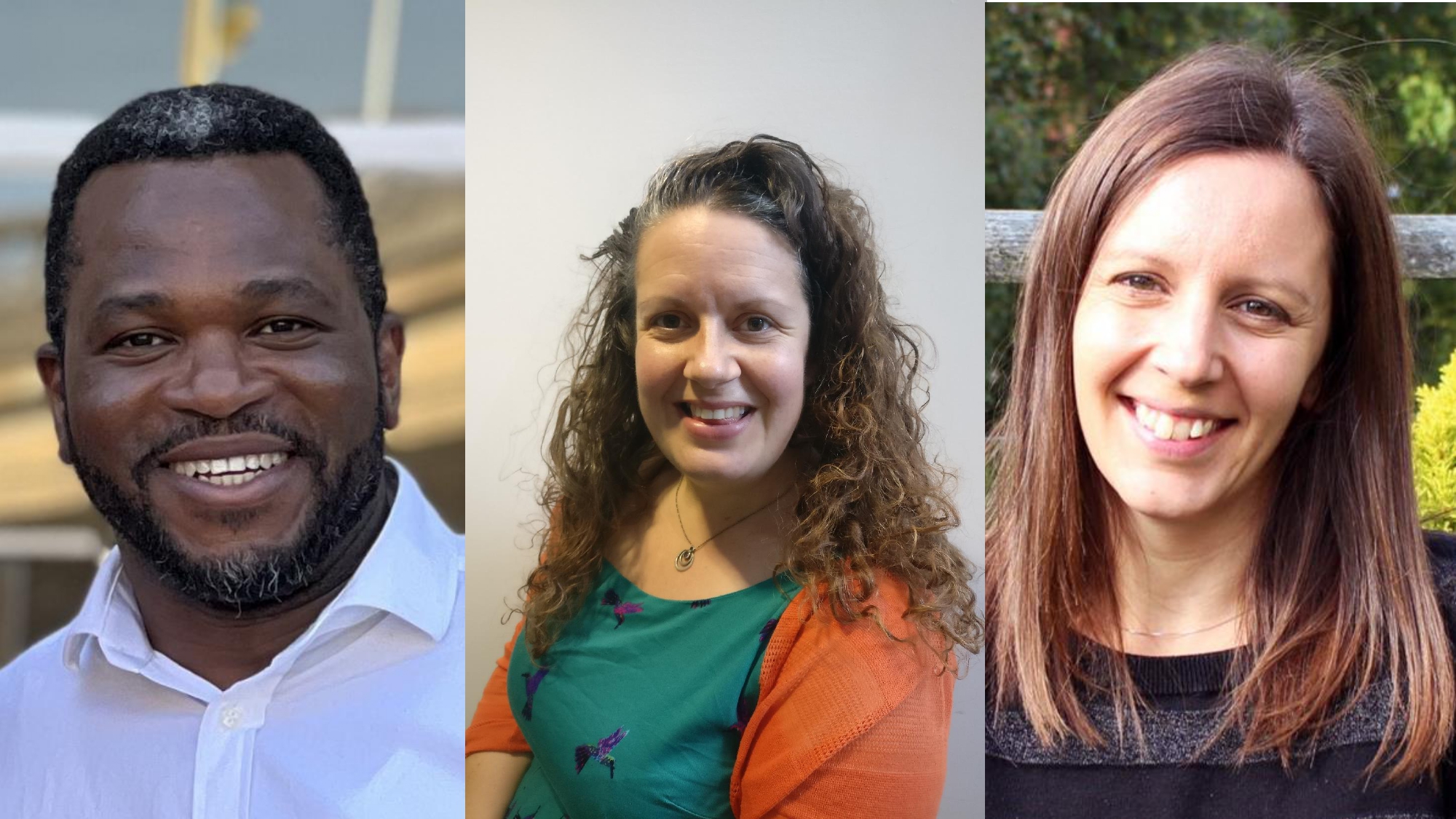 The shortlisted teachers, from left to right: Dr Emmanuel Adukwu, Dr Kelly Edmunds, and Dr Ellie Davison.
The Higher Education Bioscience Teacher of the Year award is sponsored by Oxford University Press and Heads of University Biosciences (HUBS), a Special Interest Group of the RSB.