News
Keep faith in UK science excellence, says Greg Clark MP
"Excellence in the biosciences requires we keep faith with the reputation this country has for science excellence" said Greg Clark MP, yesterday evening at the Biology Week Parliamentary Reception.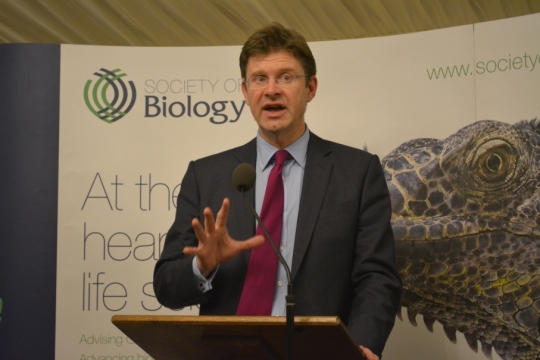 The recently appointed Minister for Universities, Science and Cities, urged the audience, including policy makers, academics and members of the Society of Biology, to "keep faith with the institutions responsible for success and respect the foundations laid down by predecessors".
Clark, speaking to the wider science community for the first time since his appointment, said that the Society of Biology is "in the vanguard of making progress".
He said, "I am incredibly privileged that I have such a prestigious and expert group of people to advise me and I will follow that advice, I very much look forward to working together through the years ahead."
The annual Biology Week reception was hosted by Andrew Miller MP, Stephen Metcalfe MP and Dr Julian Huppert MP at the House of Commons, in partnership with the Biotechnology and Biological Sciences Research Council (BBSRC).
Andrew Miller MP implored scientists to engage with their MP and "make policy makers understand challenges in laboratories and the exciting potential of the science you're engaged with".
Melanie Welham, director of science at BBSRC, said "it is really important the BBSRC partners with Society of Biology and other organisations to make sure the potential in biosciences is actually realised".
Dr Mark Downs FSB, chief executive of the Society of Biology, congratulated the Society on its 5th birthday and presented Ria Warren MSB, Severn Tent Water, with her Registered Scientist award.
The evening also saw Mary Barber, pioneer of antibiotic resistance take first place in the 'unsung hero of biology' ballot. See the full declaration of ballot results.
The Society of Biology, in partnership with BBSRC, have developed the Biology: Changing the World project to celebrate great biologists of the past and inspire those of the future.
Biology Week continues until 18th October with events around the UK and beyond.