News
Leopard Head Wins National Specimen Drawing Competition
Liam Barrett (17), of Tupton Hall School in Derbyshire, has won the Nancy Rothwell Award for specimen drawing.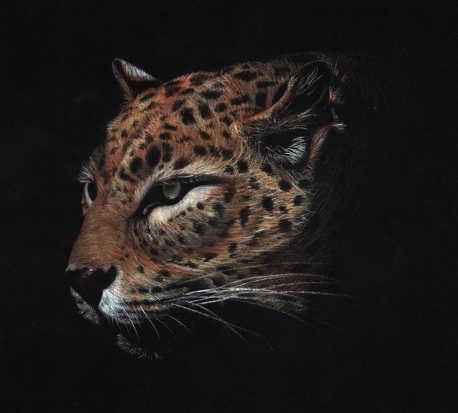 Liam's striking colour drawing of a leopard, Panthera pardus, on black card, along with a labelled diagram, drawn in charcoal, of the animal's skull took first place in the top (15-18) age category.
The Royal Society of Biology launched the Nancy Rothwell Award in 2014 to celebrate specimen drawing in schools and highlight the benefits of links between art and science. The winning images will be featured at the RSB Annual Awards Ceremony in London this evening as part of Biology Week.
Judge Mr Andrew Crook MBE, head of anatomy service at the Royal Veterinary College, said, "This study of the skull and face of a big cat is a perfect example of how to use shading. The dark background highlights the skull and gives the face a haunting quality. I'd happily hang it on the wall."
The competition received over 250 entries from all over the UK; welcoming students' drawings of plant, animal and microscopy specimens in three age categories (7 to 11, 12 to 14 and 15 to 18).
The winners from the younger categories were: Travis Moldrich (14) from The Judd School in Tonbridge, for his intricate pencil drawings of beetles of the subfamily Dynastinae; and Arnav Sharma (9) from Brindishe Green Primary School in London, for his precisely annotated drawing of a barn owl using watercolour pencils. See all of the winning images of the Nancy Rothwell Award.
The winning artists will each receive drawing equipment, an experience day at RVC, £25 for themselves and £250 for their school.
Mr Crook said, "The overall standard of entries this year was amazing, I was astonished by the quality of some of the entries."
"I hope that at least some of these exceptional artists find their way into a career in science, and even perhaps to the RVC!"
The Society wishes to thank the Royal Veterinary College for their support of the award, and also this year's judges: Professor Susan Standring FRSB, editor-in-chief of Gray's Anatomy; Andrew Crook, head of anatomy service at the Royal Veterinary College; Dr Grace Sim, outreach development manager at the Royal Veterinary College; and Lucy Coia AMRSB, membership & marketing assistant at the Royal Society of Biology.