News
Medals for UK pupils at International Biology Olympiad in Vietnam
Four of the UK's most gifted pre-university students won medals at the 27th International Biology Olympiad (IBO) in Hanoi, Vietnam last week.
L-R below: Matthew Bagley (Charterhouse) took home a bronze medal, while Salvador Buse (The Perse School), Sam Turner (St Paul's School) and Mark Thornton (Royal Grammar School Guildford) won silver medals.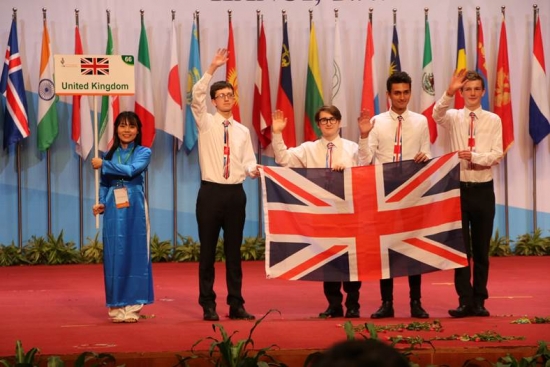 The team were selected from among 7,200 students who took part in the 2016 British Biology Olympiad, organised by volunteers from the Royal Society of Biology's UK Biology Competitions (UKBC) Special Interest Group.
Rachel Lambert-Forsyth, director of education and training at the Royal Society of Biology said,
"Our team proved once again that students in the UK can compete against the very best biologists in the world, and come back as winners. Four medals is an amazing achievement and after spending a week with these young biologists I have no doubt that they have a bright future ahead of them."
The 27th IBO began with a grand opening ceremony on Sunday 17th July, attended by Vietnam's Minister of Education and other dignitaries. The opening ceremony formally begins the competition, welcoming the delegation to Vietnam and introducing them to its culture through songs and traditional dance.
The students sat six hours of practical examinations on Tuesday, covering topics in plant anatomy and physiology; animal anatomy, systematics and evolution; biochemistry and microbiology; and molecular biology. Their laboratory skills were tested through six hours of challenging practical tasks on Thursday. Medals were awarded as part of a grand closing ceremony on Saturday 23rd July.
It wasn't all hard work; the students also took part in a social programme, including visits to UNESCO's World Heritage site, Trang An and learnt about the culture and cuisine in Vietnam.
UKBC chair, Dr Andrew Treharne MBE CBiol FRSB said, "Many congratulations to Mark, Matthew, Salvador and Sam on their achievements and success in winning medals for the UK in Vietnam last week. The International Biology Olympiad brings together the world's top young biologists not just to compete for medals but to foster international cooperation. I'm sure our team members have made lots of new friendships that will last for many years."
During the closing ceremony the IBO 2016 organisers passed on the IBO Cup and mantel to the UK, who through the Royal Society of Biology and the University of Warwick will be hosting the 28th International Biology Olympiad in July 2017.
Rachel Lambert-Forsyth said, "It will be a great honour to host the 28th International Biology Olympiad in the UK next year. The UK will have been a member of the IBO for 20 years next summer and I can think of no better way to celebrate this milestone than welcoming the IBO to our wonderful country. The UK has a prestigious history of biological discovery and international collaboration and it will be a great opportunity both to celebrate our heritage and foster future friendships."
"We look forward to working with the University of Warwick, through the School of Life Sciences and Warwick Conferences, to deliver a truly memorable experience for all those involved, and would like to thank our sponsors for their support."
The 2017 British Biology Olympiad, the age 16-18 biology competition which provides a means of selecting a team to represent the UK at the International Biology Olympiad, will take place in January 2017.