News
Mission Discovery: welcome to space camp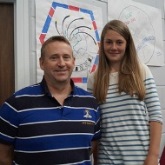 This week, International Space Summer Education Trust's (ISSET) Mission Discovery has arrived at King's College London, offering around 200 students the opportunity to hear first-hand and learn from NASA's top astronauts what it's really like to go into space.
The Society of Biology's BioNet competition winner Madeleine Kavanagh is among the students who are learning about the training and preparation that goes into a space mission. They are also learning about the biology which underpins preparation for space travel, including how our circulatory and respiratory systems respond to space and hostile environments.
The week offers a mix of team-building and leadership activities alongside biology-focused lectures. Day 2 started with the teams of students planning a videography; a chance for them to imagine their own music video montage of travelling to space.
This is then followed by a talk from Ken Ham, Astronaut and Space Shuttle commander. Ken described the ritual of having 'a last meal on earth' before boarding the space vehicle which throughout a mission will transform from rocket ship into space ship and finally into glider for return to earth. The students got to ask Ken questions about his time in space and he shared his 'Welcome to Space Moment' of watching a shooting star pass below his space ship on his first space mission as commander.
The week will culminate with the teams of students presenting their idea for a biomedical experiment, inspired by what they have learnt throughout the week; the winning team will have their experiment carried out on the International Space Station (ISS). Mission Discovery offers students a unique mix of interaction with researchers, astronauts and NASA leaders, and the Society of Biology is delighted to offer support to this educational project.