News
New programme by RSB and ITN Productions highlights the biosciences that impact everyday living
The Royal Society of Biology and ITN Productions Industry News have co-produced a news and current affairs-style programme "Biology Impacting Lives," reporting on the advancement of biological sciences and their crucial impact.
From ecology and the changing environment, to advances in medical diagnostics and treatment, "Biology Impacting Lives" looks at the importance of cutting-edge research and provides a platform for outstanding stories of scientific development and impact.
The programme highlights the ground-breaking research taking place in universities, industry and in the field – research that impacts the food we buy and eat, the medicines we take, the crops we grow and the healthcare we rely on.
Presented by Natasha Kaplinsky OBE, the programme also celebrates the achievements in biology over the past decade and illustrates the breadth of roles and areas of interest within the sector.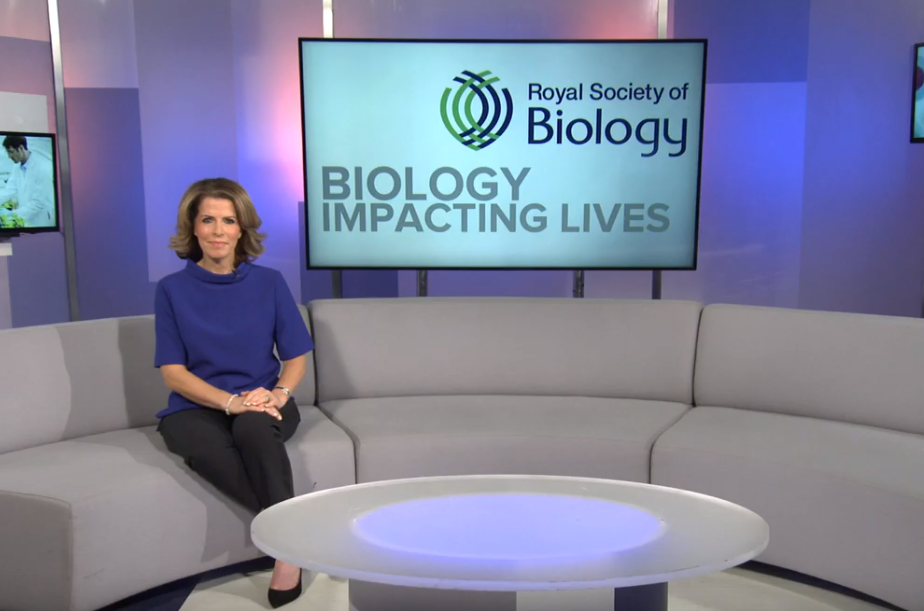 Natasha Kaplinsky OBE presenting Biology Impacting Lives
'Biology Impacting Lives' launched at RSB's annual awards ceremony on 10th October 2019 and forms part of an extensive communications campaign featuring RSB members and professional partners, as well as journalists, writers and bloggers.
Dr Mark Downs CBiol FRSB, chief executive of the Royal Society of Biology, said of the programme: "After the success of our last project with ITN Productions on how biology addresses global challenges, we were excited to partner up again and explore how biology impacts everyday lives.
Biosciences research plays a part in so much of what we do every day – be it the agritech and food security research that helps deliver food to the table, to the biomedical research and drug development that keeps us healthy.
"The bioscience sector is truly at the forefront of scientific discovery, and developments are taking place in all areas of the field to help improve the lives of people worldwide.
"We would like to thank ITN Productions for continuing such an important partnership for the RSB, and all their work in putting together such an interesting and inspiring programme."
Vicki Clubley, Interim Head of Industry News, ITN Productions said: "We are delighted to be partnering with the Royal Society of Biology to highlight the revolutionary work carried out in this field.
"We hope "Biology Impacting Lives" will raise awareness of the vital role of biology and will encourage a future generation of biologists to embrace their enthusiasm for the subject."
The programme features key industry interviews, news-style reports and sponsored editorial profiles from the following organisations:
"Biology Impacting Lives" can be viewed below and on our website.