News
Outstanding apprentices recognised by RSB's Apprentice of the Year Awards
Four apprentices have been recognised as outstanding in their fields as part of the RSB's Apprentice of the Year award.
The Award, now in its second year, celebrates apprentices that are outstanding in their role, as well as support others including those thinking about embarking on an apprenticeship.
This year the award was split into two groups, to celebrate apprentices working at different levels in the sector. In group 1, apprentices studying at Levels 3-4 were recognised. In group 2, apprentices studying at Levels 5 + were eligible.
Apprentice of the Year Award for Group 1 has gone to Chloe Prisk, an applied science apprentice at University Hospital Plymouth. Chloe has been recognised for going above and beyond and for the positive impact she has had on the teams she works with.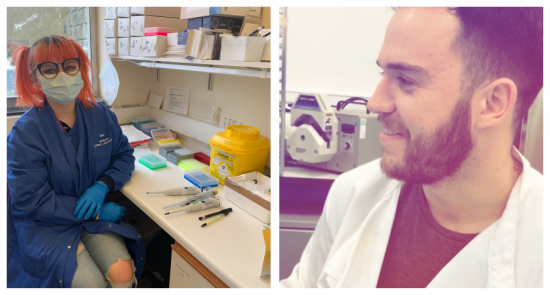 Chloe at work at the University of Plymouth and Peter at Cogent Skills
Apprentice of the Year Award for Group 2 has been received by Peter Ferguson, a laboratory apprentice scientist from Cogent Skills. Peter has received the award in recognition of his resilience, positive impact, and work to increase the representation of apprentices in his field.
Chloe and Peter will receive £250 alongside one year's free RSB membership and free Registered Science Technician (RSciTech) or Registered Scientist (RSci) professional recognition on receipt of a successful application.
Alongside Chloe and Peter, the judges have also recognised two apprentices as Highly Commended - Robert Cook at the University of Glasgow, and Shaan Gill at Astra Zeneca.
The judges felt that all the applications received were of a very high standard, and the two winners were commended for how they represent apprentices and advocate for the apprentice route into a science career.
Pat Kingston, award judge and chair of the registers assessor committee commented: "All of the entrants for the award should be congratulated on their outstanding personal and professional development and be proud of their achievements.
"It is easy to see how their commitment and contributions make an impact for themselves and their organisations.
"The determination, perseverance, hard work and, ultimately, success of every individual emanates from every statement. Each entry shone so brightly, it made judging this year more difficult than ever."
Find out more about the awards online.