News
Oxford Teacher Wins School Biology Teacher of the Year Award
Dr Paul Weeks from Oxford High School has won the 2015 Secondary School Biology Teacher of the Year Award. The Society of Biology award recognises outstanding biology teaching inside and outside of the classroom.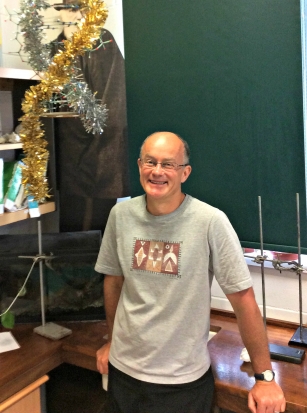 On receiving his award Dr Weeks said:
"I'm absolutely thrilled to have won this award. I believe that teaching biology is all about getting students interested and excited in the subject. To win Biology Teacher of the Year is a wonderful endorsement of what I'm trying to achieve in the classroom."
Dr Weeks will receive his award at a ceremony at The Royal Institution today.
Paul will receive £500 for himself and £500 of free Oxford University Press resources for his school. He will also receive prizes for his classroom from UK 3B Scientific Ltd and the National Science Learning Centre.
Chair of the judging panel, Beverley Goodger MSB, said:
"Paul is an inspirational teacher with a passion for biology and exceptional commitment to the subject and his students. Paul met and surpassed all the criteria for this year's Secondary School Biology Teacher of the Year Award.
"His inquiry-based approach to biology teaching allows him to motivate children's curiosity and enthusiasm and has inspired his pupils to build scientific knowledge through engaging in the scientific process. The judges were particularly impressed by the lesson they observed, where the skilful use of a context-driven and problem solving approach fully engaged the pupils, made them think, and was absolutely successful in securing effective learning.
"Paul's inspirational approach and his love of biology exert their influence beyond the classroom through the wide range of extra-curricular activities that he coordinates within the school, and through the teachers' courses that he organises.
"The success of Paul's inspirational approach to biology teaching, combined with his ability to share his passion for biology is summed up by this comment from one of his pupils; 'He loves the lesson as much as we do'."
Dr Mark Downs, chief executive of the Society of Biology, said:
"Excellent teachers have a profound and positive effect on their students' learning; widening their students' knowledge and skills base, increasing their self-confidence and raising their aspirations. The entrants for this year's award are teaching outstanding and innovative lessons which inspire and enthuse their students. Many congratulations to Paul on his well-deserved award."
The two other shortlisted teachers were:
John Graham - City of London Freemen's School
Elena Segalini-Bower- Hereford Cathedral School
Earlier this year each of the shortlisted candidates received a visit from the judging panel. All three shortlisted teachers were described as inspirational teachers who influenced other teachers in their school and beyond.