News
Prime Minister recognises UK biosciences as "extraordinary" and calls for reform for GM regulation
In his first speech as Prime Minister, Rt Hon Boris Johnson MP described the UK Biosciences Sector as "extraordinary."
Speaking in Downing Street, Boris Johnson stated: "Let's start now to liberate the UK's extraordinary bioscience sector from anti genetic modification rules and let's develop the blight-resistant crops that will feed the world."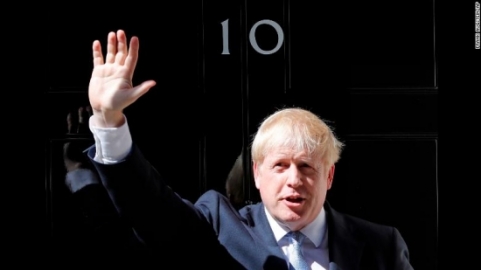 Johnson's call for changes to the regulation of genetic modification has been read with interest by scientists who have previously suggested a rethink on the legislation restricting the use of genome editing technology, and many have specifically commented.
Dr Mark Downs FRSB, chief executive of the RSB, commented: "We welcome the Prime Minister's recognition and support for the exceptional quality and breadth of the UK biosciences sector.
"Modern plant and animal breeding methods, including genetic technologies, are an important tool for researchers – tools that can help address many of the global challenges we face today. Those involved in developing regulations, including the Government, must facilitate a robust debate and produce clear, evidence-based policies as a result.
"Transparent and open dialogue between scientists and the public remains essential.
"Informed public and policymaker views and workable regulatory systems are necessary for society to benefit from scientific advances, while maintaining high standards of animal welfare and conserving the environment and ecosystems on which we depend."
The EU has a stringent safety testing and subsequent approvals process for crops and other organisms developed by genetic modification, and recently ruled that these also apply to new, more precise breeding methods such as genome editing. Scientists have countered that application of these rules for some edited organisms would not be enforceable, and is against the scientific advice.
The emphasis on science in his first speech gave hope that PM Johnson backs commitments made by the previous government to increase investment in research and development (R&D), however, he again pledged to take the country out of the European Union, if necessary, without a deal in place.
The RSB has repeatedly warned of the risks to UK science of a no-deal Brexit, and the inherent risks to vital levels of funding, collaboration and international movement of people, making continued UK investment an urgent priority.
Following his election as PM, Mr Johnson has also reshuffled the Cabinet – he has appointed Jo Johnson MP as Minister of State at the Department for Business, Energy and Industrial Strategy, and the Department for Education. Jo Johnson was previously Minister for Universities, Science, Research and Innovation (2015-2018) and attended RSB events such as Voice of the Future and Parliamentary Links Day in this capacity.
Jo Johnson replaces Chris Skidmore MP, who last month delivered a keynote at this year's Parliamentary Links Day, has been appointed Minister of State at the Department of Health and Social Care.