News
Royal Society of Biology's Higher Education Bioscience Teacher of the Year 2019 announced
The Royal Society of Biology Heads of University Biosciences (HUBS) have named Dr David Smith, teaching fellow at Sheffield Hallam University, as winner of the HE Bioscience Teacher of the Year Award 2019.
The HE Biosciences Teacher of the Year Award, sponsored by Oxford University Press, recognises leading educators in UK universities, highlighting the invaluable role they play in teaching and inspiring the next generation of bioscientists.
The winner was announced at the inaugural HUBS Annual Meeting on 1st May, and received the Ed Wood Memorial Prize of £1,000 to spend as they wish, £250 worth of Oxford University Press books, and one year's free membership to the Society.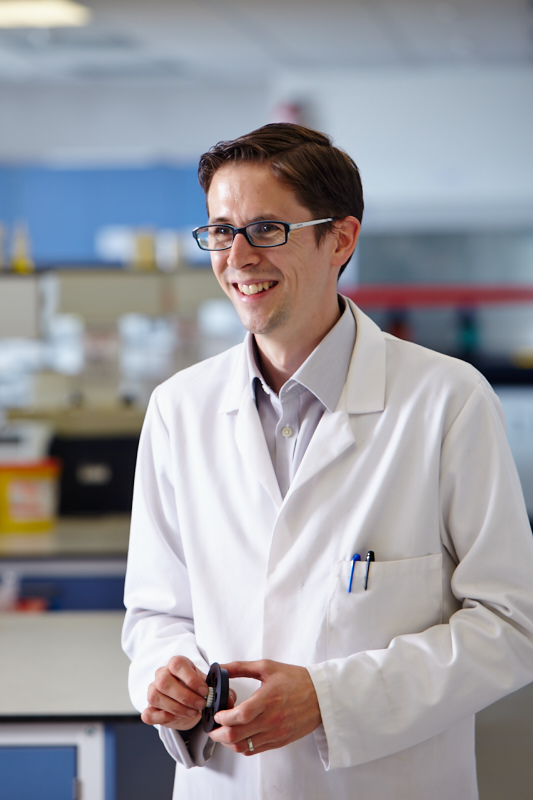 Dr David Smith in the lab (Photo credit: Dr Smith)
Dr David Smith is a national teaching fellow who been teaching biochemistry at Sheffield Hallam University since 2010.
David Smith received the award in recognition of his enthusiasm and commitment to improving education practice, alongside his own research into how to improve student engagement.
David's award nomination case study outlined his own research into the relationship between where students sit in the lecture theatre and their levels of engagement. His research found that students tend to sit in friendship groups that also tend to obtain similar marks in exams, meaning student engagement wasn't improving academic performance.
In his case study, David suggested a number of measures including using more web-based tools to encourage student dialogue, and altering the way pair-sharing is conducted in the classroom.
Chair of HUBS, Dr Sandra Kirk, who also sits on the panel for the award, said of David's nomination: "HUBS are pleased that once more a strong field of applications for the Higher Education Bioscience Teacher of the Year were received, giving the judges a hard job to shortlist and then chose a winner.
"David Smith embodies fully the ethos of the award: demonstrating enthusiasm, commitment to practice lodged in pedagogic theory, and care and thought for the student experience and development of colleagues, making him an extremely worthy winner of the prize this year.
"His findings in respect of practices to improve student engagement are of relevance across the whole of higher education, not just the biosciences."
Individuals are nominated by their students, peers, senior management or themselves, and those shortlisted are invited to submit a case study on their innovative teaching ideas.
David said of receiving his award: "I'm thrilled to be made the HE Bioscience Teacher of the year by the Royal Society of Biology. The Society provides a wealth resources for teaching as well as accreditation for Bioscience degrees. To have my teaching practice recognised by them is wonderful.

"Drawing my case study together has been an uplifting experience. Hearing from my peers and students on how the ideas around student interaction have impacted on the learning experience and how it has been used to increase inclusion has been fantastic.

"I really want to thank all my friends and colleagues in the pedagogical research group in the Bioscience and Chemistry department at Sheffield Hallam University for helping me develop my practice.
"Most of all I want to thank my students for allowing me to try out my crazy ideas and playing along."
Dr David Martin from the University of Dundee, Professor Kevin O'Dell from the University of Glasgow and Dr David Smith from Sheffield Hallam University were selected as this year's finalists.
This year, several lecturers were also nominated by their students for the award, in recognition of their exceptional teaching. Dr Gemma Lace from the University of Salford, Professor Mark Fox from the Royal Veterinary College, Emmanuel Adukwu from the University of the West of England, and Linda Martin from Blackpool and Fylde Colleg will all receive certificates in recognition for these student nominations.