News
RSB and UBMA HE Bioscience Technician of the Year announced
Tina Schrader, Senior Research Technician at the University of Exeter, has been awarded Technician of the Year for demonstrating excellent technical expertise and inspiring others through her work.
Runner up, Juan Escobar, Teaching Laboratory Manager at the University of Oxford, was also recognised for his exceptional hard work and superb organisation.
The HE Bioscience Technician of the Year Award, developed jointly by the Royal Society of Biology and the University Bioscience Managers Association (UBMA), aims to recognise excellent work by technical staff, which underpins bioscience research and teaching at all levels in universities across the UK and Ireland.
The two received their awards at the UBMA conference at Coventry University on 2nd May, with the Academic Dean of Faculty of Health and Life Sciences, Ann Green, Head of School of Life Sciences, presenting them with the award.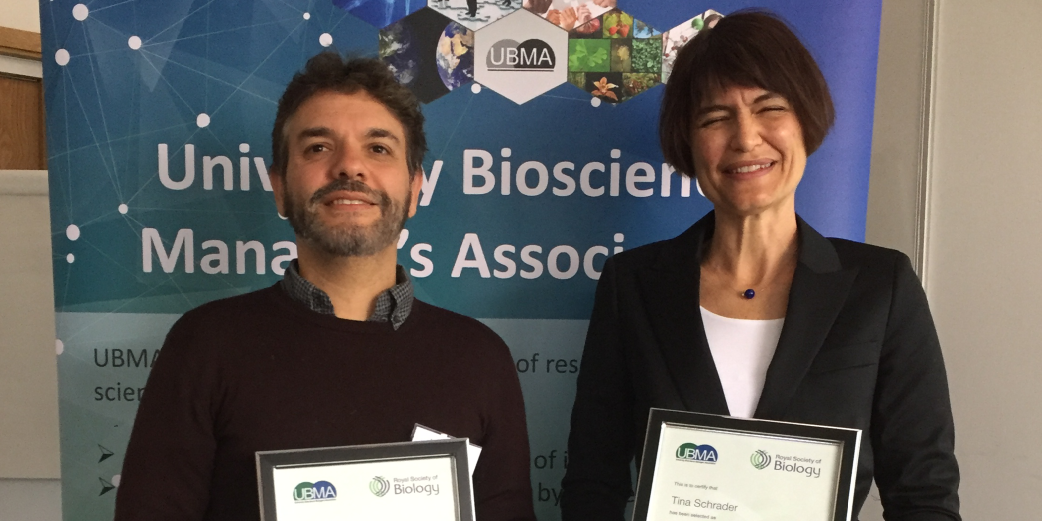 Juan and Tina receiving their awards
Tina, who has been working at the University of Exeter since 2012, has been recognised as an outstanding Research Technician and role model, demonstrating leadership, collaboration and a commitment to promoting professional development. Her nomination highlighted that Tina takes on a number of roles above and beyond her standard working portfolio, and she has regularly demonstrated her long-standing commitment to the technical workforce.
Tina said of receiving her award: "I am delighted that the UBMA and Royal Society of Biology have awarded me with the HE Biosciences Technician of the year award 2019. I felt overwhelmed by surprise after receiving the letter and filled with joy that all my hard work and achievements have been recognised.
"I am grateful to my Department for nominating me. The enthusiasm and trust of my colleagues let me thrive and explore what I really can achieve. It is a "once in a lifetime" experience to be honoured as a Research Technician by such prestigious institutions.
"It is important to improve the recognition and the visibility of HE Technicians and their achievements."
Runner up for the award, Juan Escobar, was nominated for his superb hard work and organisational skills, making practicals a positive learning experience for all students.
Juan commented: "I feel both honoured and grateful to Professor Jane Mellor, director of teaching at The Department of Biochemistry for nominating me, to the Royal Society of Biology and UBMA for co-sponsoring this award.
"As technicians, we tend to do our work behind the scenes, so I was rather startled at sharing the limelight as one of the recipients of this year's awards. However, I am extremely pleased that this award has been established to recognise the important work that bioscience technicians do for teaching and research."
Rachel Lambert-Forsyth, Director of Membership and Professional Affairs at the RSB commented:
"Technicians make a valuable and often forgotten contribution to the scientific process, their work is essential in delivering high quality working environments for students and researchers.
"We are proud, alongside the UBMA, to be able to recognise, and in turn raise the profile of those who are outstanding in their field. We hope that highlighting the work of outstanding technicians such as Tina and Juan shows the impact technicians have every day on the other staff and students they work with.
"I thank both Tina and Juan for their commitment to the profession, and offer them my warmest congratulations."