News
RSB announces Winners of its Outreach and Engagement Award 2022
Details

21 September 2022
Two outstanding bioscience researchers have been recognised with this year's Outreach and Engagement awards.
The RSB Outreach and Engagement awards celebrate outreach work carried out by bioscience researchers who inform, enthuse and engage the public.
Both winners be receive their awards at the Society's Annual Awards Ceremony taking place this Thursday 6th October, as part of Biology Week 2022.
The New Researcher Award aims to recognise those making exceptional efforts in outreach and engagement within the first five years after graduation, whilst the Leadership award recognises those who are making a difference in embedding outreach and engagement work at an institutional level.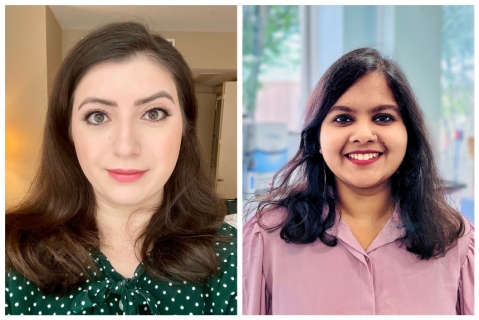 From left to right: Dr Bnar Talabani and Snehal Kadam
This year, the winner of the Outreach and Engagement Award for Leadership is Dr Bnar Talabani, a current PhD student studying immunology at Cardiff University.
Bnar led and delivered science communication in 2021 on the Covid-19 vaccines with colleagues through Muslim Doctors Cymru (MDC) – tailoring content to ethnic minority communities that had low uptake of the vaccines.
She and her team organised and delivered webinars in multiple languages, training healthcare professionals (HCPs) to help them to do this.
In addition, it involved engaging faith community leaders and setting up mosque vaccination centres, where many homeless people attended and received vaccinations, as they didn't know where else to go.
Bnar also volunteered with the British Society for Immunology to create social media content to reassure the public as well as educate HCPs on the evidence on the Covid-19 vaccines.
She then joined Team Halo and posted videos on her personal platforms to address common concerns and questions on Covid-19 and the measures to combat it.
Commenting on her award, Bnar said: "I'm so grateful to be receiving this prestigious award and want to say a heartfelt thank you to the British Society for Immunology, for nominating me and for the amazing work they have done in communicating science throughout the pandemic.
"It has been my privilege to work alongside them, colleagues at MDC and Team Halo in combatting vaccine misinformation."
For the New Researcher Award, the winner for 2022 is PhD student, Snehal Kadam, from the Hull York Medical School at the University of Hull.
Snehal co-founded a science outreach initiative called Talk To A Scientist (TTAS) in March 2020.
TTAS is India's only weekly webinar series for young minds (ages 6-16), where children get to interact with and learn from scientists live.
The initiative has completed more than 100 live sessions, covering a range of topics from microbiology to thermoelectricity.
On receiving the award, Snehal expressed the following: "I feel so honoured to receive this award for the outreach I do co-running Talk To A Scientist (TTAS) with Dr. Karishma Kaushik.
"I have always been very passionate about taking science outside the laboratory and into the public and doing this for young minds has been so rewarding.
"We hope to create modern-day role models in science through our platform. This award is such a great recognition of the many efforts that have gone into running TTAS for more than two years."
Susie Rabin, Associate Director of Parliamentary and Public Affairs from The Royal Society of Biology, said: "This year's candidates are both amazing advocates for biology. With Bnar's fight against Covid misinformation and Snehal's TTAS initiative engaging young children and teens, it has shown the level of talent they have displayed when it comes to public engagement. Congratulations to both!"
Dr Bnar Talabani will receive a prize of £1500, and Snehal Kadam will receive £750.