News
RSB Fellows named in 2020 New Year Honours
The 2020 New Year Honours List recognises a number of RSB Fellows for their work in the sciences.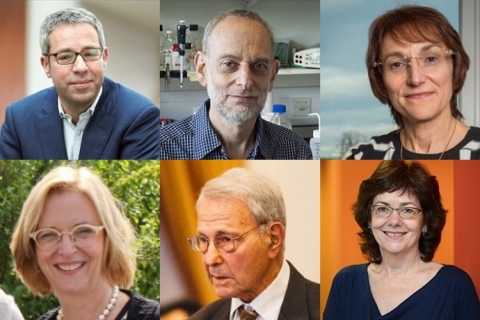 From top left clockwise: Dr Menelas Pangalos KBE, Professor Alan Lehmann CBE, Professor Jane Hurst OBE, Professor Helen Sang OBE, Professor Leslie Brent MBE, Professor Julia West MBE. (Photo credit: Clare Hall, University of Cambridge; University of Sussex; University of Liverpool; University of Edinburgh; British Society for Immunology; Julia West)


Dr Menelas Pangalos FRSB, Executive Vice President of Biopharmaceuticals R&D at AstraZeneca, received a Knight Bachelor for services to UK science.
Professor Alan Lehmann FRSB, Research Professor of Molecular Genetics at University of Sussex, has received a CBE for services to medical science, with particular recognition of his work for patients and families affected by rare inherited conditions, Xeroderma Pigmentosum and Cockayne syndrome.
Professor Jane Hurst FRSB, William Prescott Chair of Animal Science at the University of Liverpool, received an OBE for services to animal welfare.
Professor Helen Sang FRSB, Head of Division, Functional Genetics and Development at The Roslin Institute, received an OBE for services to food security and bioscience for health.
Professor Leslie Brent FRSB, received an MBE (awarded posthumously) for services to Holocaust education and the field of immunology and organ transplantation.
Professor Julia West FRSB, received an MBE for services to radioactive waste management.