News
RSB Member Organisations explore business-academia links
Details

21 September 2016
Representatives from two of the UK's largest science businesses met with learned societies and academics last night at a meeting of RSB Member Organisations.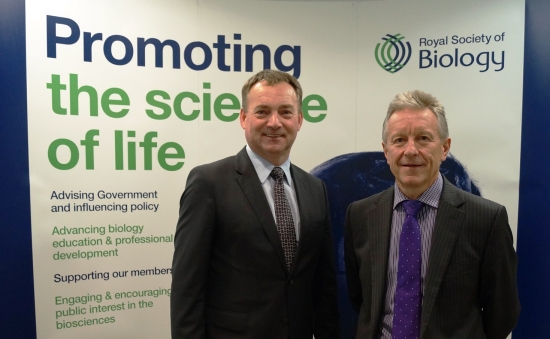 Malcolm Skingle (above right), academic liaison at GlaxoSmithKline (GSK), spoke to delegates on the ways large pharmaceutical companies such as GSK work with academics around the world.
"Any time we have crossovers between academia and industry good things happen," said Skingle. The number of studentships and other collaborative projects at GSK is increasing year on year, he said, before adding that science apprenticeships will also be increasingly important as people try to avoid racking up large university debt.
Skingle told the audience that collaborations between GSK and academia had to be high quality, value-for-money science that fits the company's aims. But he said that didn't mean such projects were always about developing pharmaceutical products; GSK's anti-doping work for London 2012 being one example.
GSK's open-data malaria project, in which it shared the structures of thousands of chemicals in its library to help drive drug discovery, reflected a move towards openness and cooperation in the science industry that will only increase in future, he said. "The scientists who will really clean up in the future are those who can pull together disparate data sets to form new knowledge."
David Blanchard (above left), chief research and development officer at Unilever, provided an overview of how biological research feeds into Unilever's well-known brands and products.
This work includes antimicrobial science, dermatology, the development of alternatives to animal testing, and the development of sustainable technology for reducing waste and greenhouse gases.
During questions from the floor, Blanchard said that today's speed of change in business is accelerating and that it is critical for organisations such as the RSB to adapt to that speed of change.
On the question of the credibility of business-driven research, GSK's Skingle pointed out that the citation rate of work from industry was higher than that of academia. He said the Research Excellence Framework, or REF, had had a positive impact on businesses' ability to 'understand the applicability of research, open doors and allow conversations to start'.
The Society has over 100 Member Organisations in its network, including businesses, universities, other learned societies, science associations, professional bodies and research councils. Fourteen new organisations have joined in the last year.