News
RSB members recognised in 2023 New Year's Honours list
The Royal Society of Biology would like to offer warm congratulations to a number of Fellows who have been recognised in the 2023 New Year's Honours List for their bioscience and community work.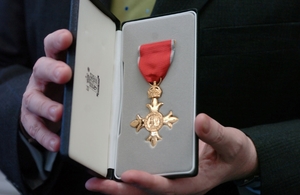 Professor Andrew David Curran FRSB, chief scientific adviser and director of research, Health and Safety Executive, received a CBE for public services to human health.
Professor Bridget Anne Emmett FRSB, head of soils and land use, UK Centre for Ecology and Hydrology, was awarded an OBE for her services to soil and ecosystem science.
Dr Richard Alan Fortey Hon FRSB, senior palaeontologist, Natural History Museum, received an OBE for services to palaeontology and geology.
The New Year Honours list for 2023 recognises the achievements and service of extraordinary people across the United Kingdom.
Contact us at membership@rsb.org.uk if you, or a member you know, has been also been honoured this year.