News
RSB Members recognised in Queen's Birthday Honours List 2019
Five RSB Members have been recognised in this year's Queen's Birthday Honours list, which recognises outstanding achievements of people across the United Kingdom.
Professor Ian Boyd FRSE FRSB, chief scientific advisor for the Department for Environment, Food and Rural Affairs has been made Knight Bachelor for services to science and economics on food and the environment.
Professor Boyd gave a keynote address to the Natural Capital Initiative summit: Valuing Our Life Support Systems in May.
Dr John Michael Grainger OBE CBiol FRSB has been awarded with a Member of the Order of the British Empire for services to microbiology.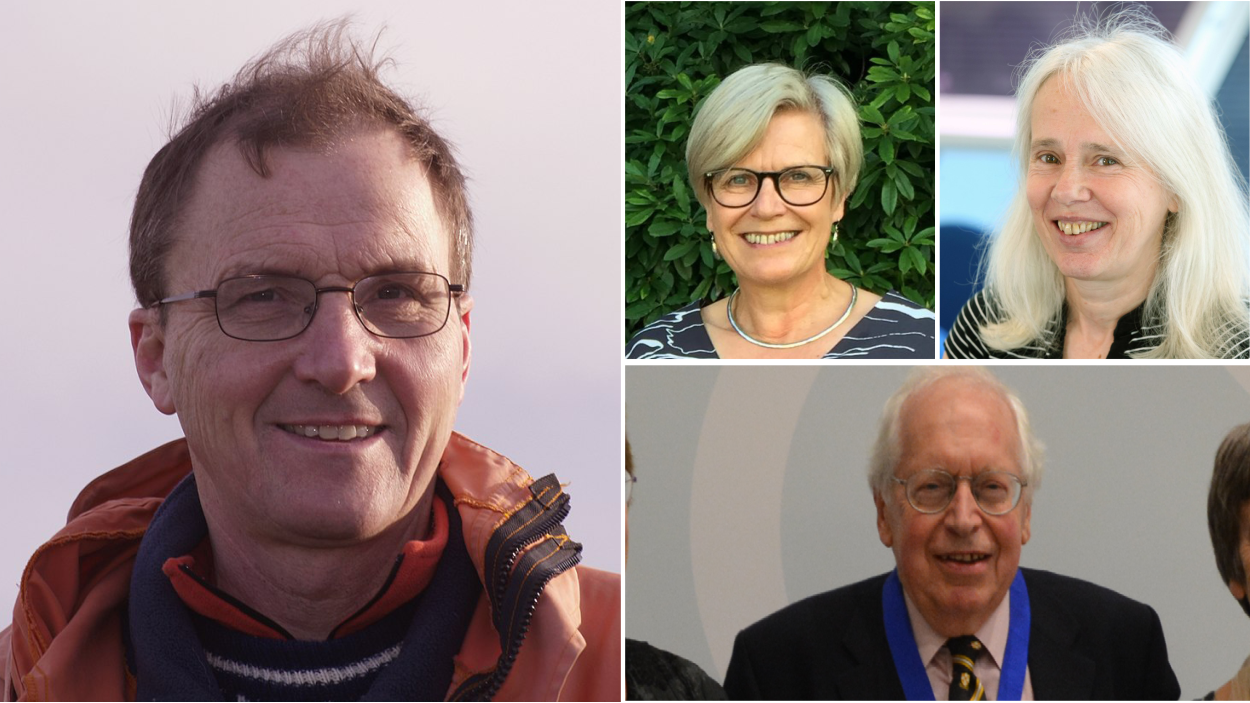 RSB Fellows recognised in the Queen's Birthday Honours include (clockwise) Professor Ian Boyd, Dr Celia Knight FRSB, Professor Lynne Boddy FRSB and Dr John Michael Grainger CBiol FRSB
Dr Grainger is visiting research fellow at the University of Reading and chair of the Microbiology in Schools Advisory Committee. Dr Grainger is very active on the Thames Valley Branch committee where he spearheaded activities such as attending school and college careers events, and providing essential support and advice to young biologists in the region.
Dr Grainger received the 2018 President's Medal in recognition of his excellent and sustained work both for the Society and the fields of biology and biology education.
Dr Celia Knight MBE FRSB, of Celia Knight Consulting, has been recognised with a Member of the Order of the British Empire for services to plant science education.
Dr Knight also chairs the RSB's Plant Health Professional Register advisory board. The plant health professional register helps to acknowledge the skills, create opportunities and widen the community of plant health professionals. Dr Knight was involved in the creation of the Plant Health Undergraduate Studentships, now in their third year of operation by the RSB's UK Plant Sciences Federation.
Professor Lynne Boddy MBE FRSB, professor at the school of biosciences at Cardiff University, has been recognised with a Member of the Order of the British Empire for services to mycology and public engagement in science.
Professor Boddy is a decomposition ecologist, who also gives talks, participates in events and speaks about fungi across the media. She has been instrumental in establishing UK Fungus Day, one of the headline events of the RSB's Biology Week, and was president of the British Mycological Society, a Membership Organisation of the RSB.
Professor V Craig Jordan CMG OBE FRSB has been appointed the Most Distinguished Order of St. Michael and St. George (CMG) for services to women's health.
Professor Jordan is Professor of Breast Medical Oncology, and Professor of Molecular and Cellular Oncology at the University of Texas MD Anderson Cancer Center.
The award recognises Jordan's discovery of selective estrogen receptor modulators (SERMs) as the one of the first multifunctional medicines that can be used in treatment for several diseases including breast cancer.