News
Primary Science Teacher of the Year award presented to Swansea teacher Kelly Thomas
Kelly Thomas, primary teacher at Penllergaer Primary School, Swansea, has been awarded the Royal Society of Biology Primary Science Teacher of the Year award.
The award, presented in partnership with the Primary Science Teaching Trust, recognises those who show outstanding commitment to the profession and are inspirational in their teaching.
Kelly Thomas said of receiving the award: "I was completely overwhelmed and delighted just to be nominated for the award. "I have a passion for Science and enjoy all aspects of working as the Science Co-ordinator for Penllergaer. "When I was informed I had won one of the prestigious Primary Science Teaching Trust Awards for 2016, I was totally thrilled.
"The annual CPD allowance will enable me to continue to improve my practise and make further positive impact on Science at Penllergaer."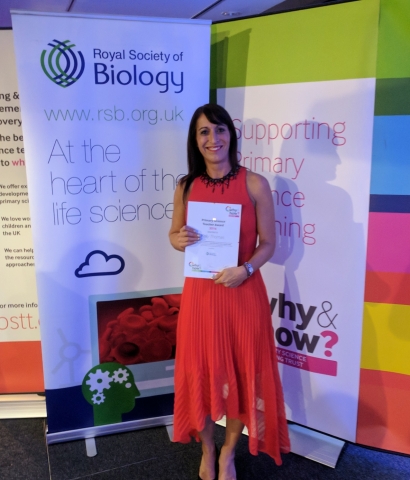 Kelly collecting her award
Dr Amanda Hardy, Senior Outreach Officer at the Royal Society of Biology, says: "Within a field of tremendously inspiring and outstanding primary science teachers what particularly impressed us about Kelly was her enthusiasm and passion for science and for helping all her pupils share in this love of science.
"Kelly has made a significant impact on the teaching of science at Penllergaer and the school's pupils are achieving higher grades in the subject.
"She has done this by raising the aspirations of the school's pupils and helping them see science as a subject that is for them."
Each year, pupils from Year 6 have access to micro-imaging equipment, including a scanning electron microscope at Swansea University.
Using a programme of study developed by Kelly and a team at Swansea University and through a Royal Society Partnership Grant, these classes are able to work with engineers and scientists on a structured investigation of natural materials from the local environment.
The project concludes each year with a 'Micro-imaging Competition', with the children's photographs judged by the University.