News
RSB's International Biology Olympiad 2017 wins award for best conference development
The International Biology Olympiad 2017 (IBO 2017), overseen by the Royal Society of Biology, has received an award for its outstanding development as a conference.
IBO 2017 received the Best Conference Development award, awarded by The Association of Association Executives (AAE), as part of the Association Awards UK.
AAE announced the winners of the Association Awards UK at a celebratory dinner, held at the MacDonald Hotel, Manchester.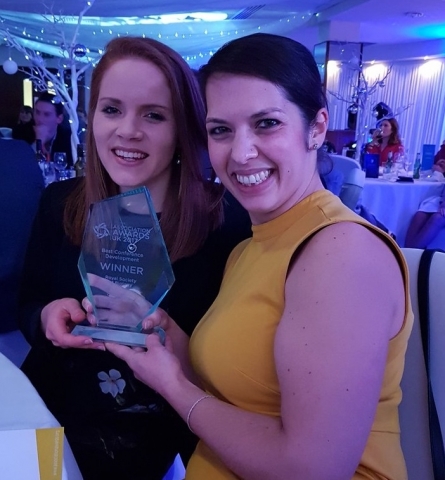 RSB staff Rachel Lambert-Forsyth and Izzy Brinsden receive the award for the IBO 2017 conference at the celebratory dinner
Winners were selected by a judging panel consisting of association leaders, all focused on the continuous improvement of associations globally.
The International Biology Olympiad, the biggest biology competition for school students, takes place every year in different locations across the globe, and sees students travelling from China, Thailand, New Zealand and beyond to compete in a series of practical experiments and theoretical exams.
After a successful bid by the RSB for the IBO 2017 to be hosted by the UK, this year the competition took place at the University of Warwick in Coventry and was overseen by RSB staff, volunteers from the RSB UK Biology Competitions committee and staff from the University.
The conference won after it was announced in November as being one of three shortlisted for the award.
The judges said that the event showed a very impressive use of volunteers, and was an exemplary event 'that showed the value of cooperation with different stakeholders.'
The judges' citation also read: "The Royal Society of Biology pulled in the whole industry to their event, including getting on government radar which is incredibly difficult.
"The event hit all objectives and budgets, and showed good development. The event was definitely impressive for an eight year old association."
Damian Hutt, Executive Director of the AAE, commented: "The Association Awards recognise those who have demonstrated outstanding achievements and best practice in leadership, development and service within membership organisations.
"Entries have been very strong this year and we are delighted with the response to the Awards. It's been a very exciting evening here tonight, hearing the final results."
The Association Awards UK are open to all UK associations and aim to encourage as many as possible outstanding examples of association practice and case studies to be highlighted in order to promote best practice within the association community.