News
RSB welcomes new President at 2018 Annual General Meeting
Professor Dame Julia Goodfellow has succeeded Professor Dame Jean Thomas Hon FRSB as President of the RSB, with handover taking place at the Annual General Meeting on May 2nd.
The AGM saw more than one hundred members attend to hear updates from the RSB chief executive and directors, review the organisation's finances, and commemorate Professor Thomas's time in her role as President before handing the role over to Professor Goodfellow.
Dame Julia was previously the Vice Chancellor of the University of Kent and former President of Universities UK, is renowned for academic achievement in the fields of biophysics and biomolecular science.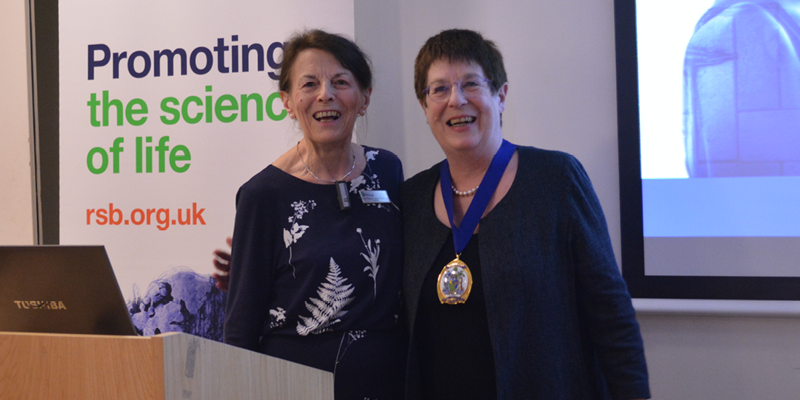 Professor Dame Jean Thomas and Professor Dame Julia Goodfellow during the AGM handover
Her previous appointments also include chief executive of the Biotechnology and Biological Sciences Research Council and chair of the British Science Association.
Said Professor Goodfellow: "I am honoured to be appointed as the next President of the Royal Society of Biology.
"I hope to build on the excellent work of Jean who together with the first president Nancy Rothwell have seen the development of the society since its inauguration in 2010.
"We have a great opportunity to promote the whole breadth of the biosciences further as we go into our tenth year.
"I look forward to working with all members of the RSB to help strengthen the biosciences community and to ensure we are able to represent their views and priorities."
Professor Thomas said of her successor: "I am delighted that Julia will be the Society's third President. She has made tremendous contributions across the biosciences and education and will undoubtedly be an excellent hand at the helm of the Society.
"Her experience and knowledge will be a great asset as the Society continues to develop a unified bioscience voice and champion the work of biologists."
During the AGM, the Society commemorated the services of RSB Honorary Treasurer Dr Pat Goodwin CBiol FRSB, who has come to the end of her five year tenure in the role. She is succeeded by Dr Paul Brooker FRSB.
There were also thanks offered to Professor John Coggins FRSB who completed his term representing the College of Organisational Members on RSB Council, and Professor David Blackbourn FRSB retiring from Council, and welcome to their successors Professor Yvonne Barnett FRSB and Professor Patricia Kuwabara FRSB.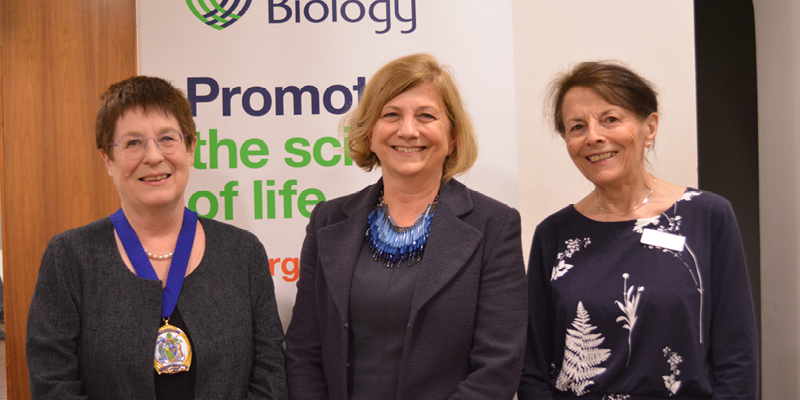 Professor Dame Julia Goodfellow, Professor Jackie Hunter and Professor Dame Jean Thomas together after the AGM
Professor Jackie Hunter FRSB, RSB Council member and chief executive of BenevolentBio presented this year's Charter lecture, entitled 'How Artificial Intelligence is revolutionising Drug Discovery'.
The presentation of cutting edge computer-assisted disease and therapy research was much appreciated and lively discussion continued into the reception afterwards.
Photos from the event and the following Presidents' Dinner are available on the RSB Flickr page.