News
"Stunning" anatomical drawing of dromedary camel amongst winners of this year's Nancy Rothwell Award
The Nancy Rothwell Award celebrates artwork that captures the intricacies of anatomy, and this year more than 300 entries were submitted including specimen drawings and models of animals, plants and aspects of microscopy.
Entries were submitted from across the country for the three age categories (7-11, 12-14 and 15-18), and were judged by a panel consisting of biologists and illustrators.
Winners of the award, named after the first President of the Society, receive drawing equipment, a certificate, £25 for themselves, and £100 for their school at this year's Annual Awards ceremony at the Francis Crick Institute, London, as part this year's Biology Week.
Both highly commended entrants and winners are also invited to a day of training from a professional animal illustrator, based at the Royal Veterinary College.
The winner of the 15-18 category was Leslie Lee, aged 16, from Wimbledon High School.
Leslie's entry depicts internal and external anatomy of a dromedary camel, Camelus dromedarius using graphite, watercolour, acrylics and colouring pencil.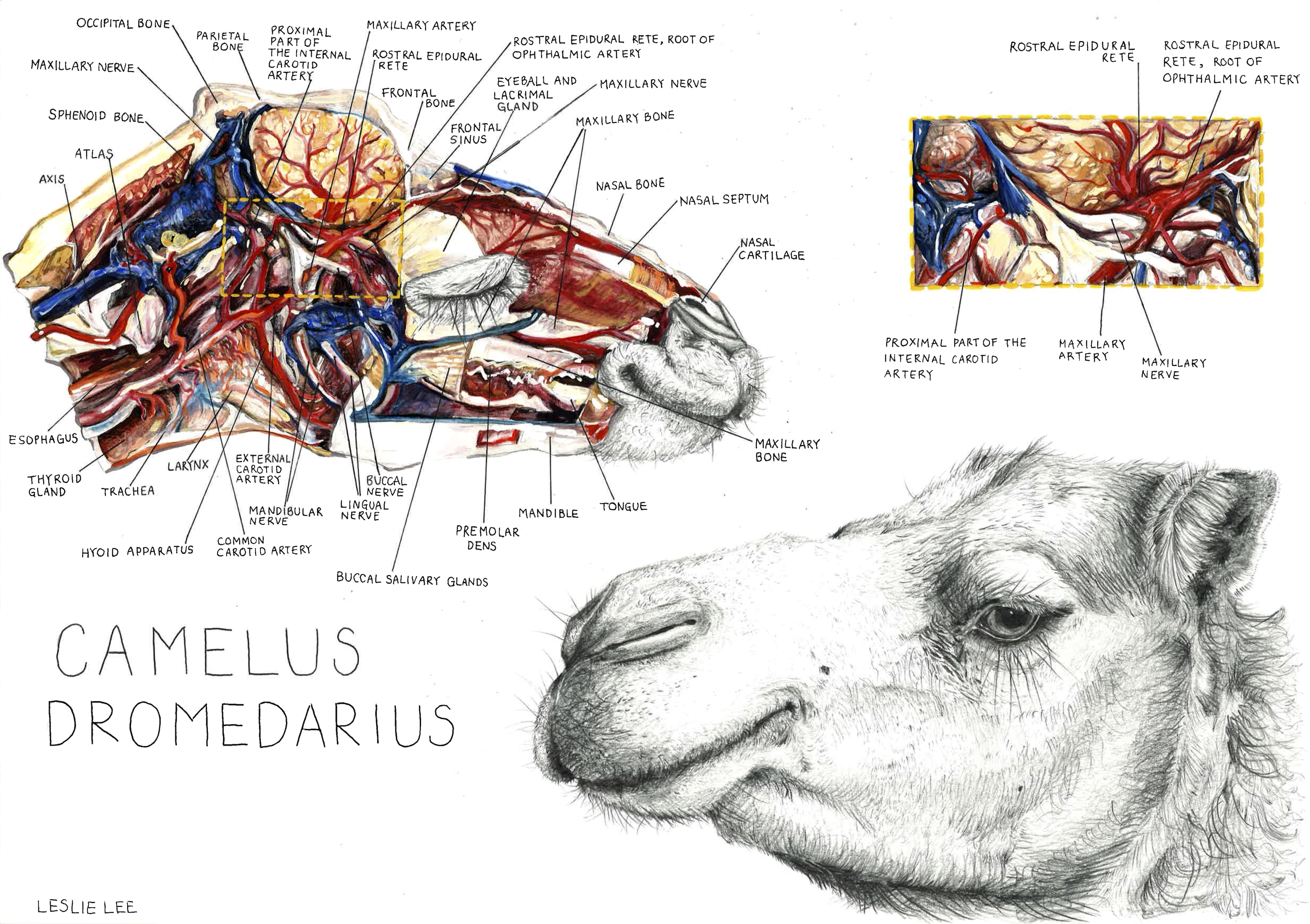 Leslie's intricate drawing of a camel
On winning, Leslie said "I was immensely surprised and pleased to become a winner in my category.
"Producing a detailed fine drawing of the camel really helped me in understanding the anatomy of the specimen, contributing to broad knowledge in biology outside of curriculum.
"The interaction, complexity of living organisms intrigued me into studying biology at the first place."
Timothy Pond, an illustrator based at the Zoological Society of London and member of the judging panel, said the entry was "simply stunning."
"This is a staggering piece of highly ambitious investigation with a very sophisticated biological illustration technique. This really is an investigation of showing all the different biological parts working together to create a living animal, the bone, the muscles, blood vessels and much more."
James Boughey, aged 11, from Prestfelde School in Shrewsbury, was the winner of the 7-11 category, with his detailed collection of drawings of the bumblebee.
On winning the award, James said: "I chose to study bees as I see a lot of them in my garden.
"I understand how important they are to the world. We need them for pollination of our plants and I am eager to raise awareness."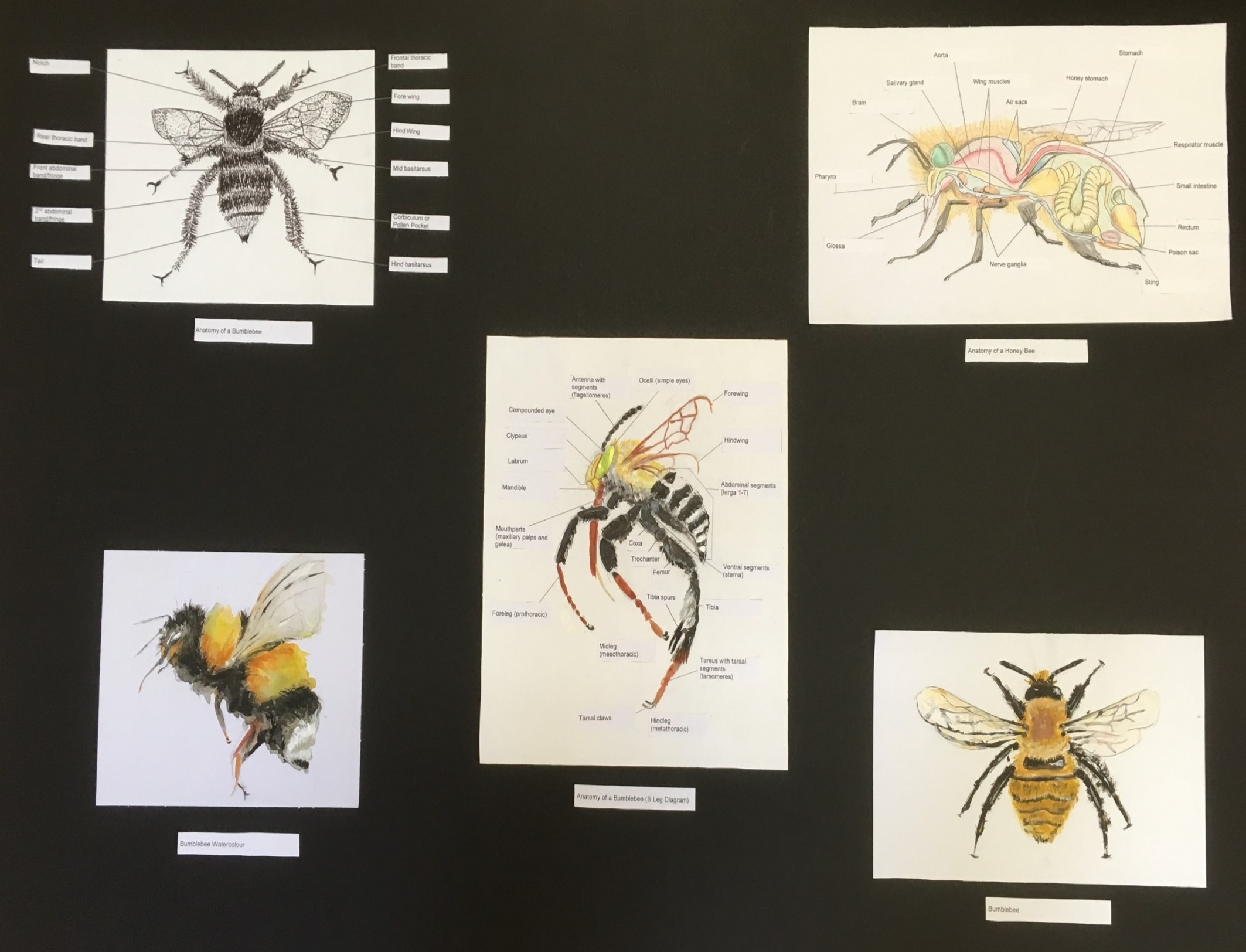 James's entry of five bumblebee pictures
Andrew Crook MBE FRSA of the Royal Veterinary College and member of the judging panel commented: "James' bumblebee images are great. Five different images must have taken a good deal of work.
"The range of techniques is good, particularly the watercolour, and I learned a lot about bee anatomy."
Charlotte W, aged 12, from Preston School in Yeovil took home the winning title in the 12-14 category for her 3D Fimo model of the panther chameleon, Furcifer paradalis.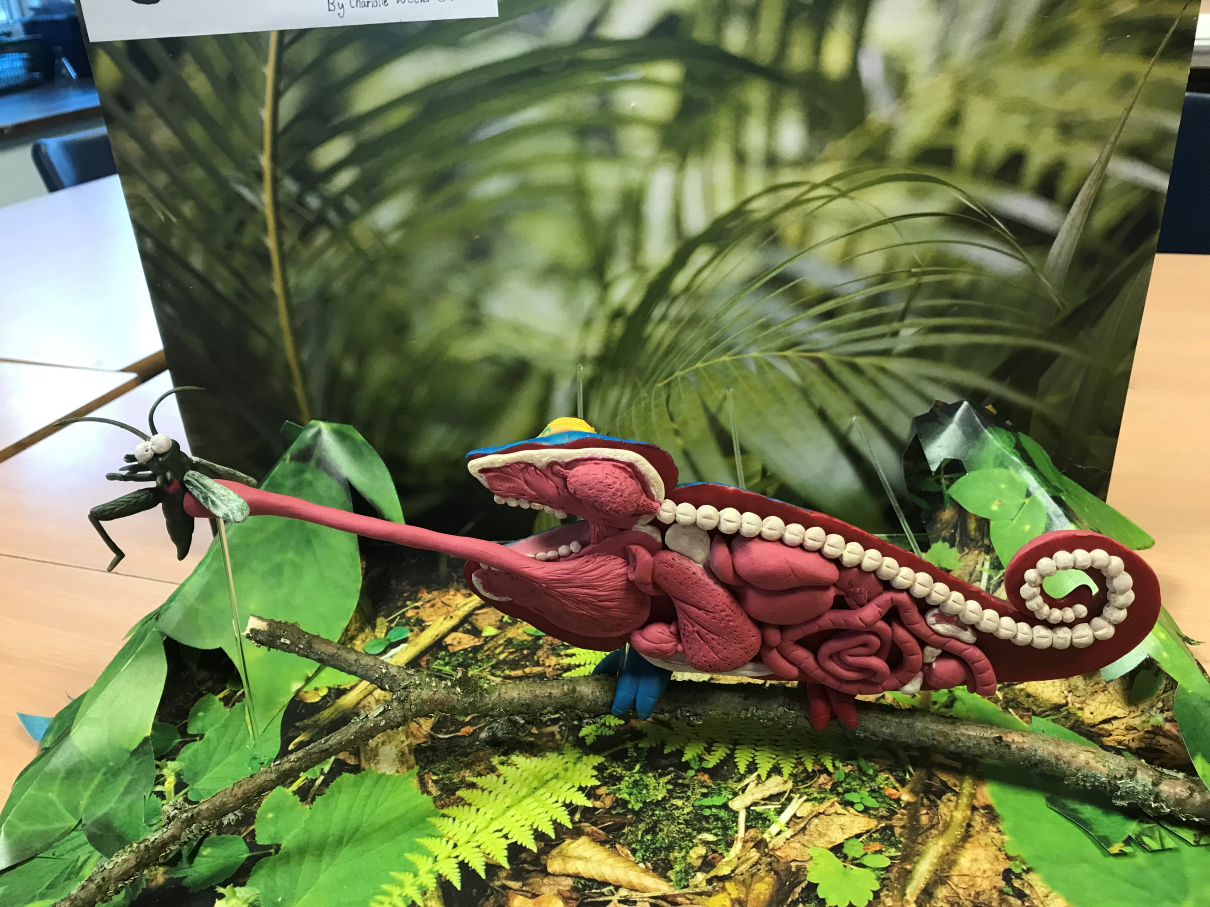 Charlotte's model chameleon
Charlotte's science teacher, Eve Anderton said: "I was delighted to hear that Charlotte was successful with her entry.
"She is always so interested in her biology lessons and works very hard to consistently produce work of a high standard."
Timothy Pond said the model showed a "tremendous level of understanding". He said: "Being different and thinking about using a completely different media that is highly original deserves to be commended.
"The model has been beautifully and carefully constructed and has a witty humour that reminded me of creator of Wallace and Gromit Nick Park, as well demonstrating excellent anatomical understanding."
The competition was judged by Andrew Crook MBE FRSA, Lucy Eckersley, and Dr Grace Sim from the Royal Veterinary College, Tom Ireland MRSB from the Royal Society of Biology, Timothy Pond from the Zoological Society of London, and Professor Susan Standring FRSB from King's College London.