News
Talented pupils and teachers celebrated at this year's Education Awards Ceremony
Outstanding school pupils and teachers were recognised for their success at this year's Education Awards Ceremony, which took place at the IET London: Savoy Place on Monday 9th July.
The ceremony saw school students from the UK and abroad receive their certificates and medals for their achievements in the Biology Challenge, the Intermediate Biology Olympiad and the British Biology Olympiad.
The ceremony also celebrated outstanding teaching with two award winning and two short-listed teachers receiving recognition for their dedication to teaching biology at primary and secondary school.
During the ceremony, a keynote lecture on antarctic exploration was delivered by Dr Jon Copley MRSB, associate professor in ocean exploration and public engagement, University of Southampton.
Jiaqi Chen, one of the UK team members for the International Biology Olympiad 2017, also delivered an engaging and insightful talk on her experiences in the competition, and encouraged this year's team to enjoy the academic stretch and the opportunities to meet others from around the world at this year's competition.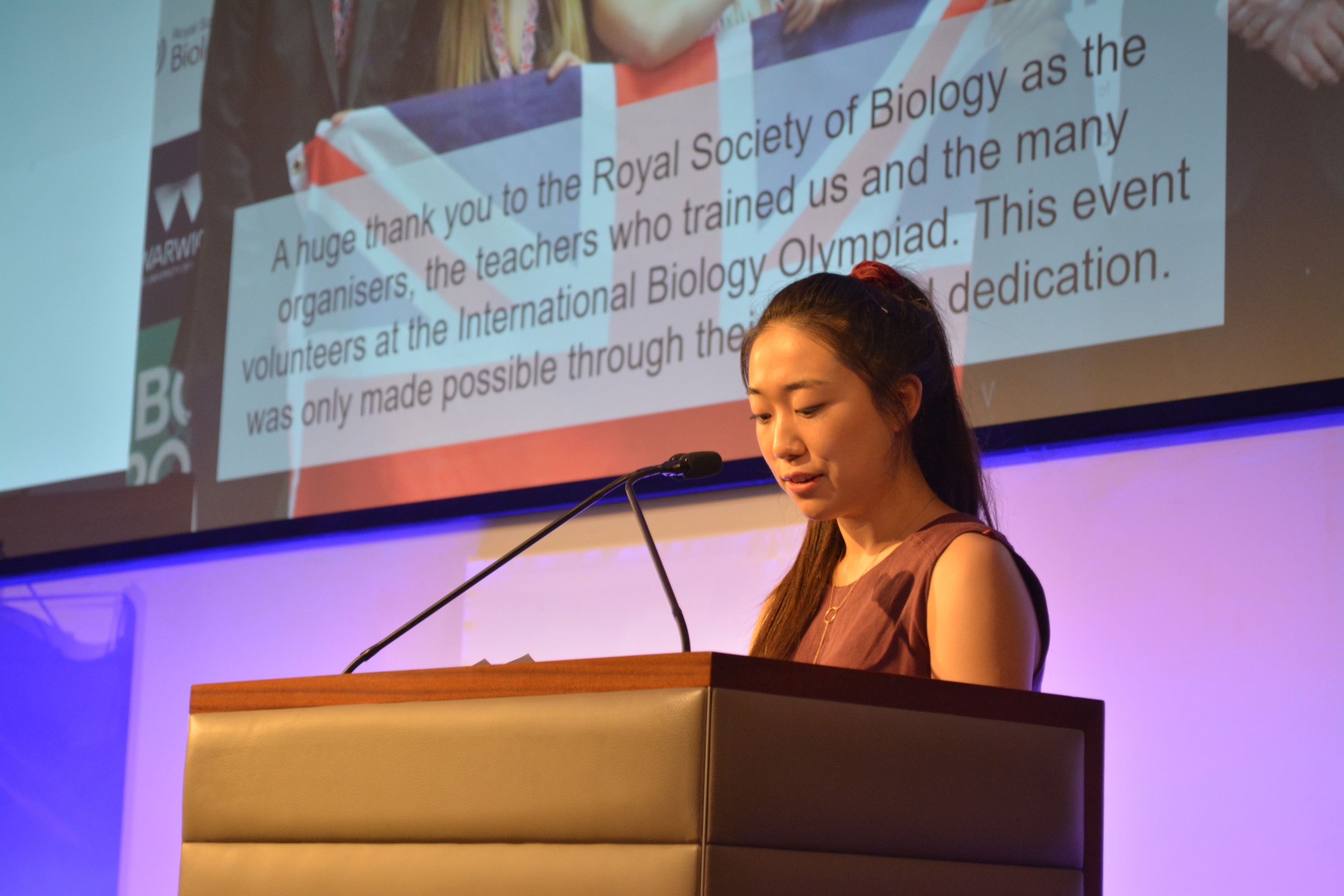 Jiaqi Chen sharing her memories of IBO 2017 with the audience (photo credit: RSB)
This year saw record numbers of students taking part in the school competitions. The Biology Challenge competition, suitable for pupils aged between 12 and 15, had 48,000 participants across more than 580 schools worldwide.
The Intermediate Biology Olympiad, suitable for pupils aged 16 to 17, had 6,500 participants this year from more than 400 schools worldwide.
The British Biology Olympiad, suitable for pupils aged 16 to 18, had 7,800 participants from more than 630 schools worldwide.
Outside of the UK, pupils from 29 other countries including China, Ghana and El Salvador took part in the competitions.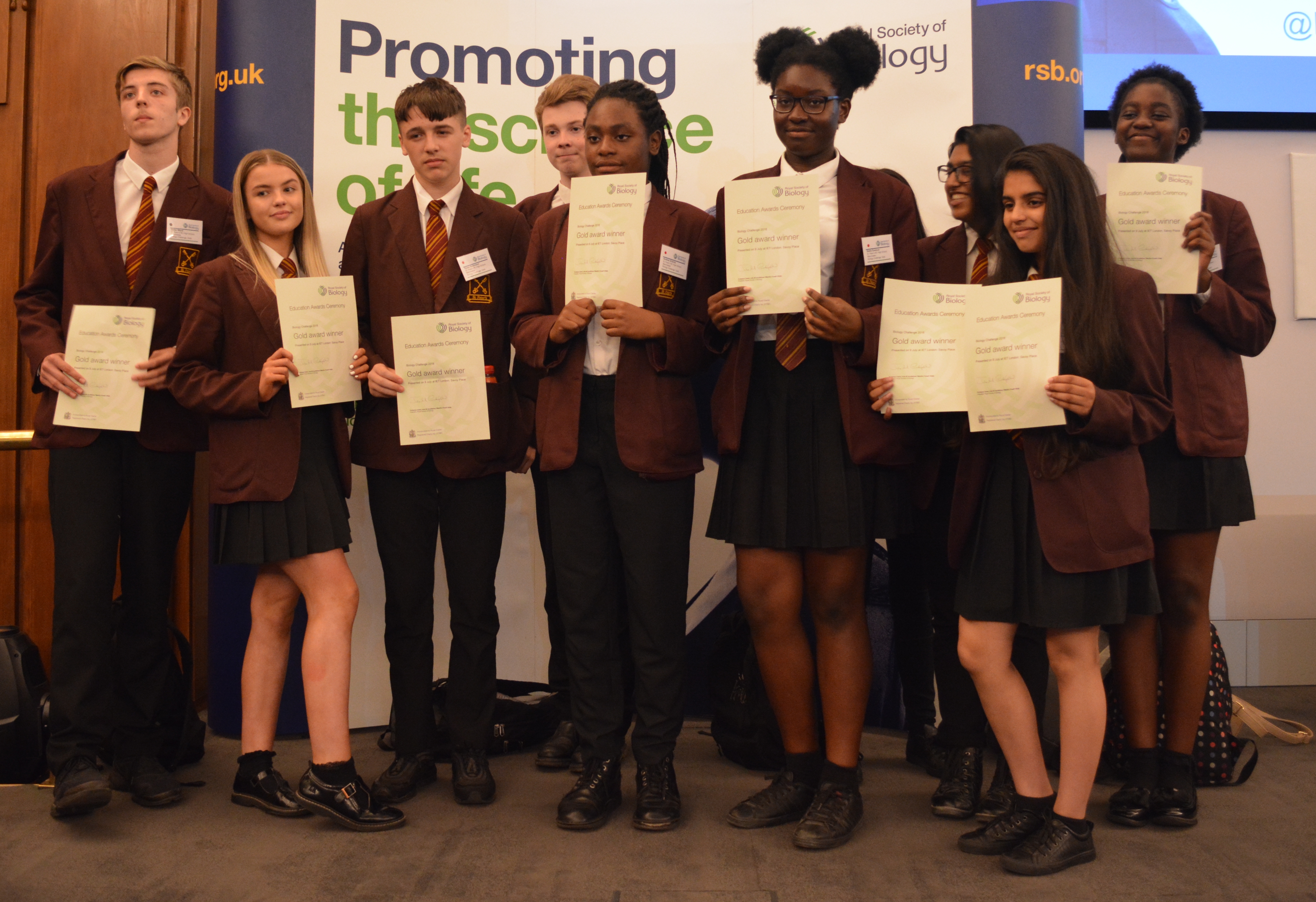 School pupils celebrating during the event (photo credit: RSB)
Schools that received the highest number of gold medals in this year's British Biology Olympiad were St Paul's School in London, Regent House School in County Down, St Margaret's School for Girls in Aberdeen and Cardiff Sixth Form College in Cardiff. The top school overall was also St Paul's School, London.
The top school overall was St Paul's School, London, with pupils receiving 18 gold medals in total, more than three percent of the total gold medals awarded for the British Biology Olympiad.
Presenting the awards, Dr Andrew Treharne MBE CBiol FRSB, chair of UK Biology Competitions committee, said: "It's been an extremely successful year for our competitions, particularly following the UK successfully hosting the International Biology Olympiad at The University of Warwick in July 2017.
Entire year groups of students took part at some schools, something which took a great deal of organising by teachers and IT technicians. Some were busy well into the evenings and weekends.
I am particularly grateful to the UK Biology Competitions committee and colleagues at the Royal Society of Biology for their hard work in support of all three competitions and for arranging this event."
The Secondary School Biology Teacher of the Year 2018 award was presented to Dr Richard Spencer MBE CBiol FRSB from Middlesbrough College, Middlesbrough.
Richard received the award in recognition of his commitment to delivering high quality, innovative biosciences education, and work on a national level through his involvement with Science on Stage, amongst a number of other projects.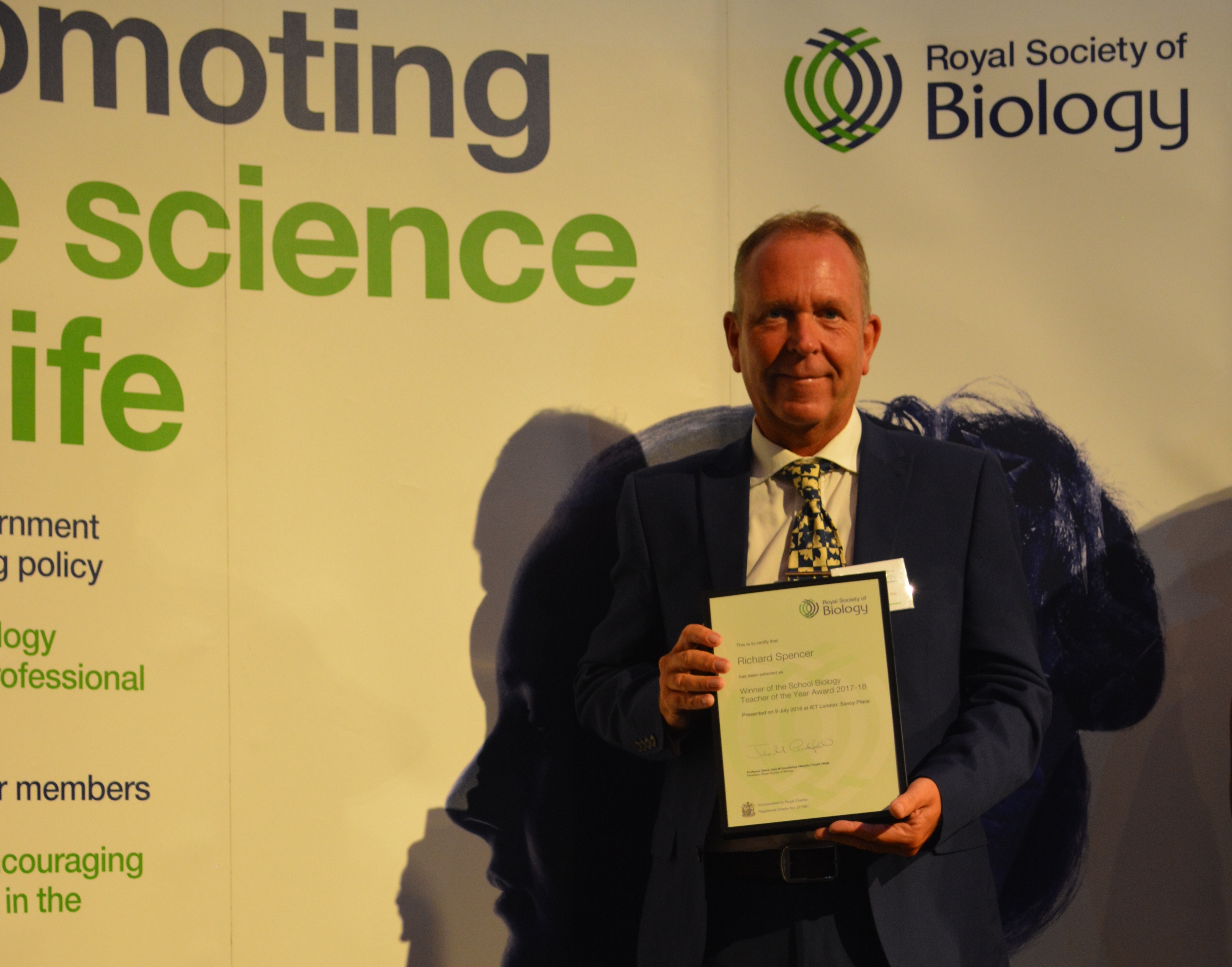 Dr Richard Spencer receiving his award (photo credit: RSB)
Dr Mark Winterbottom FRSB, chair of the judging panel, said of Richard's award: "Richard is a teacher admired by students and staff alike.
"He has very strong professional knowledge in biology teaching and learning, and enables students to think through ideas themselves, building their understanding autonomously, and reinforcing their confidence alongside.
"His work both nationally and internationally outside the classroom is prolific, and already identifies him as a 'champion' for teaching and learning of biology, and science more generally. He clearly has a strong sense of vocation as a teacher of biology, and is a very worthy winner indeed."
The teachers shortlisted for the award were Robert Isaacs from Tormead School, Guildford and Natalie Johnston from Rendcomb College, Rendcomb.
The Royal Society of Biology 2017 Primary Science Teacher of the Year Award, recognising outstanding and inspirational teaching, was presented to Kelly Thomas, primary teacher at Penllergaer Primary School, Wales.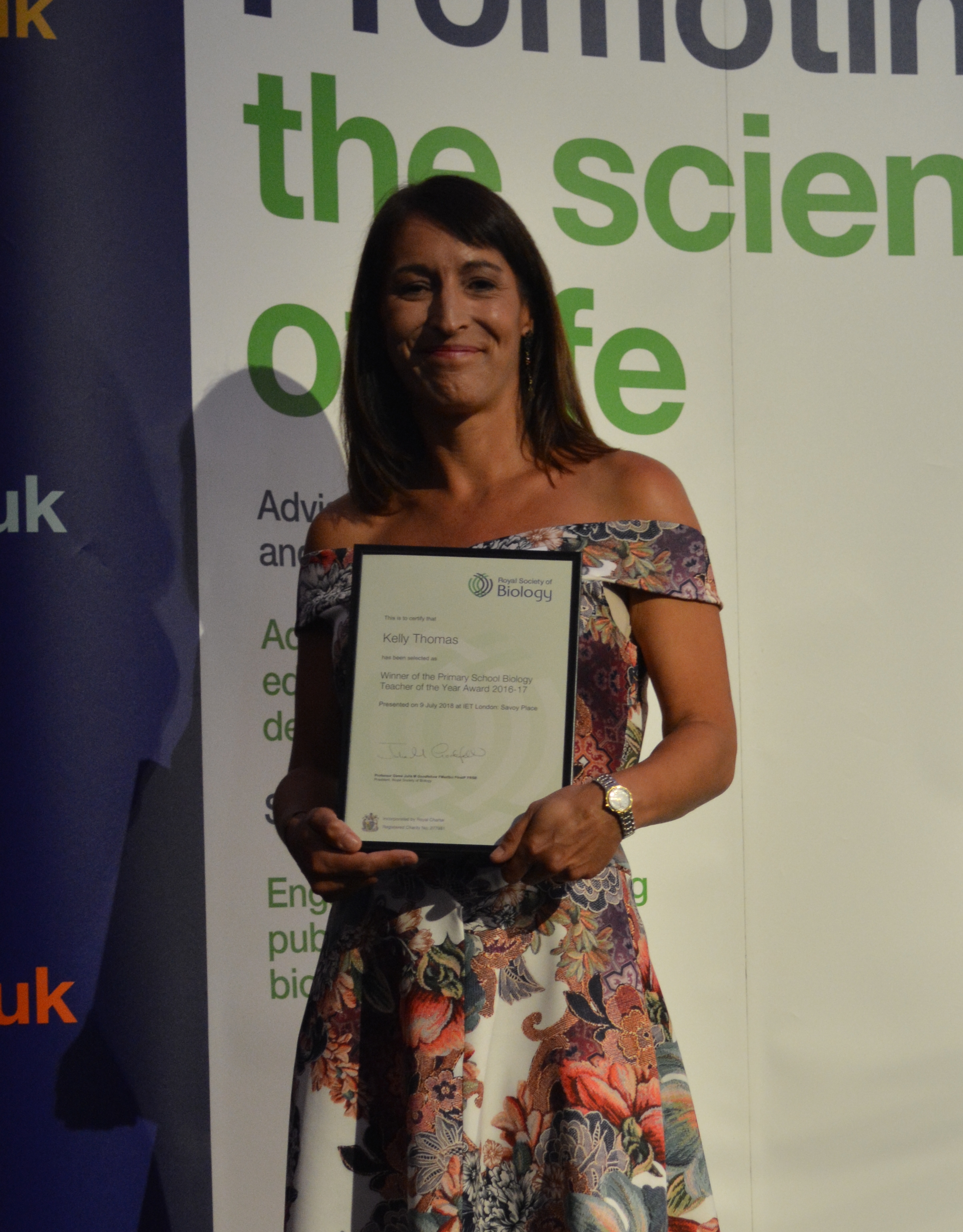 Kelly Thomas receiving her award (photo credit: RSB)
Kelly and a team from Swansea University has developed a programme that gives pupils access to micro-imaging equipment, including a scanning electron microscope. Through the programme, pupils are able to work with engineers and scientists to investigate natural materials from the surrounding environment.
The award is part of the Primary Science Teaching Trust Awards for primary science teachers, and is endorsed by the RSB to recognise achievements in teaching biology within the primary curriculum and through extra-curricular science.
Photos from the event are available over on the RSB Flickr page.