News
A celebration of accredited degrees
Details

10 September 2013
Accreditation of bioscience degrees at the University of Liverpool, University of Manchester, Royal Veterinary College, and the University of York was celebrated at the annual Degree Accreditation Awards Ceremony, on the 4th September.
These degrees have been acknowledged for their academic excellence and commitment to developing graduate employability skills.
The awards ceremony took place in the beautiful grounds of the Royal Botanic Gardens, Kew, with over 100 guests representing academia, industry and learned societies in the UK. Guests heard about the development of the Degree Accreditation Programme from Professor David Coates FSB; followed by Professor Lynne Boddy, who spoke passionately about the need for skilled graduates in niche areas of biology, such as mycology.
This year's awards ceremony celebrated the first degrees accredited since the pilot in 2011/12, which focussed on biochemistry degree programmes; the Degree Accreditation Programme has now been expanded to cover the breadth of the life sciences.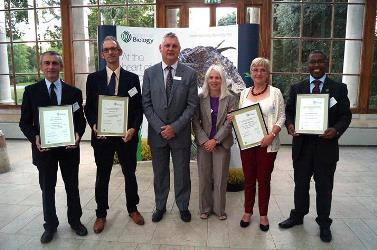 The Society of Biology has developed the Degree Accreditation Programme to address the graduate skills gaps between study and employment. Lack of experience and practical skills has been recognised as a barrier for graduates entering employment, and for employers seeking suitable candidates. The degrees accredited by the Society provide students with the opportunity to gain substantial research experience, and are helping to maintain a pipeline of skilled graduates into nationally important research areas.
Mark Downs, chief executive of the Society of Biology, says: "Employability has been pushed to the forefront of graduates' minds in recent years, yet employers consistently report a skills gap. These courses have been accredited because they are producing research-ready graduates with the skills and experience needed to enter the competitive job market."
Find out which degree programmes have been accredited by the Society of Biology.
The Society of Biology would like to thank our event sponsors.
The Degree Accreditation Programme has received co-investment from the UK Commission for Skills and Employment through the Growth and Innovation Fund.