News
Three presidents come together to discuss careers, challenges and plans for the future
Three presidents of the Royal Society of Biology, Royal Society of Chemistry and Institute of Physics sat down for a candid interview with Professor Dame Athene Donald FRSB, as part of this year's Daphne Jackson Trust conference.
Professor Donald, a patron of the Daphne Jackson trust, shared the stage with RSB President Professor Dame Julia Goodfellow FRSB, former president of the Institute of Physics Professor Dame Julia Higgins and President of the Royal Society of Chemistry Professor Dame Carol Robinson.
The four women discussed a number of topics, including career challenges, benefits of joining a professional society and future aspirations for the scientific community.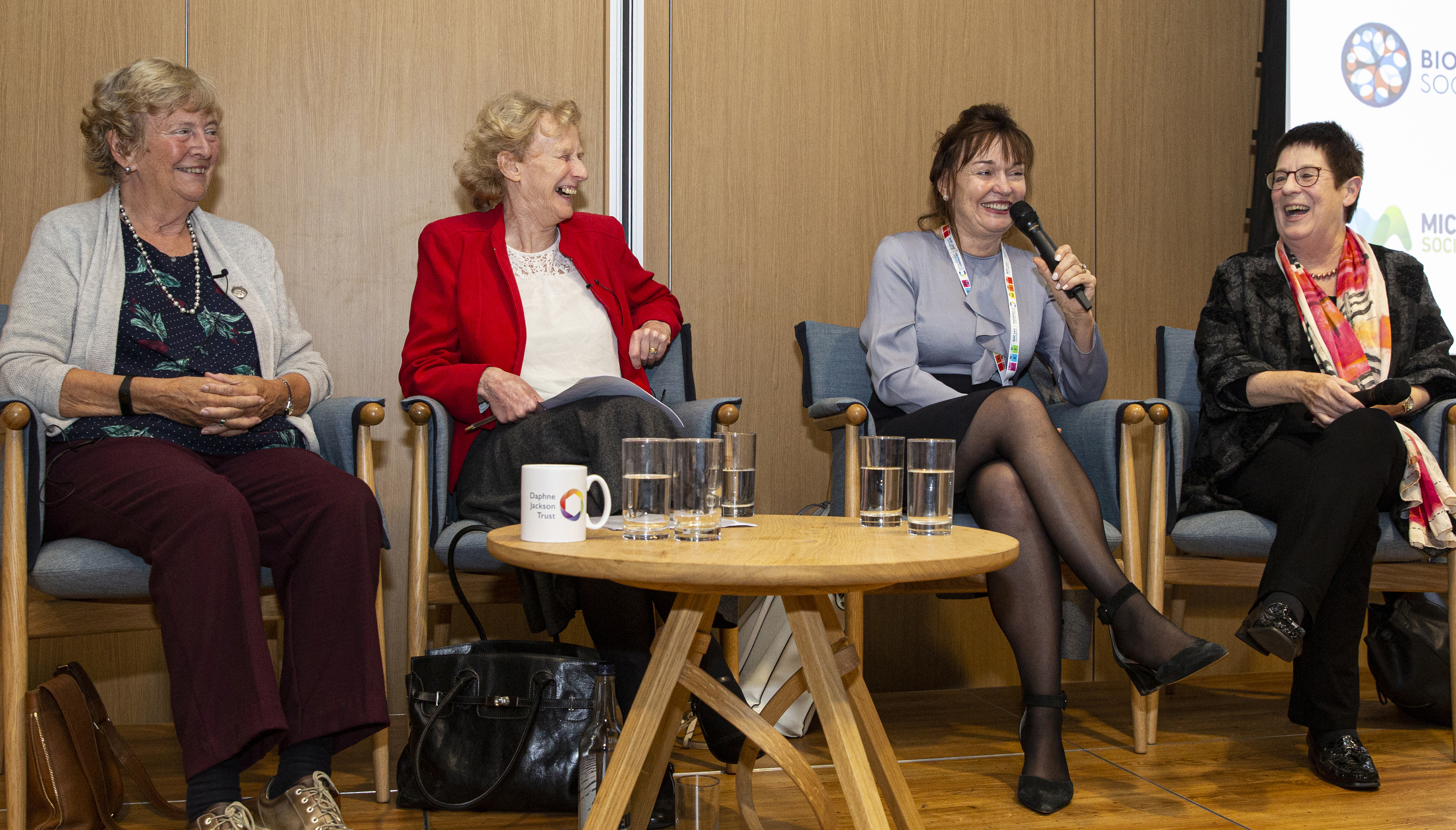 From left to right: Professor Dame Julia Higgins, Professor Dame Athene Donald FRSB, Professor Dame Carol Robinson and Professor Dame Julia Goodfellow FRSB (photo: DJT)
Although each president had a different career trajectory, they all reiterated the importance of ambition, drive and passion in their chosen subjects. "You have got to enjoy what you are doing at each stage of your career and stick at it," Professor Goodfellow commented.
When asked about failure and coping mechanisms, resilience was identified as a critical trait. Professor Higgins said that young researchers "should allow yourself to be angry with failed promotions and grants, yet come back and fight."
All the presidents had unique stories; however all said that the opportunity to reflect, and constructively use feedback aided their success. "Everyone has setbacks. Careers are not unidirectional. Just keep going. Lots of people overcome setbacks eventually." said Professor Goodfellow.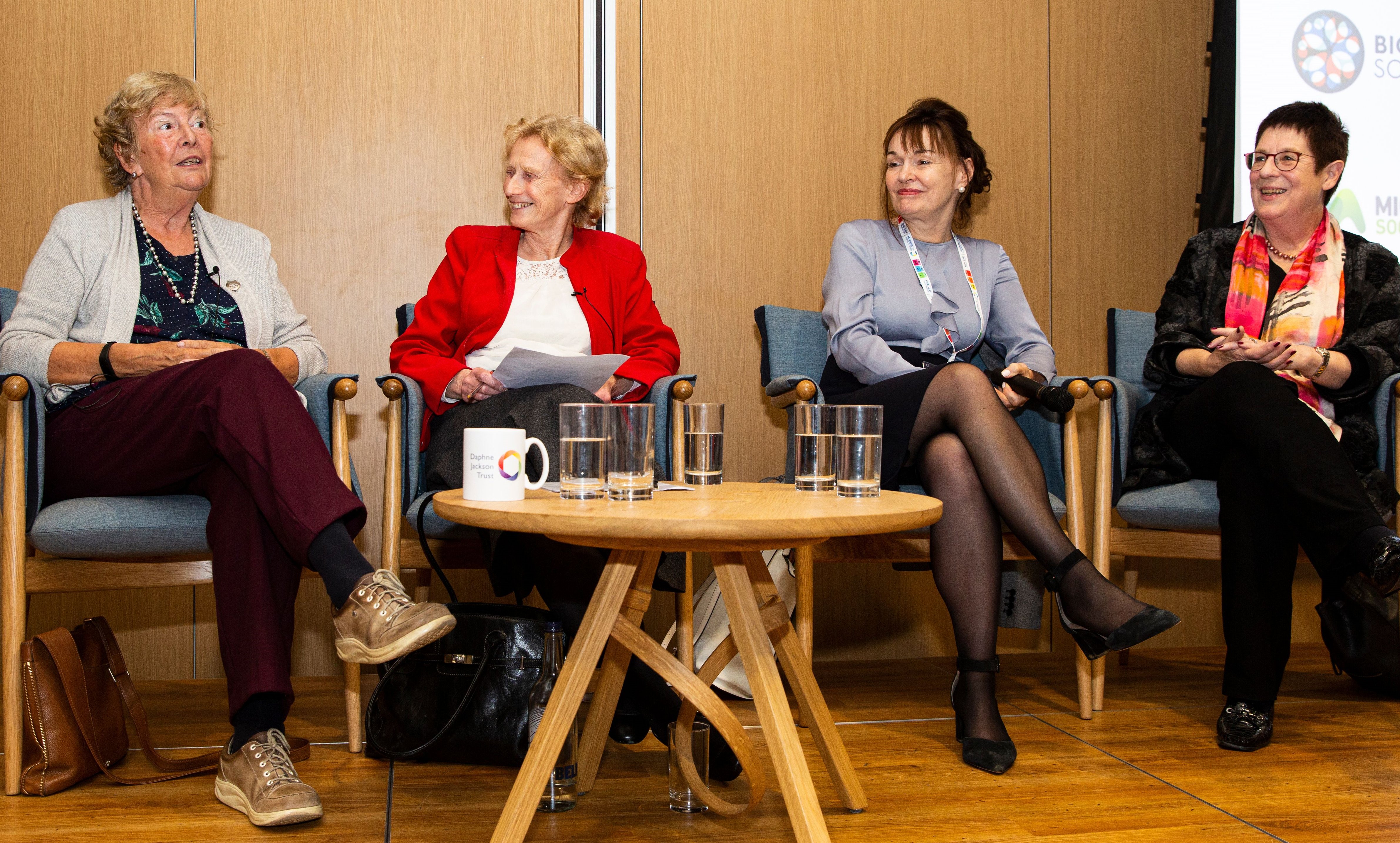 The four Dames discussed their career, overcoming challenges and plans for the future (photo: DJT)
When asked who had influenced them most, teachers were identified unanimously, and Professor Goodfellow also identified Dorothy Hodgkin as a personal role model.
When asked what advice they would give to their younger selves, Professor Robinson stated she would encourage her younger self to be more confident, whilst Professor Higgins would advise a young Julia to "See the unusual opportunities when they arise and be encouraged to take them."
Finally, on the subject of learned societies, each president highlighted the importance of their society's diversity and inclusion initiatives.
When referring to RSB, Julia Goodfellow commented: "We have to realise it is a collective responsibility," and praised RSB staff members for embedding diversity and inclusion considerations across a number of RSB's activities.
Professor Donald concluded the session, stating the need to make working environments that work for everyone, "No matter what the circumstances are."
The discussion was the final session at this year's Daphne Jackson Trust 2019 research conference, hosted by the Institute of Physics and sponsored by the Royal Society of Biology amongst other organisations.
Since the first fellowship in 1986, The Daphne Jackson Trust facilitates professional development and provides support for fellows returning to STEM careers after a career break. In attendance were current and former fellows, trustees, and representatives from hosts and sponsors in addition to people that work in science policy, research and higher education sectors.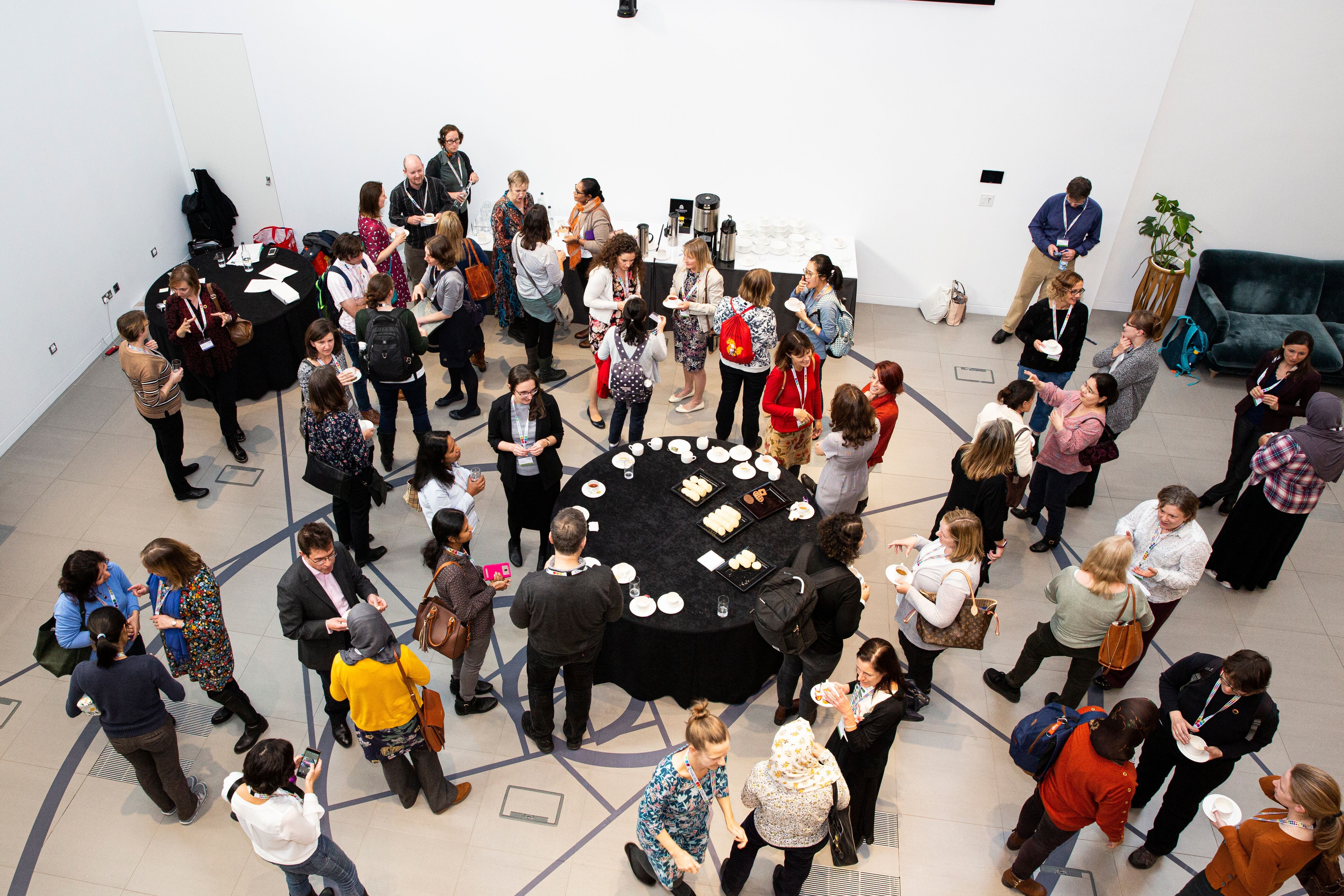 The Daphne Jackson Trust attendees networking at the Institute of Physics building (photo: DJT)
The conference is held every two years, providing a supportive platform for fellows to showcase their research and share their experiences. Common themes tackled included the commitment, dedication and determination needed to succeed in academia and research, especially after taking a career break, as well as challenges within the academic culture, effective diversity and inclusion initiatives and the support provided by learned societies.
Suggested future improvements for the STEM community included increasing the provision of leadership skill development, updating and enhancing the school curriculum, and developing careers advisory services to cater for a broader range of disciplines and career trajectories.
You can find out more about the work of the Daphne Jackson Trust on their website.