News
UK fascinated by flying ants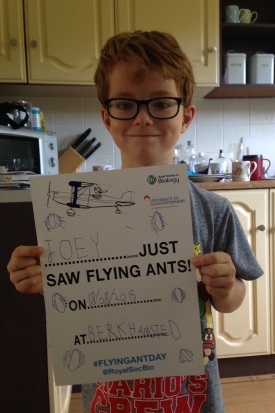 Hundreds of budding biologists across the UK have shared information about flying ant days around the UK this summer on social media, helping scientists to gain an insight into the fascinating phenomenon.
As part of the Royal Society of Biology and the University of Gloucestershire's annual flying ant survey, the public were asked to share posters, photos and drawings detailing the times and locations of flying ant sightings.
Professor Adam Hart FRSB, of the University of Gloucestershire commented: "Like 2014, we had a nice summer and, like last year, we saw a few flying days over the summer in lots of places. But even then, there seems to be a few ant-tastic days where, love them or hate them, you certainly couldn't avoid them! It's great to see so many people taking to social media to report their sightings and add to our growing knowledge of this fascinating annual event."
Now in its fourth year, the flying ant survey aims to track the pattern of flying ant activity across the UK through information from the public. This year we have created an infographic video of sightings from across the UK this summer.
During the summer months, typically July and August but even as late as early October, male ants and young Queens, rather larger in size, take to the skies in order to mate mid-air and settle in a location away from their home territory. This is a phenomenon aptly named the 'nuptial flight'. Upon losing their wings only a few days later, reproductive Queens set up a new nest and start an empire of their own. Unfortunately the male counterparts die soon after their duties are completed.
The Royal Society of Biology and the University of Gloucestershire would like to thank everyone who engaged with the flying ant survey.
Find out about our other citizen science projects and life science events happening this week all over the UK and beyond for Biology Week.