Reports
Bee Day
11 July 2015
Committee members and locals from the North West branch were treated to a honey-themed afternoon tea following a meeting in Hambleton on the Wyre Estuary. Homemade fruit cake, oat and honey biscuits and toffee fudge were washed down by copious amounts of tea served in china cups and saucers.

Mead tasting sparked conversation about different flavours – sweet mead originating from Lindesfarne and a homemade amateur mead which tasted like dry wine. Different types of honey were available to taste – two local sources (Weeton and Galgate) and two from farther afield (the Greek islands of Skiathos and Rhodes). Members were split on which was the best but the local honey got the thumbs up.
Bee suits were then donned for a tour of a small apiary conducted with local beekeeper Janet Preece, who answered a lot of questions. The site showed how different methods of beekeeping can be practised with different hive types – both National and Warré hives. Observation windows in the Warré hive showed the bustling activity of a colony and the sheer number of bees present. A National hive was opened and everyone was treated to the view of a new worker bee emerging from its cell and an audience with the queen as she wandered across the comb.
The afternoon concluded with a short quiz based around bees and many were surprised with the number of different species found in the UK (around 250). With the sun shining, everyone agreed it was an enjoyable, informative and sweet-tasting afternoon.
Janet Preece MRSB
Annual North Western Schools Quiz
24 June 2015
Each year biology students from the Cumbria, Lancashire, Greater Manchester and Cheshire face 10 sets of taxing questions as part of the North Western Branch Annual Schools' Quiz.
Over the 17 years the quiz has been running, very few of the questions have been repeated; setting them, therefore, is an onerous task for the quizmasters. When new programmes such as Only Connect appear on television they are quickly seized upon as an idea for a set of questions.
Therefore Dr Alan Bedford's questions required the students to make connections between four statements, supply a missing statement in a biochemical series, and identify biological terms with all their vowels taken out.
The article 'Pitcher Perfect' by Dan Rowson AMRSB from the April/May edition of The Biologist was the inspiration for Jean Wilson's question set, called 'Plant Plots'.
Surrounded by live specimens of Venus fly trap, sundew, pitcher plant, salvia, sweet peas, foxgloves, red campion, dandelion, night-scented stock and impressive models of apple blossom and salvia, students were tested on the adaptations of plants with regards to nutrition, pollination and seed dispersal.
The remaining eight challenges covered subjects including human evolution, pollen proteins and identification, forensic entomology, and many more.

L-R: Stan the Man and winning school, Cardinal Newman College
After six hours of assessment the results were announced: Cardinal Newman College were this year's winners, followed by Lancaster Girls' Grammar, Xaverian College and Canon Slade School. The top team are presented with a high quality microscope presented by the North Western branch and UCLAN. The preparation for 2016 will start again in January, so if anyone has an idea for a quiz question it will be gratefully received.
Jean Wilson MBE CBiol FRSB
North Western Mammal Trapping
18 April 2015
We gathered early on a crisp and fresh but clear spring Saturday morning not far from Ormskirk, on a 12 hectare rather special woodland. A mixture of mature and young woods with a very broad diversity containing deciduous and coniferous trees as well as glades and wildflower meadows. Currently under private ownership, the site is being developed by the owner to cater for guided natural history walks for education, schools, universities, friends of nature, and interestingly for part to become a traditional orchard.
After a brief introduction and splitting into two smaller groups we were expertly guided through the traps and with each one approached with an excitement not only felt by the to younger members of the group but the adults as well. One participant was armed with a rather special bit of kit that created a great deal of interest and enthusiasm, a thermal imaging camera. The device brought with it some very interesting and engaging conversation, for possible uses, projects and research ideas. The heat signals from the different mammals and their changes were fascinating and a challenge to track. From numerous common voles and shrews to the much rarer pigmy shrew, and the endearing wood mice we had plenty to record and set free.
The second part after the main survey involved a short introduction to photographing small mammals. After setting up and a few of the group quickly settled into recording a few mammals, and trying techniques as the subjects dictated.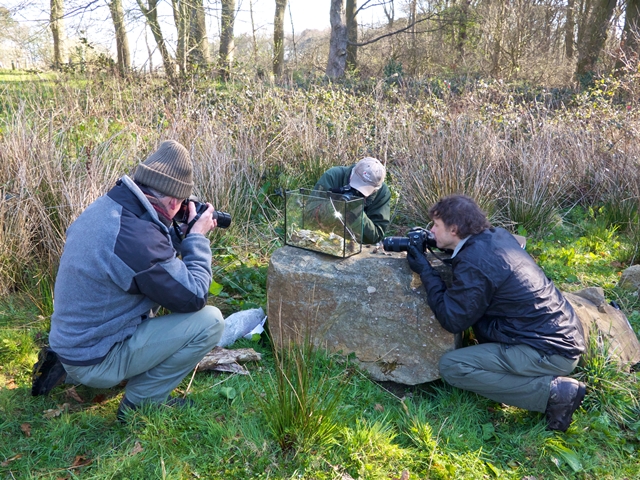 Credit: Glenn Upton-Fletcher
The day finished with a more leisurely and intimate guided tour of the whole site complete with orchard, bluebells, other specialities and a winding river. A memorable event that was fully subscribed and one that we hope to repeat.
Glenn Upton-Fletcher AMSB
Branch AGM held at Myerscough Agricultural College
28 March 2015
It was an idyllic setting for the AGM of the North Western branch, Myerscough Agricultural College lies within the heart of the Lancashire countryside. The College was founded in 1894 and is set in 700 hectares of green belt owned by the Duchy of Lancaster, it aims to maintain a balance between education, commerce and research, the latter ensuring links with universities in Manchester, Liverpool, Lancaster and Preston. The working farm on site has over 1000 ewes and 200 dairy cattle, the milk being bought by the Co-operative Group. Future plans envisage the milk being used to make cheese and ice cream on site in conjunction with local suppliers.
The AGM received the Chairman's report along with the update on the branch activities for the past year, some of the past challenges and looking at the year ahead. The elections and re-elections went smoothly with new committee members added.
Following the rigours of the AGM we were invited to view the most amazing images taken by award winning wildlife photographer Glenn Upton-Fletcher MSB. The subjects of his studies range from mites on burrowing scorpions to the lifecycle of tadpoles in his garden pond to elephants roaming the plains of Zimbabwe. Glenn will be running two short courses to support branch activities in May 16th and June 5th this year.
After lunch the delegates were taken on a tour of the College by Dr David Elphinstone, beginning with the new, state of the art glasshouses where all parameters were computer controlled and the plants produced were retailed in the College Garden Centre. Kathy Kissack greeted us at the Veterinary Nursing School with its working kennels and cattery. The aim of the cattery is to work with stray cats, 'patching-up', neutering and re-housing them. The 400 students enrolled in this School are on courses ranging from nursing care assistants to graduate veterinary nurses. Students practise on simulated dogs, which are very life-like, rehearsing techniques such as X-rays, anaesthetising and bandaging.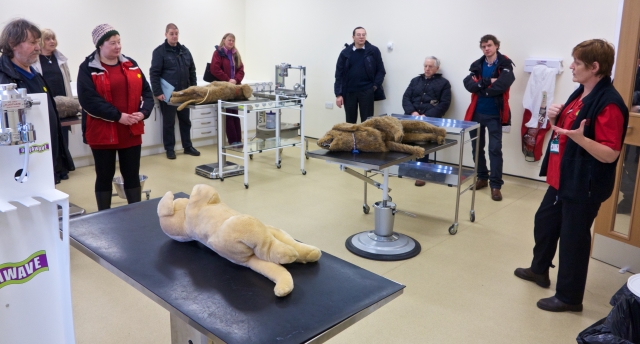 Credit:Glenn Upton-Fletcher
It was indeed 'A Grand Day Out', linking business and pleasure!
Jean Wilson MBE CBiol FSB
All at sea!
1 November 2014
It was third time lucky for members of the North Western Branch when they trawled the Wye Channel in the south of Morecambe Bay, previous attempts having been cancelled because of poor weather.
The source of the River Wyre is in the beautiful Bowland Fells near Abbeystead and flows only through the county of Lancashire. Passengers assembled at Fleetwood ferry terminal before boarding the small inshore boat owned by local artisanal fishermen. Once in the undredged channel of the Wyre estuary a trawl net fitted with otter boards was lowered onto the soft sediment of the seabed, little more than two metres deep.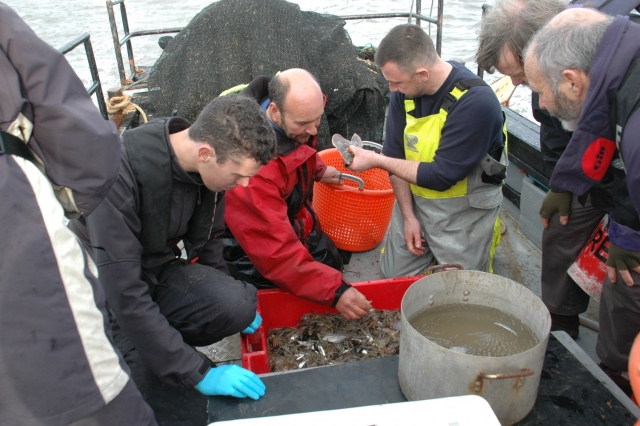 Credit: Alan Bedford FSB
As one might expect the bulk of our catches during the five hours at sea was made up of the brown shrimp (Crangon crangon), but other species included hermit crab, shore crab, swimming crab, pink prawn, edible mussel, cuttlefish, cat shark, dab, plaice, dover sole, turbot, flounder, red gurnard, dragonet, scorpion fish, pipefish, sand goby, sprat, cod, smelt, seabass and the lesser weaver!
The weaver fish did come with a warning to the highly toxic dorsal spines. It wasn't just sub-littoral species that held our attention on this beautiful sunny day, but also the aerial displays of seabirds such as lesser and greater black backed gulls, black headed gulls, herring gulls, cormorants, shelducks and oystercatchers. On our return to port the crew cooked a pan of shrimps and after cooling them in seawater they were enjoyed by all .... seafood doesn't get much fresher than that.
Jean Wilson MBE CBiol FSB
Colourful grassland fungi
1 November 2014
There was much anticipation in the run up to this year's fungal foray - what would this year bring with the seasonal timings and conditions marrying with actual weather conditions of the day.
The event was held on a clear, calm and sunny day. With introductions over, we anticipated getting both a morning session and afternoon session in. However so successful were the morning findings, and that we unanimously threw in the towel on return to base for lunch. Our youngest participant aged nine did a splendid job as tracker and spotter, sparing our energies, and alerted us to many and increasingly delightful findings, including one of several highlights, the scarlet caterpillar club.
We encountered a good number and variety of grassland species and along with each one we learned about the ecology, history, uses, and whether it was edible or had any medicinal or other traditional use. Each year this event makes for a great day out, and this year was another pleasantly enjoyed by all.
Glenn Upton-Fletcher AMSB
Schools Quiz
18 June 2014
Our Biology Schools' Quiz began 14 years ago at Edge Hill University College (now Edge Hill University, Ormskirk), with Dr Alan Bedford as the resident host. Alan received the President's Medal in 2013 for his services to the North Western branch.
Now 20-30 schools meet at the University of Central Lancashire at Preston with Dr Leroy Shervington as resident host. After their AS exams, teams of four Year 12 students battle it out over 10 biology-based challenges, competing for the prize of a microscope for their school. The challenges are mainly practically based requiring sound biological knowledge, the ability to apply logic and be creative.
This year challenges included the identification of trees and molluscs using dichotomous keys, a snail habituation experiment, hormone chemistry, thought-provoking imagery, anatomical structures named after famous scientists (eg Ranvier), Stan the Man - a robotic patient, fossils, living fossils and biological drawing.
This year's top four schools were: 1st - Lancaster Girls' Grammar, 2nd - Cardinal Newman College at Preston, 3rd - Fallibroome Academy (Macclesfield) and 4th - King George V College (Southport).
All participants received a Society of Biology mug and the top four school representatives receive a book prize. David Urry, regional coordinator at the Society, presented the prizes after an inspiring speech to future biologists from the North West.
David spent the morning with the teachers who had accompanied their teams and discussed the opportunities and value offered by the Society of Biology. The committee has often wondered whether previous contestants have gone on to careers in biology and we now know of one for sure: this year Peter York, a team member in 2006, provided questions. He's now a PhD student at Chester University and treasurer for the branch.
Jean Wilson MBE CBiol FSB
AGM and Bat talk
22 March 2014
The historic National Boat Museum at Ellesmere Port was the venue for our AGM. The event was well attended, with 35 individuals present, and the following members were elected to the Committee: branch vice chairman - Mike Clapham; branch schools liaison - Leroy Shervington; events organiser - Karen Lawson; Committee member - Jean Wilson, Ian Fleetwood, Alan Bedford, Linda Martin. Chair Graham Bonwick, secretary Glenn Upton-Fletcher and treasurer Peter York will continue in post.
The treasurer's report confirmed that the branch finished the year with a small surplus. As part of the Chair's report, the range of events and activities were reviewed and the increasing success and member participation was noted. A discussion concerning future events was held and suggestions received from the members present.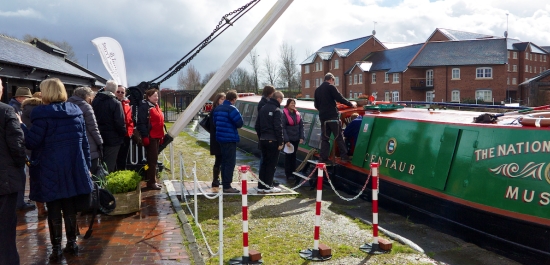 Members were then treated to a lively and informative presentation on the status of bats and their conservation by Ged Ryan from the Cheshire Bat Group. The highlight of the event for some was the opportunity to see a bat at close range. This was followed by a buffet lunch, a canal boat trip and a guided tour of the National Boat Museum. The Manchester Ship Canal and River Mersey provided an exciting backdrop to the proceedings of the day.
Graham Bonwick CBiol FSB
Science Busker David Price
4 December 2013
In December we united with the University of Chester Centre for Science Communication (Scicomm) to host 'An Interactive Audience with David Price'. David is a time served multi-award winning science communicator dedicated to developing effective interactive science 'experiences' for audiences of all ages and abilities.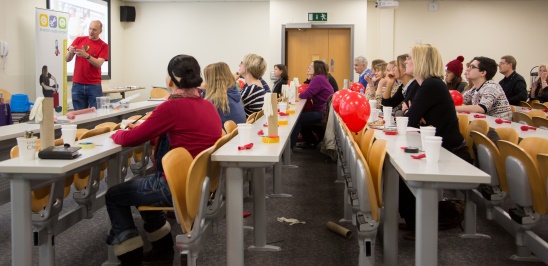 David attends the cream of National and International street performance events and in 2010 was awarded the Manchester Science Festival 'Josh' award for outstanding innovation in science communication for his work in developing and popularising science busking techniques.
David successfully cajoled each and every member of the audience into participating in a plethora of interactive high energy, informative and highly entertaining demonstrations. No participants were harmed during the process.
The audience remained enthralled as he demonstrated and subsequently analysed his proven successful science communication methodology, covering areas such as tackling nerves, building confidence, using props, voice and body language, interacting, feedback and safety, at the same time outlining some of the rewards and challenges for those considering a career in the science communication arena.
The event was attended by a broad range of age groups, including recently qualified University of Chester STEM ambassadors and a number of key educators from regional institutions and organisations.
Karen Lawson MSB
Schools Quiz
19 July 2013
Once again, 24 teams of four students from the North West's schools and sixth form colleges descended on the University of Central Lancashire, to pit their wits against the tests and trials of biological knowledge devised by members of the branch. A total of 10 diverse questions were attempted including practical and problem solving tasks such as taxonomic identification from microscopy of skin and hair (Fur Trade), matching hosts to parasites (Unwanted Guests), physiological and pharmacological skills and simulations, chemical analysis, cell biology and ecology.
1st prize of a microscope was awarded to The Manchester Grammar School by Dr Mark Downes FSB, chief executive of the Society of Biology, along with a book prize for each team member. Book prizes were also awarded to teams finishing in 2nd (King George V College), 3rd (St Wilfrid's CE Academy) and 4th (Sandbach High & Sixth Form College) whilst all participants were given one of the limited edition souvenir mugs complete with the Society crest. As in previous years the standard was extremely high and the North Western branch is indebted to Dr Leroy Shervington and colleagues from UCLAN for hosting the event. Their organisation and administration ensured the day was such a success.
Graham Bonwick CBiol FSB
Wildlife photography workshop
11 May 2013
The workshop took place on Hilbre Island, a small uninhabited island located in the Dee Estuary. The party set off from the slipway at West Kirby under the watchful eye of Glenn Upton-Fletcher (Wildlife Photographer of the Year) and leading biological illustrator Mike Clapham. Crossing the sands at low tide, first to Little Eye then Middle Eye, meant that the party was ultimately cut off from the mainland by the advancing tide. On arrival we were greeted by the unexpected sight of the Hilbre Island bluebells and after scrambling over sculpted Bunter Sandstone, refuge from the elements was sought in the old Wardens cottage.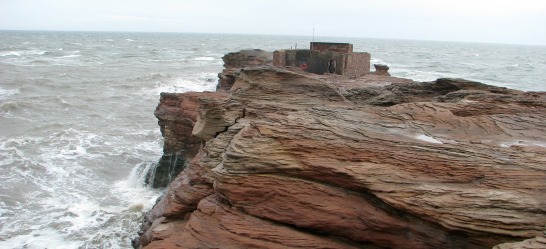 An introduction to some of the basics of practical wildlife photography was provided along with a guide to equipment essentials. This was followed by an opportunity to put our new found ideas in to practice supported by Glenns' expert one-to-one tuition. An invaluable introduction to the challenges of wildlife photography, complete with intermittently hostile weather, made for a highly enjoyable and rewarding day topped with a diverse range of marine wildlife observations including the local Common Seals.
Graham Bonwick CBiol FSB, Chairman
Marine day
24 October 2012
"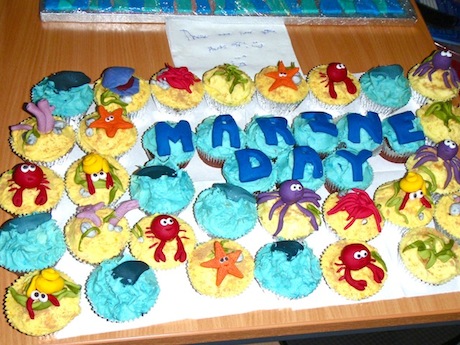 Oh! I do like to be beside the seaside"! Especially during Biology Week.
Blackpool and the Fylde College, Sealife Blackpool and our branch sponsored a Biology Week Marine Day in Blackpool. The morning comprised of workshops run by: Katrin Lorengi from Seawatch whose activity was based on the identification of cetaceans native to British waters: Dr Dan Exton from Opwall who demonstrated the techniques involved in underwater surveys of coral reefs and Glenn Upton-Fletcher who shared his own personal experiences when it comes to photographing wildlife.
Our first lecture of the afternoon was delivered by Matt Clough who is responsible for shark tagging in the Mersey estuary and Liverpool Bay. He explained the necessity for research and the species that have been recorded in the area. Dr Exton, detailed the varied research opportunities available for students through Operation Wallacea.
Delegates spent the early evening at the Sealife Blackpool, without the general public! The aquarists were on hand to take members and friends on informal tours around the aquaria, laboratories and quarantine area. The senior aquarist was Martin Sutcliffe who won the Society's 2007 bioscience student of the year at Blackpool and the Fylde College. The day was concluded with a wine and cheese supper in view of the sharks who showed little interest in the tasty Lancashire Creamy!
Jean Wilson MBE CBiol FSB, Chair