Royal Society of Biology Accreditation aims to support the advancement of learning and teaching in the biosciences. Throughout the assessment process, you will reflect on the needs of your students and how your degree programmes facilitate excellence in learning of: subject knowledge, technical ability and transferable skills.
Accreditation aims to:
Recognise academic achievement
Drive up standards of learning and teaching in the biosciences
Enhance competitiveness for students in a global jobs market
Provide industry with an assurance of the level of employability skills and subject relevant bioscience skills provided by a programme
Maintain and improve the UK's position as a premier location to develop the life scientists of the future
Meeting the Needs of the Students
With students taking a more market-based approach to their education, Accreditation helps students interested in biosciences to make informed choices about their higher education. If you are awarded accreditation of your degree programmes, you will stand out to students who are planning a career in the biosciences.
Employer Engagement
Degree Accreditation was developed to help bridge the skills gap between undergraduate study and employment in the biosciences. Along with experts from industry and higher education, the Society decided that for a degree to be accredited, it must provide students with relevant knowledge and skills required by employers. Since the launch of Accreditation, the Accreditation Team have maintained a strong relationship with bioscience employers, engaging and informing them on the aims and purpose of RSB Accreditation.
Apply
Before making an application you should familiarise yourself with the criteria and assessment process for the type of accreditation that you would like to apply for. Detailed information can be found in the respective handbooks:
Please note, for both new and reaccreditation applications from September 2020 onwards we will be using the new handbook:
Updated Accreditation Handbook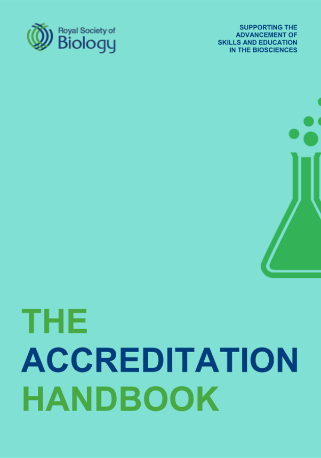 Degree Accreditation Awards Ceremony
To celebrate biosciences in higher education, the Royal Society of Biology hosts an annual Degree Accreditation Awards Ceremony. The evening Awards Ceremony celebrates universities who have been awarded accreditation over the last year.
In addition, the ceremony showcases the achievements of graduates from accredited degree programmes who have received the best marks in their final year projects. The ceremony offers a unique platform for all invited to connect with top bioscience graduates and network with academics, leaders and decision makers from industry and government, from across the UK.