Degree Accreditation is acknowledgement by an external body, that a degree programme meets a defined set of overarching criteria. Accreditation by the Royal Society of Biology recognises and supports the advancement of skills and education in the biosciences, throughout the UK and internationally. Graduates from accredited degree programmes are equipped with well-rounded knowledge and skill sets, making them highly employable both within and beyond their chosen field.
Lots of other organisations also accredit degrees programmes, including the Institute of Physics and the Royal Society of Chemistry. Some, such as the Institute of Biomedical Science are looking for degrees that meet specific requirements for programme content and enable you to gain professional registration.
Benefits of Accreditation to Key Stakeholders

History of RSB Accreditation
The Royal Society of Biology initiated the development for accreditation of bioscience degrees in 2010. The Royal Society of Biology received input from:
Universities
Business & Industry
Government
Learned Societies
Research Councils
Funding Bodies
Sector Skills Councils
This led to a two year consultation period, including a survey of undergraduate and postgraduate students studying the life sciences in the UK, and recent graduates. 90% of respondents felt that it was important to gain work experience during their studies. Advanced Accreditation was launched in October 2012 which was supported by Government funding from the UK Commission for Employment and Skills (UKCES).
Due to the success of Advanced Accreditation and requests from the wider community, the Society developed Accreditation, addressing the skills gaps identified by employers for graduates from traditional bachelor's degrees, launched in March 2015.
Recent developments include the launch of Masters Accreditation and International Accreditation in September 2016.
Awards and Events
Degree Accreditation Awards Ceremony:
To celebrate Biosciences in higher education, the Royal Society of Biology hosts an annual Degree Accreditation Awards Ceremony. The Awards Ceremony is an evening which celebrates universities who have been awarded Advanced Accreditation and/or Accreditation of their bioscience degree programmes over the last year.
In addition, the ceremony showcases the achievements of top graduates who have attained the highest grade in their accredited degrees. The ceremony offers a unique platform for all invited to connect with top bioscience graduates and network with academics, leaders and decision makers from industry and government, from across the UK.
Sharing of Good Practice Event:
For the first time this year (2017), we brought people together from across a nation – in this case Scotland - and shared the good practice identified in the accreditation visits to five Universities.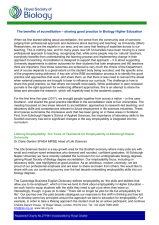 Accreditation Committee
The Accreditation Committee (AC) develops and oversees Accreditation on behalf of the Royal Society of Biology Council. The AC is responsible for assessing all applications, carrying out site visits to the HEIs, and is authorised by Council to award accreditation to qualifying programmes.
Supporters of Accreditation