News
Amateur photography competition opens for entries
The Royal Society of Biology annual photography competition is now open for entries. The amateur competition celebrates inspiring images which explore biology and the natural world. The theme for the competition, now in its seventh year, is Biology: from Big to Small.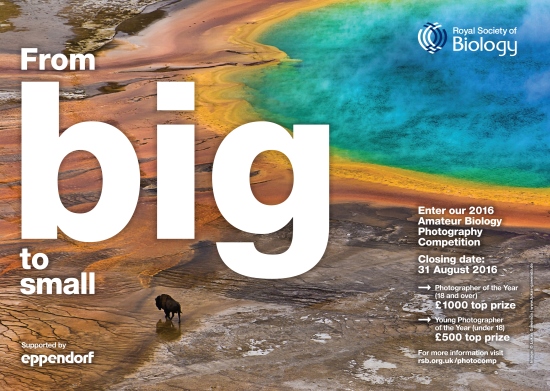 The Society hopes that this year's theme will inspire people to explore interactions between the macro and the micro in biology – from tiny fish creating huge shoals, to algal blooms suffocating a river ecosystem, or microorganisms eating plastic waste in our oceans.
The judges said: "We hope to see images that capture a magical quality of nature, biology and the environment. Surprise us with something original, and bear in mind that a stunning image comes not so much from the subject itself, as the way that it is portrayed. We are looking for images which clearly illustrate the theme in an interesting and original way, make a strong biological point, and show technical competence and aesthetic awareness."
Photographers are also encouraged to submit entries captured by a microscope, from dispersing fungal spores to grains of sand. The fluorescence microscope, for example, provides an interesting window into the world of the cell and is great for examining living and fixed cells in culture.
The competition is sponsored by life science company Eppendorf. Geoff Simmons from Eppendorf said: "We hope this year's theme will not only inspire amateur photographers from all over the world, but will also encourage more consideration on which scale to best represent."
Photographs can be entered in two categories, each with a cash prize: Photographer of the Year (18 and over) with a top prize of £1,000; and Young Photographer of the Year (under 18) with a top prize of £500.
The competition will be judged by: Catherine Draycott, head of Wellcome Images; Tim Harris, sales and marketing manager, Nature Picture Library and Bluegreen Pictures; Alex Hyde, natural history photographer and lecturer in biological photography; Linda Pitkin, underwater photographer; and Louise Murray, photographer and journalist.
Judging for the competition will take place in September and the winners will be announced at the Society's annual award ceremony on Thursday 13th October during Biology Week 2016.
Find out more about entering the competition.
The Society wishes to thank Eppendorf for their support of this competition.