News
Biology Week 2015: bigger and better
Last week, we enjoyed the biggest celebration of biosciences in the calendar, with over 100 events across the UK and beyond. From students, to families, to research scientists, thousands of people got involved with activities including lectures, Big Biology Days, quizzes, dinosaur digs, evenings of music and storytelling, nature walks and more.
The Royal Institution's lecture theatre was at full capacity on Tuesday night with over 400 guests of different ages and scientific backgrounds, eager to discuss the topic of synthetic biology. The event featured a panel of four scientists chaired by well-known geneticist and broadcaster Dr Adam Rutherford.
On Wednesday, the Biology Week Parliamentary Reception saw a packed room at the House of Commons, bringing together Ministers, MPs, RSB Fellows and representatives from Member Organisations, to recognise the vital importance of the biosciences in the UK. Nicola Blackwood MP, chair of the Science & Technology Select Committee said: "The UK is a science superpower," and stressed the importance of investing in research and her determination to not let science fall off the agenda.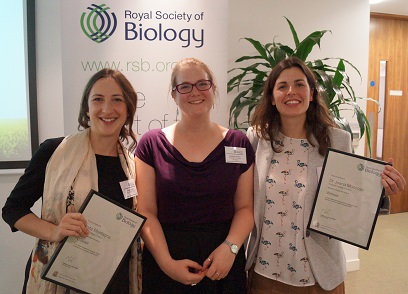 On Thursday evening at the annual RSB Awards Ceremony, the winners of the Photographer of the Year competition, Book Awards, Science Communication Awards, Animal Essay competition and President's Medal were announced.
Three Big Biology Day science festivals took place nationwide during the week. People learnt about carnivorous plants and fossils in Cardiff; crafted antibodies out of playdough and explored local nature reserves in Staffordshire and played the 'Hungry Games' and enjoyed a panel discussion focussing on infectious diseases in Cambridge. Fun scientific activities were organised by organisations including the British Society of Immunology, Nutrition Society, Microbiology Society, Babraham Institute, Medimmune and Biochemical Society.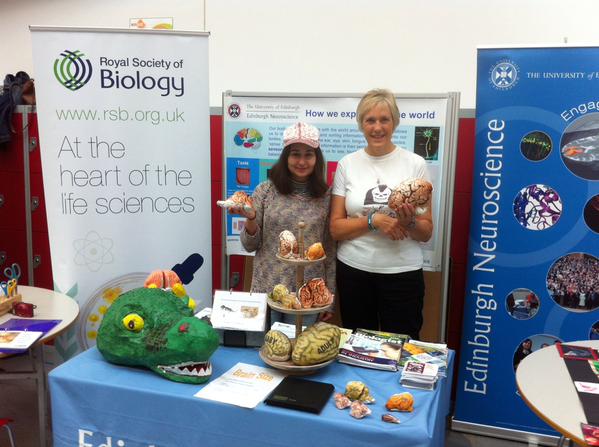 RSB Member Organisations also held interactive biology events, such as UK Fungus Day organised by The British Mycological Society, which hosted fungal forays and events all over the UK. The Physiology Society's 'Physiology Friday' was a great success with hundreds of entries for their BioBakes competition, which crowned three 'star bakers' for their biological masterpieces! The Linnean Society also hosted a student lecture on 'Project Coral', which examined what can be done to restore and protect coral reefs.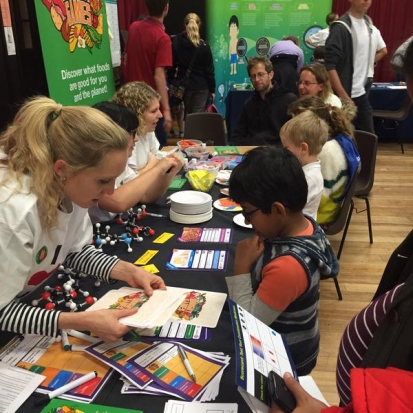 The Society's branches organised some great events including an apple festival with cider pressing and cookery demos from the North Wales branch; a lecture on 'The Biology of Attractiveness' from the Devon and Cornwall branch; a ponder over the paradox of health and wealth in an obesity lecture from the West Midlands branch; and insights into badgers and bovine tuberculosis from the Northern Ireland branch.
The RSB also released a series of blog posts to entertain and inform readers on: living soils, the power of celebrities and science, fungi fight-clubs, microscopic art and whether carrots help you see in the dark. The winner of the Favourite UK Insect poll was also announced during Biology Week, with the buff-tailed bumblebee, Bombus terrestris, securing victory with over 40% of the 7,500 votes cast.
Inspiring the future generation of biologists is a fundamental part of Biology Week. The RSB were thrilled that so many schools, colleges and universities joined in, putting their knowledge to the test in our quizzes, and using Biology Week resources. Our spotlight schools: Hereford Cathedral School and Bishop Thomas Grant School both designed wonderful programmes of activities and competitions for their students including wildlife photography competitions, after-school dissections and biology film viewings.
Overall, it was a fantastic week of biology celebrations, with researchers, families, and students all getting involved and sharing their passion for finding out about the world around them.
Have a look at the best photos of the week in our Facebook album, see how people shared their activities via our Storify, and get excited for Biology Week 2016!