News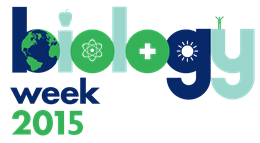 The countdown to Biology Week 2015 is finally over!
Biology Week, starting today and running until Sunday 18th October, celebrates the wonderful world of biosciences across the UK and beyond, with everyone from professional scientists to students to families getting involved.
Dr Mark Downs CSci FRSB, chief executive of the Royal Society of Biology, said:
"Biology affects us all: it is the science of life. Whether it is sustainable agriculture, new medicines or maintaining our environment and diverse habitats, to name but a few, biology has a critical role to play. We first organised Biology Week to share a passion for finding out about the world around us, and now in its fourth year it is bigger and better than ever before."
The Society's events include a debate on synthetic biology at the Royal Institution, in partnership with the Biochemical Society, a Parliamentary reception in the House of Commons in partnership with BBSRC, and the annual RSB Award Ceremony, where the winners of the Society's book and photography awards will be announced.
There are over 50 public events to visit, ranging from dinosaur digs to wildlife walks, to educational lectures and debates, as well as Big Biology Days, organised by the Society's members, Membership Organisations, branches, and external partners.
Schools, colleges and universities are also joining in, designing programmes of activities for their students, from dissections, to guest speakers, to competitions of their own. With the release of the Biology Week quizzes, pupils across the country will have their science knowledge put to the test. A quiz for everyone will be available on Monday.
Over 7,500 people have voted in the Society's Favourite UK Insect poll and the champion will be crowned at the end of the week. The Society's Flying Ant Survey with the University of Gloucestershire received hundreds of sightings this year and a video infographic of the results will also be launched during Biology Week.
The Society hopes that everyone enjoys Biology Week and learns something new about the fascinating world of biology. You can share what you get up to and be part of the online activities via facebook and twitter with #BiologyWeek.
The Society would like to thank everyone who has made Biology Week 2015 possible.