News
Parliamentary Links Day 2019: science minister says UK should pay to access EU research programmes
Government science minister Chris Skidmore has said the UK should pay to access EU research programmes in an agreement separate from the Brexit withdrawal bill and other stalled negotiations.
Speaking at the RSB's annual Parliamentary Links Day event, which brings together politicians and representatives from a range of STEM disciplines, Skidmore said he was recommending the Government pay for continued access to programmes such as Horizon post-Brexit, and pushing for a good settlement for science in the upcoming Comprehensive Spending Review.
"I believe we've reached a point now…that we need to look urgently at breaking away [from the main Brexit negotiation] in order to protect science and education partnerships," said Skidmore, who was appointed minister for universities, science, research and innovation in December 2018. "We have to move away from this polarising idea that nothing is agreed until everything is agreed, that it's deal versus no deal."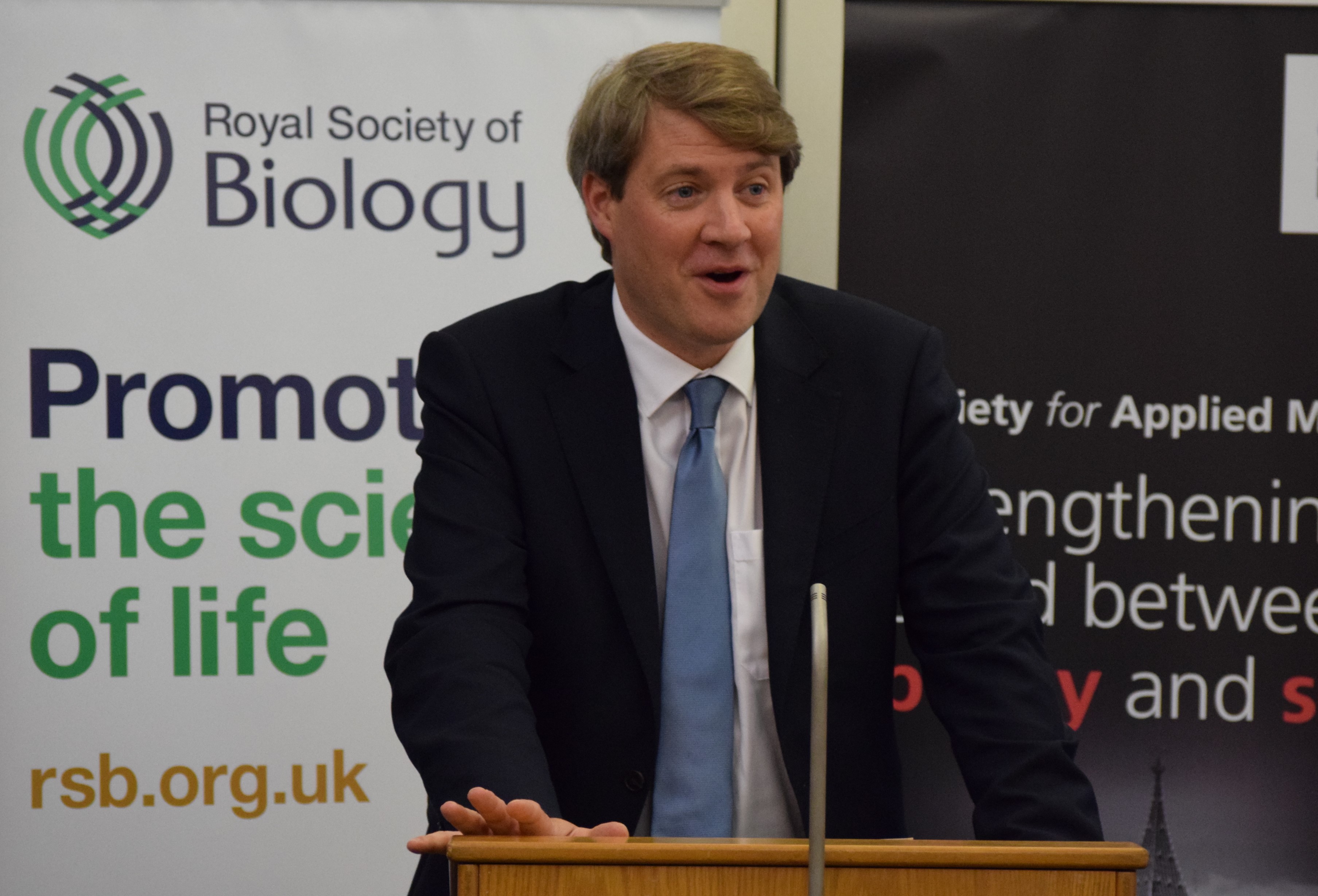 Chris Skidmore MP addresses a packed Attlee suite
He said the EU Council had recently created regulations that would allow the UK access to Horizon 2020 in full if it continues to pay into the EU budget, and that he had been recommending this to the current Prime Minister Theresa May and her cabinet.
Asked whether either of the two remaining candidates for the Conservative leadership has signalled support for science, Skidmore said Boris Johnson had previously indicated that it would make sense to continue paying into Horizon, although those comments were from two years ago, he added.
Skidmore also said the UK should follow countries like Germany in creating a long term, 'depoliticised' plan for science which guarantees funding over a period of 10 years.
Links Day is one of the biggest and longest-running science events in the Parliamentary calendar. The event, held this year in the Attlee suite in Portcullis House, brings together researchers, policymakers and sector leaders to discuss the future of science.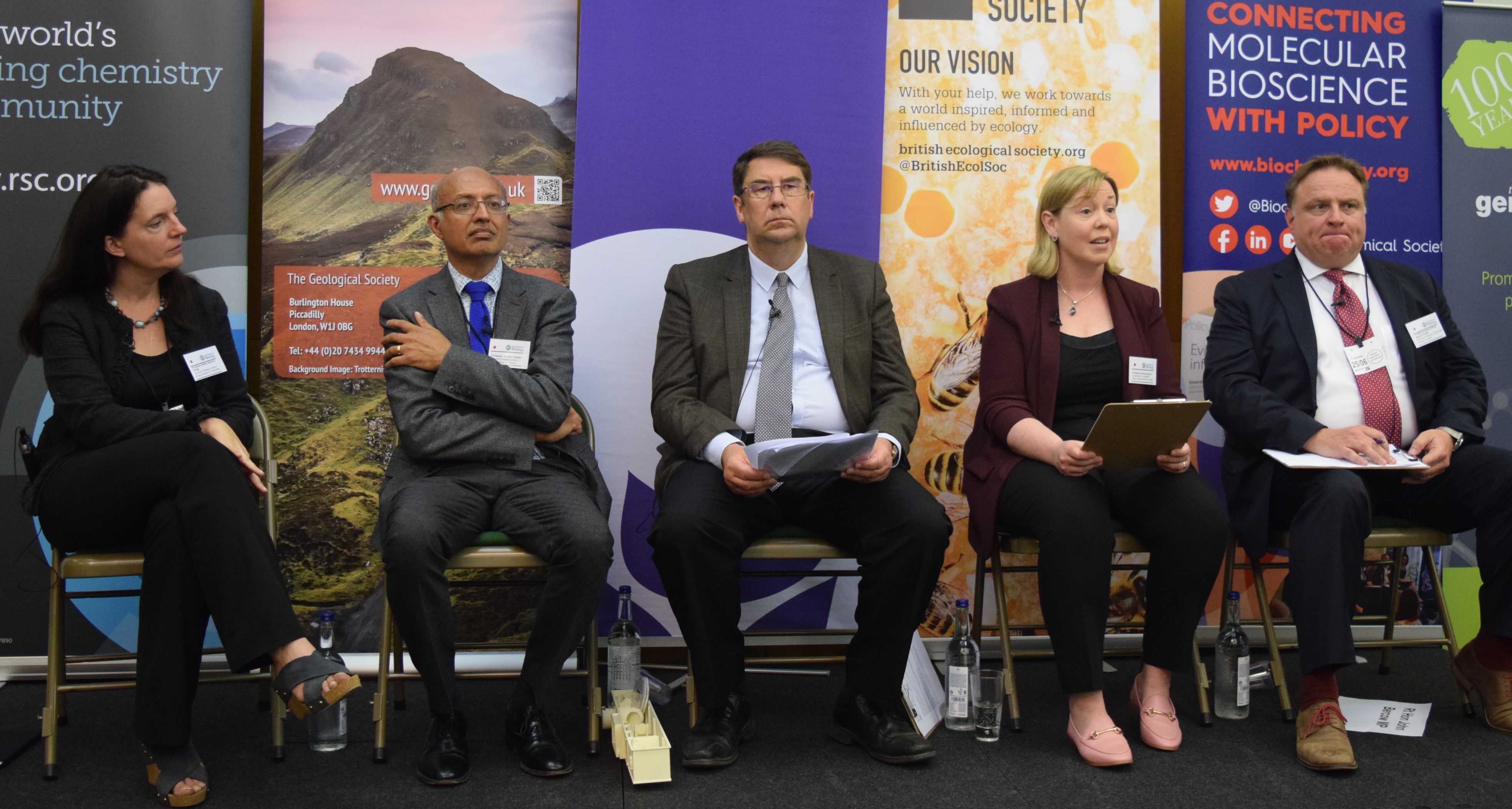 Session one, from left to right:
Professor Molly Stevens FRSB

, Royal Society of Chemistry, Professor Sanjeev Gupta, Imperial College London / The Geological Society,

Professor Philip Calder FRSB, The Nutrition Society and Dr Richard Amos, Institute of Physics
Two panels discussed this year's theme of "science and the new frontiers," with keynotes delivered by Chi Onwurah MP, shadow minister for industrial strategy, Rt Hon Sir Norman Lamb MP, chair of the House of Commons Science and Technology Select Committee, alongside Chris Skidmore MP.
Those taking part in the panel discussions spanned a range of disciplines, from proton beam therapy expert Dr Richard Amos and professor of planetary plasma physics Emma Bunce, to Dr Sarah Main FRSB from the Campaign for Science and Engineering and Dr Grant Hill-Cawthorne of the Parliamentary Office for Science and Technology.
Panellists discussed topics such as how science policy might change to boost success in UK science, and how money should be spent if research funding rises to 3% of GDP.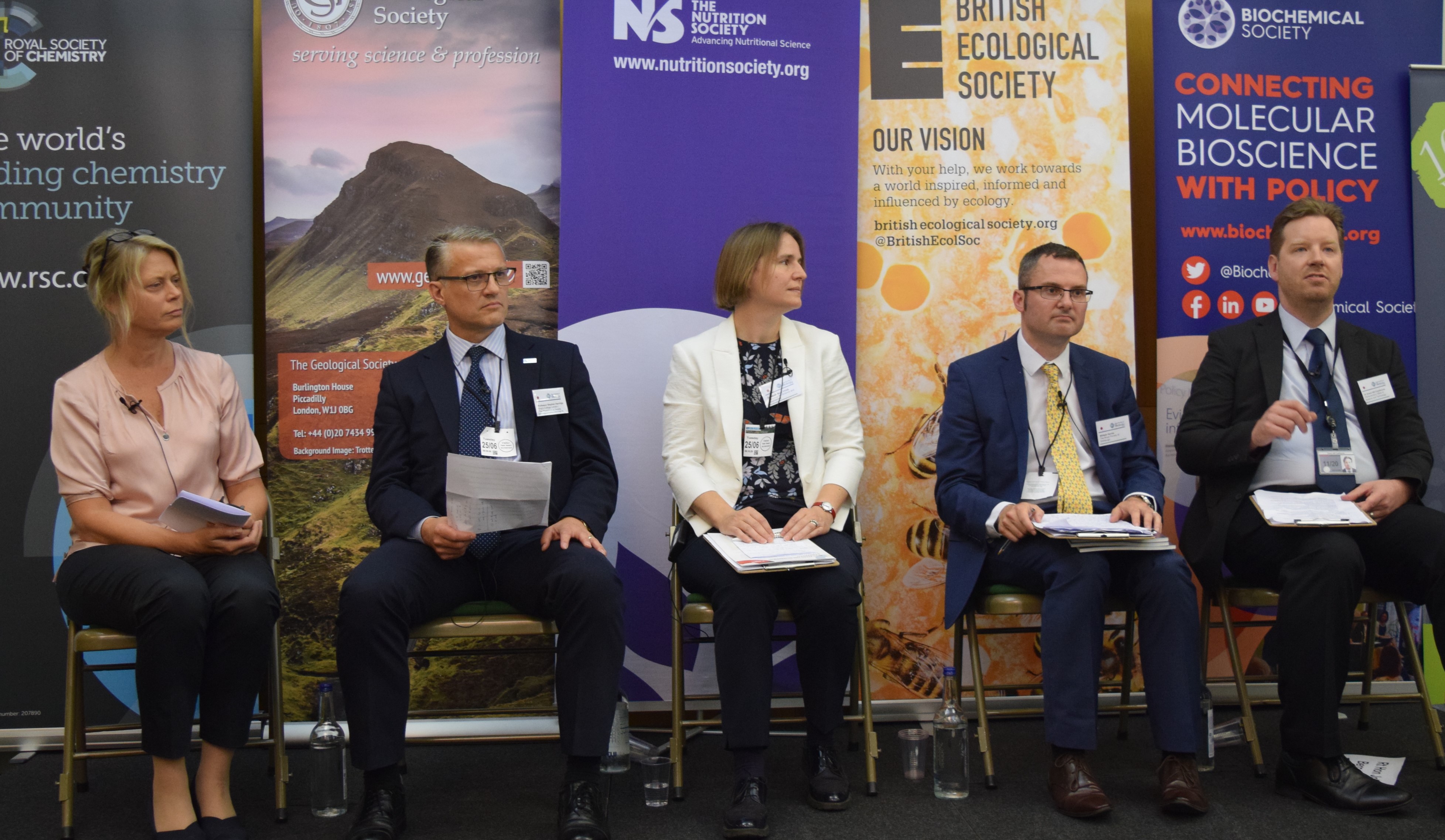 Panel two, from left to right: Sharon Todd, SCI, Professor Stephen Harridge, King's College London / The Physiological Society, Dr Sarah Main FRSB, Campaign for Science and Engineering, William Hardie, Royal Society of Edinburgh and Dr Grant Hill-Cawthorne, Parliamentary Office of Science and Technology
Onwurah pledged that Labour would increase R&D spending to 3% of GDP by 2030 and would do more to improve diversity in STEM careers. Lamb highlighted the work of the Science and Technology Select Committee and stressed the importance of collaborations between policymaker's and scientists.
"We see the rise of populism – men peddling easy solutions to complex problems," said Lamb, who has chaired the committee since 2017. "But at the same time the world faces existential challenges, that can only be solved by rational policymaking and the application of evidence. The science community will be absolutely central in ensuring we meet those challenges."
The RSB would like to thank all the organisations involved in Parliamentary Links Day and all of the speakers. See some of the highlights of the day over on twitter and read all about last year's event online.