News
Red-Eyed Tree Frog Wins Inaugural Nancy Rothwell Award
A colourful red-eyed tree frog, Agalychnis Callidryas, is the winning image of the inaugural Nancy Rothwell specimen drawing competition, as announced yesterday evening at the Royal Veterinary College, London, as part of Biology Week.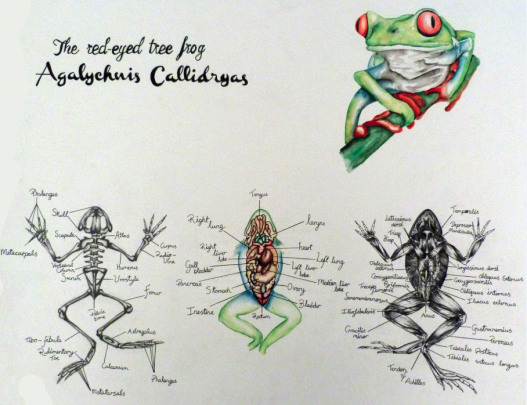 Daniel Callaghan (16) of St Leonards Catholic School in Durham, won in the highest category (15-18 years old) with his stunning drawing of a staring frog, along with three intricately labelled diagrams of the animal's skeleton, organ and muscular systems.
The Society of Biology launched the Nancy Rothwell Award this year to celebrate specimen drawing in schools and highlight the benefits of links between art and science.
Professor Dame Nancy Rothwell, vice chancellor at The University of Manchester and past president of the Society of Biology, said: "I have always loved art as well as science. I wasn't a judge but personal favourite is the frog because it combines the animal's beauty with the very detailed inner anatomy.
"I have been stunned by the response; both the volume and sheer quality of the drawings. Many of these young people are better artists than I could ever hope to be!"
The competition received over 100 entries from all over the UK; welcoming student's drawings of plant, animal and microscopy specimens in three age categories (7-11, 12-14 and 15-18 years old).
The winners from the younger categories were: Jessica James (12) from Withington Girls' School in Manchester, for her precise annotated drawing of a dragonfly; and Spencer Turner (10) from Farne Primary School in Newcastle, for his muscular labelled drawing of a lion.
The winning artists will each receive drawing equipment, an experience day at RVC, £25 for themselves and £250 for their school.
The judges were: Professor Susan Standring, editor in chief of Grey's Anatomy; King's College London; Ian Harvey, head of biology, Hills Road Sixth Form College; Jennie Webber, artist and print maker; and Geoffrey Harrison, RVC artist in residence.
This competition was organised as part of Draw and Develop, a joint initiative administered by the Society of Biology and the Royal Veterinary College.
The awards were presented at RVC Night at the Vet College, a popular Biology Week event, with almost 700 attendees. Also included in the event were talks from the Young Vets, an appearance by Holly the Collie, the dissection of a horse, and interactive stands from the breadth of biology.
See the full shortlist on Pinterest or Facebook.
Find out more about the Nancy Rothwell Award.