News
RSB announces photography and book award winners
The Royal Society of Biology celebrated the best in biology books, photography and communication at their annual Awards ceremony in London last night as part of Biology Week.
The Society announced that the winner of the Photographer of the Year Award is Robert Sommer, for his stunning image 'Fighting Bulls'.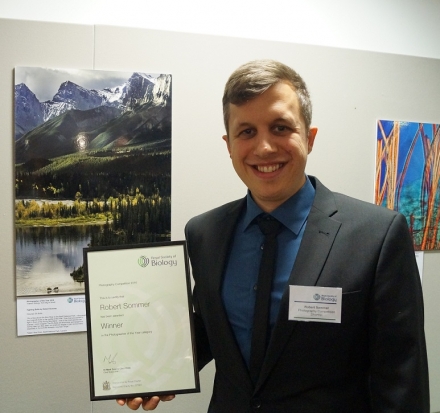 The theme of this year's competition was Biology: from Big to Small. The winning image was chosen from over 800 entries and won Robert the top prize of £1,000.
After travelling from Hamburg to hear if he'd won, Robert Sommer said: "I am so excited to win this award. I think it's great that wildlife photography is so popular, because everyone loves nature!"
On his photograph, Sommer said: "On a hike above the Bow River in the Banff National Park, I discovered two huge elk bulls in the middle of the river. They then proceeded to fight in front of the Rocky Mountains. The elk bulls are enormous and dangerous during heat, but they seem so small and fragile in their environment, especially in front of this fantastic mountain range."
Judge Linda Pitkin, underwater photographer, said: "As judges, we were unanimous in admiration of Robert Sommer's stunning image 'Fighting Bulls'. It was a clever take on the theme to show these huge animals totally dwarfed by the majestic backdrop, and the composition works perfectly, drawing the eye down to focus on the elk bulls."
The Society wishes to thank Eppendorf for their support of this competition.
The RSB was also pleased to announce that It's All In Your Head by Suzanne O'Sullivan (Chatto & Windus) has won the Royal Society of Biology General Biology Book Prize.
The RSB's annual award celebrates outstanding biology books which engage and inform a non-specialist audience.
Judges said It's All In Your Head is: "A sympathetic but scientific analysis by a consultant neurologist of medical conditions for which no physical cause can be found, extensively illustrated through the use of anonymised patient histories."
On receiving her award, Suzanne O'Sullivan said, "I am absolutely thrilled to win this prize. My work focuses on a medical disorder which is both serious and common, yet it is neglected by health services. This award is recognition of the importance of psychosomatic illness."
Judge Dr William Marshall CBiol FRSB, said: "Dr O'Sullivan has done medical practitioners and patients a great service in writing this book. Despite continuing advances in medical science, there is still an element of art in the practice of medicine."
"This book should be required reading for all doctors and, particularly, for medical students, given the scant attention paid to psychosomatic disorders in conventional undergraduate medical curricula."
The Society's Book Awards also recognise outstanding biology, bioscience or life sciences textbooks for undergraduates and postgraduates. Haematology (2nd edition) by Gary Moore, Gavin Knight and Andrew Blann (Oxford University Press) won the RSB Undergraduate Textbook Prize.
The judges said: "An excellent fundamental textbook. Written in a modern style it is well designed with plenty of useful case studies and practical experiments."
Quantitative Viral Ecology: Dynamics of Viruses and Their Microbial Hosts, by Joshua S Weitz (Princeton University Press) won the RSB Postgraduate Textbook Prize.
The judges said: "Beneath its unassuming plain green cover is a novel, readable and extensive scholarly work on viruses and their interactions. A superb introduction to a new field of research."
The audience of over a hundred Society members, award nominees, and guests heard inspiring presentations about the work of Dr Louise Hughes MRSB and Hephzi Tagoe MRSB. The RSB Science Communication Award winners were announced earlier this month, with support from the Wellcome Trust.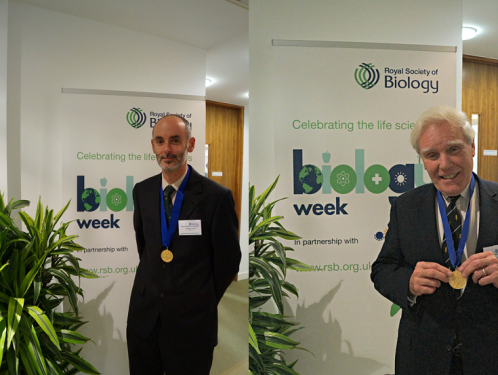 The Society was very pleased to announce two new recipients of their President's Medal: Dr Jonathan David FRSB (above left) and Mr Keith Lawrey (above right), who have supported the RSB in an exceptional way, going above and beyond the normal volunteer role and having a significant impact on the organisation and the sector as a whole.