News
RSB announces winner of the Established Researcher Science Communication Award 2017
University of the West of Scotland Lecturer Dr Fiona Menzies, aged 34, has been awarded the Established Researcher Science Communication Award 2017.
Alongside the New Researcher Science Communication Award, the RSB Science Communication Awards look to recognise outreach work carried out by young scientists and established researchers to inform, enthuse and engage the public.
Fiona, who lives in Cambuslang, established a public engagement group at the University of the West of Scotland, with the aim of promoting all aspects of science and sport science to the wider public in general, whilst including students with the process.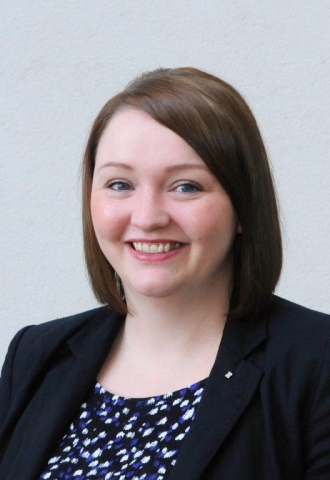 University of the West of Scotland Lecturer Dr Fiona Menzies
Fiona organised an event to engage local secondary schools with the research activities taking place at the School of Science & Sport, and Fiona has also been involved in efforts to increase women's interest and participation in science by holding events on topics that directly affect women, such as the immunology of pregnancy, and highlighting the achievements of women scientists throughout history.
More recently, Fiona has hosted an event as part of the Glasgow Science Festival. The event, aimed at young people and adults, provided an opportunity for people to explore the diverse world of science with real-life scientists. The event was very successful, with over 300 attendees, and will become an annual event.
Fiona said of winning the award: "It is an honour to be recognised by the Royal Society of Biology for the work I have been doing to improve the relationship between the School of Science & Sport at UWS, and the public.
"As a researcher, involving non-scientists with the work that I do is vitally important to ensure that my work is relevant and will be impactful. To do so, we need to constantly come up with new and exciting ways to show how scientific research is fun and important. Recognition through the award will give me a larger platform to expand on the science communication work we are doing in our school."
Steve Cross, Chair of the awards judging panel, said of Fiona's work: "We really like the idea of a researcher taking it upon themselves to change the culture of their institution.
"We are really interested in the work she has done to connect with audiences close to her and her own research. We also really like the feedback included in her application as this shows the impact of Fiona's work."
Judge Liz Granger echoed this sentiment: "I was impressed with the way she has changed the attitudes towards public engagement within her institution from student recruitment to a public engagement approach."
Menzies takes home £1500 in prize money, and alongside New Researcher Award winner University of Sussex PhD student Mahmoud Bukar Maina, who will also be presenting his work at this year's Biology Week Annual Awards Ceremony.