News
RSB's Apprentices of the Year celebrated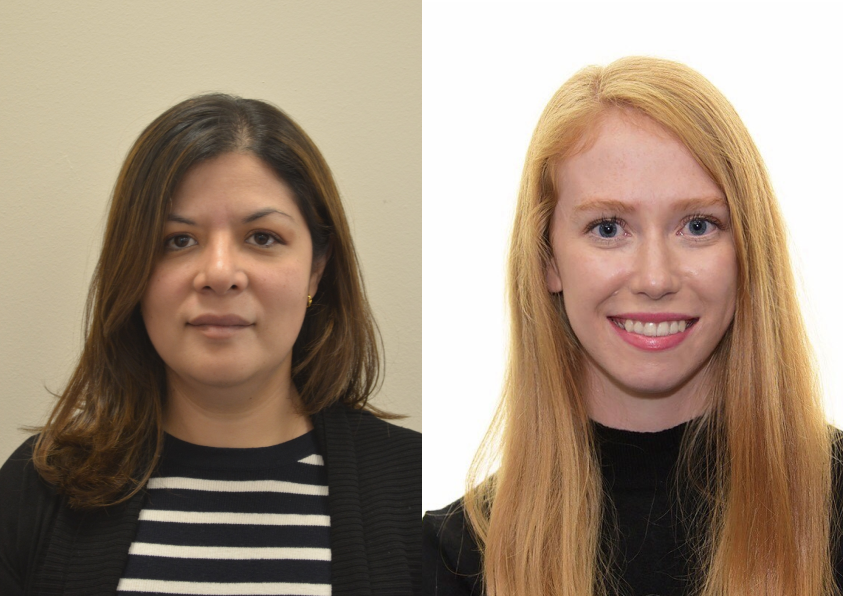 This year's chosen apprentice awardees. From left to right: Aidee Sanchez and Lucy Holland.
Two apprentices have been recognised as exceptional in their fields as part of the RSB's Apprentice of the Year award.
The Award, now in its fourth year, celebrates apprentices that are going above and beyond in their roles, as well as support others including those thinking about embarking on an apprenticeship.
The award was split into two groups, to celebrate apprentices working at different levels in the sector. In group 1, apprentices studying at Levels 3-4 were recognised. In group 2, apprentices studying at Levels 5 + were eligible.
Apprentice of the Year Award for Group 1 has gone to Aidee Sanchez, Research Services Apprentice at Pirbright Institute. Aidee has been recognised for capturing the spirit of apprenticeships best with accelerated achievement and significant contribution in a short time of 3 months from cell culture technician and PCR to developing flow cytometry.
Apprentice of the Year Award for Group 2 has been received by Lucy Holland, Research Assistant (Degree Apprentice) at Wellcome Sanger Institute. Lucy has received the award in recognition for her enthusiasm to advance her skills and her commitment to CPD.
Aidee and Lucy will receive £250 alongside one year's free RSB membership and free Registered Science Technician (RSciTech) or Registered Scientist (RSci) professional recognition on receipt of a successful application.
The judges felt that all the applications received were of a very high standard, and the two winners were commended for how they represent apprentices and advocate for the apprentice route into a science career.
Commenting on her win, Aidee said: "It's an honour to receive this award from RSB! It encourages me to continue in my journey and to learn more. We always have the chance and the freedom to decide what we are going to do, what we are going to learn next, where we want to go next and plan the steps ahead. I hope many others feel encouraged to get trained or retrained and discover what they enjoy doing!
"Many thanks to RSB and The Pirbright Institute that make this apprenticeship possible. I want to express my gratitude to my mentors: Dr. Katy Moffat and Mrs. Leanne Logan, who have given me the opportunity to learn the new skills that I have now under my belt and for actively being involved in my training and my progress."
After receiving the award, Lucy said: "Being named as the RSB's Apprentice of the Year is an incredible honour. Completing an apprenticeship at the Sanger Institute has enabled me to pursue a science career despite not being able to study science at school. My apprenticeship has provided me with unparalleled opportunities for professional and personal development.
"The fantastic mentorship from my colleagues has enabled me to gain technical expertise and contribute to impactful research projects. This award is a testament to the power of apprenticeships in creating STEM career opportunities for people from all backgrounds, and I am deeply grateful to the RSB for this recognition."
Peter Ferguson, Senior Bioprocess Engineer at Uncommon, judge of this year's award and also former winner, commented: "It has been a pleasure to judge this year's Apprentice of the Year Award, 2023. Reading each application, has strongly reaffirmed to myself and the other judges, how important and impressive the achievements of apprentices are, year on year.
"Apprenticeships have allowed a far greater level of accessibility to scientific industry, where new careers or changes in career are being built, to the benefit of both the apprentice and the employer. This was evident in all of the applications we had the pleasure of reading.
"Without doubt, apprentices are occupying a fundamentally important space within the workforce. There were numerous examples of this, with employers providing high praise for the invaluable legacy each applicant continues to leave."
The Apprentice of the Year Awards will be announced at the RSB Annual Awards Ceremony on 17th October at the Houses of Parliament, as part of this year's Biology Week.