News
School teacher of the year award for "the very best of biology teaching"
Paul Downie from Hyndland Secondary School, Glasgow, has won this year's RSB School Biology Teacher of the Year Award.
The award seeks to identify the UK's leading secondary education teachers, recognising the invaluable role they play in educating and inspiring the next generation of biologists.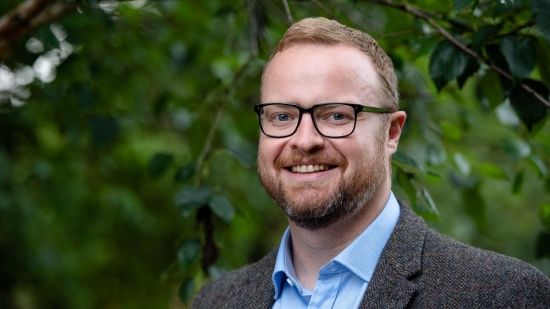 This year's winner, Paul Downie
Paul receives the award for his teaching which draws on wider contexts to generate lesson storylines with direct relevance to students' lives. He has created and hosts The Higher Biology Podcast and is the coordinator for West OS, an online school of recorded video lessons.
Paul said of winning the award, "It's a great honour to accept this award following an incredibly challenging couple of years, and I am grateful to the Royal Society of Biology for the opportunity it has presented to reflect on my own practice."
"I am very fortunate to work with and learn from, many excellent colleagues who I believe are equally deserving of such recognition.
"Biology will be central to many of the global challenges our young people will face, and it has never been so important for us to enthuse and inspire the next generation of biologists."
It is the first time that the award, which was established in 2013, has gone to a teacher in Scotland. Paul will receive a prize of £500 from Oxford University Press (OUP) and his school will receive £500 of resources from OUP. He also receives one year's free membership of the Royal Society of Biology at the appropriate grade.
Chair of the award's judging panel, Dr Mark Winterbottom FRSB, said, "Paul's engagement with, and skill in exploring and building on children's prior understanding was exceptional."
"His purpose is not merely to 'get across' biological knowledge. He recognises that his teaching can empower students to make intelligent decisions throughout their lives, not least in relation to their health and to sustainability, and he has provided a number of opportunities for students to recognise the career opportunities available within biology."
"Paul is very clear that his achievements reflect the hard work and team-effort of his whole department. He is an outstanding and committed teacher who represents the very best of biology teaching in this country."
The two other finalists of this year's award, Amber Barnard from Ark St Alban's Academy, Birmingham, and Matthew King from Westcliff High School for Girls, Essex, will receive one year's free subscription to the Journal of Biological Education.