Journal of Biological Education
The Journal of Biological Education is an international journal that publishes the latest research into the teaching, learning and assessment of biology. It is owned by the Royal Society of Biology and published by Taylor and Francis.
The journal aims to bridge the gap between research and practice, providing information, ideas and opinion, in addition to critical examinations of advances in biology research and teaching. Through the coverage of policy and curriculum developments, the latest results of research into the teaching, learning and assessment of biology are brought to the fore.
Special emphasis is placed on research relevant to educational practice, guided by educational realities in systems, schools, colleges and universities. Papers that are theoretically informed and methodologically rigorous are welcomed.
Subscription Fees
We offer a special print-only subscription rate for Royal Society of Biology members for an annual fee of £40 (complete the subscription form or contact the RSB membership team for more details). Under the RSB's Schools and Colleges Affiliation Scheme (SCAS) UK-based schools and colleges can subscribe to the journal for just £60.
Non-member subscription rates for the journal can be found on the Taylor and Francis website. Please contact the Taylor and Francis customer services team if you have any queries or would like to take out a subscription.
50th Anniversary Virtual Special Issue
To mark the 50th anniversary of the Journal of Biological Education, editor Ian Kinchin put together a Virtual Special Issue highlighting some of the incredible research published in the journal over the past 50 years. Click here to watch Ian Kinchin, former editor of JBE, and Mark Downs, RSB chief executive, reflecting on 50 years of the journal, with contributions from Sir Paul Nurse.
Example issue: Journal of Biological Education
Volume 50 Number 4 December 2016: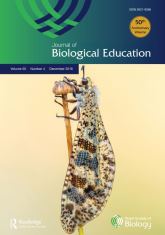 Editorial
'Idea Diversity' within Biological Education Research
Ian Kinchin
Commentaries
What do we mean by 'learning gains' within biological education?
Ian Kinchin
Towards the 75th Anniversary
David Slingsby
Articles
Instructional Integration of Disciplines for Promoting Children's Positive Attitudes Towards Plants
Emine Çìl
Hands-on Experiments on Predatory Behaviour with Antlion Larvae
Vesna Klokočovnik, Andrej Šorgo & Dušan Devetak
How to Identify and Interpret Evolutionary Tree Diagrams
Yi Kong, Trevor Anderson & Nancy Pelaez
Lack of Evolution Acceptance Inhibits Students' Negotiation of Biology-based Socioscientific Issues
S R Fowler & D L Zeidler
Differences in Curriculum Structure between High School and University Biology: The Implications for Epistemological Access
Roisin F Kelly-Laubscher & Kathy Luckett
Case report
An Interactive Multimedia Dichotomous Key for Teaching Plant Identification
Anne-Laure Jacquemart, Pierre Lhoir, Fabian Binard & Charlotte Descamps
Archive
The archive of the journal and the current issue can be accessed at Taylor and Francis online. Details of the editorial board, instructions for authors and the journal scope are also available. Read a sample issue.
Research Guidelines
All articles that appear in the JBE must adhere to the ARRIVE guidelines for the reporting of in vivo experiments. The guidelines have been developed by the NC3Rs to improve standards of reporting of animal experiments, and ensure research featured in the JBE is based on sound and ethical experiments.