News
Biology Week 2018: Jobs will not be replaced by AI and the world will not be overrun by robots, state experts at this year's Biology Week debate
Human jobs will not be replaced by AI and the world will not be overrun by killer-robots, an expert panel categorically told a packed-out audience at last night's Biology Week debate at the Royal Institution.
The event, chaired by writer and broadcaster Aarathi Prasad, was run by the Royal Society of Biology with support from the Biochemical Society, the British Pharmacological Society and The Royal Institution.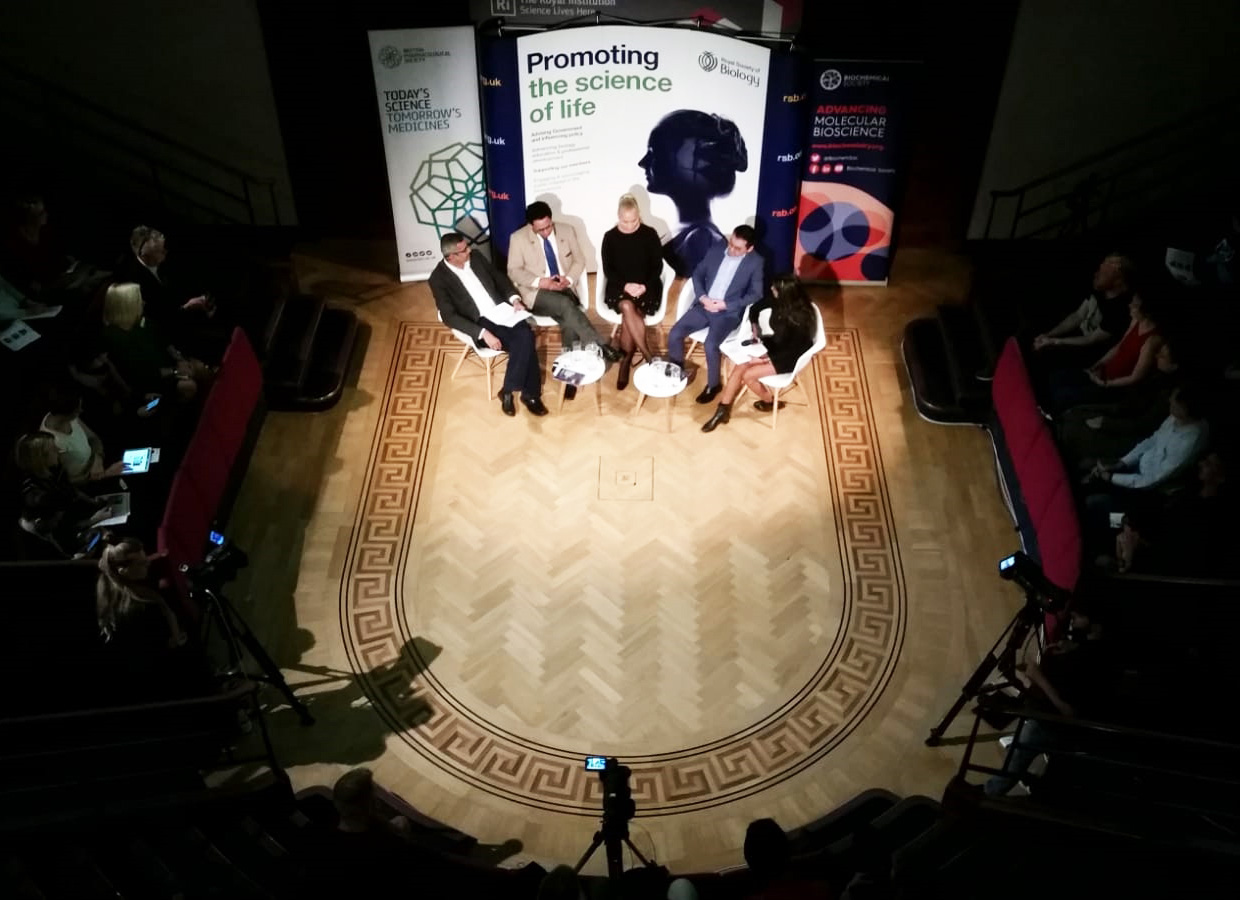 The Faraday theatre at the Royal Institution
In a wide-ranging discussion on the theme 'Can AI Save the World?', a packed Faraday Theatre heard how machine learning was being used to enhance human decision-making in a range of fascinating applications, but that there is no danger of artificial minds overtaking our own capabilities for a long time.
"We still know very little about how the human brain works," said Professor Maja Pantic, who works on machine analysis of human non-verbal behaviour at Imperial College London. "There is so much that we cannot currently model in neural networks.
"Whenever you hear anything about 'a general AI', just forget about it – there is no way we will have that in the next 20 or 30 years."
Professor Pantic explained how her work, which uses AI to track and analyse minute changes in people's facial expressions, could be used by clinicians to help spot the early signs of depression or dementia.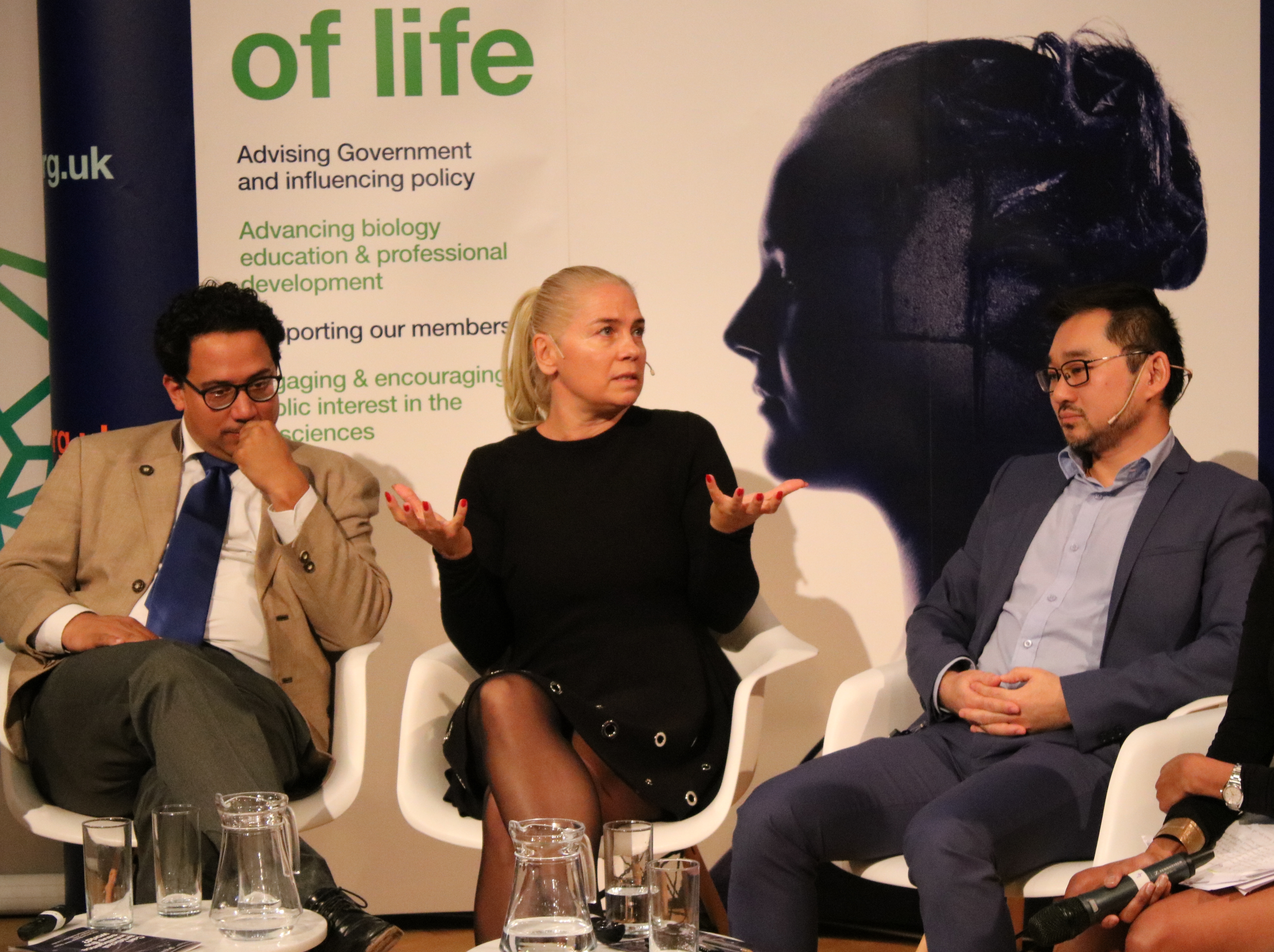 FLTR: Professor Faisal, Professor Maja and Dr Zhou
In the same vein, Nasir Rajpoot, professor of computer science at the University of Warwick, explained how AI is helping diagnose and analyse cancer from tissue slides with a degree of detail that would be impossible for even the most experienced histopathologist to do.
"Cellular pathology still uses 19th century technology – a person looking at slides with a microscope to diagnose cancer. With a digital scanner that digitises images of the slide down to microscopic resolution, it opens up new possibilities to analyse those images as data," said Professor Rajpoot.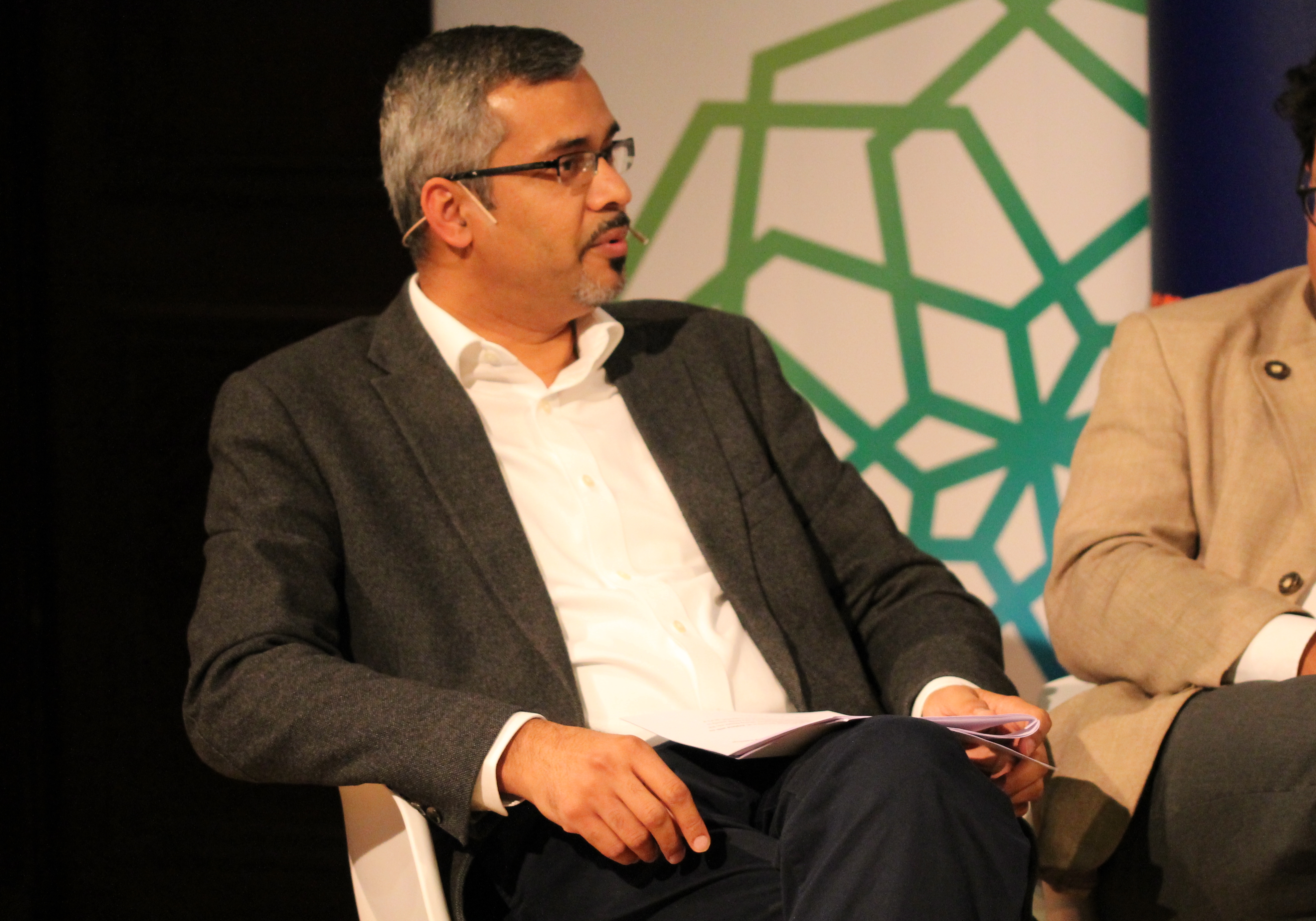 Professor Rajpoot explaining how AI can help with disease detection and diagnosis
"We can apply AI algorithms to detect and recognise different types of cells in the tumour microenvironment, which can give you an idea of what the state of the battle is between the cancer and the immune system 'on the ground'.
"Once you have the ability to recognise different cells you can look at higher order signatures of cancer that you cannot recognise with the naked eye, and put those in front of the clinician as objective measures of what is happening in that tumour."
The technology's key benefit would be assisting the NHS's massively overburdened histopathology units to make fast, personalised diagnoses. But the aim was certainly not to replace their expertise, said Professor Rajpoot.
"Will AI replace clinicians? No. But radiologists who do not use AI will be replaced by radiologists who do," he said.
The audience also heard from Dr Aldo Faisal, who leads the Brain and Behaviour Lab at Imperial College London and develops 'prosthetics for cognition' which can read people's intentions by analysing the precise direction of their gaze.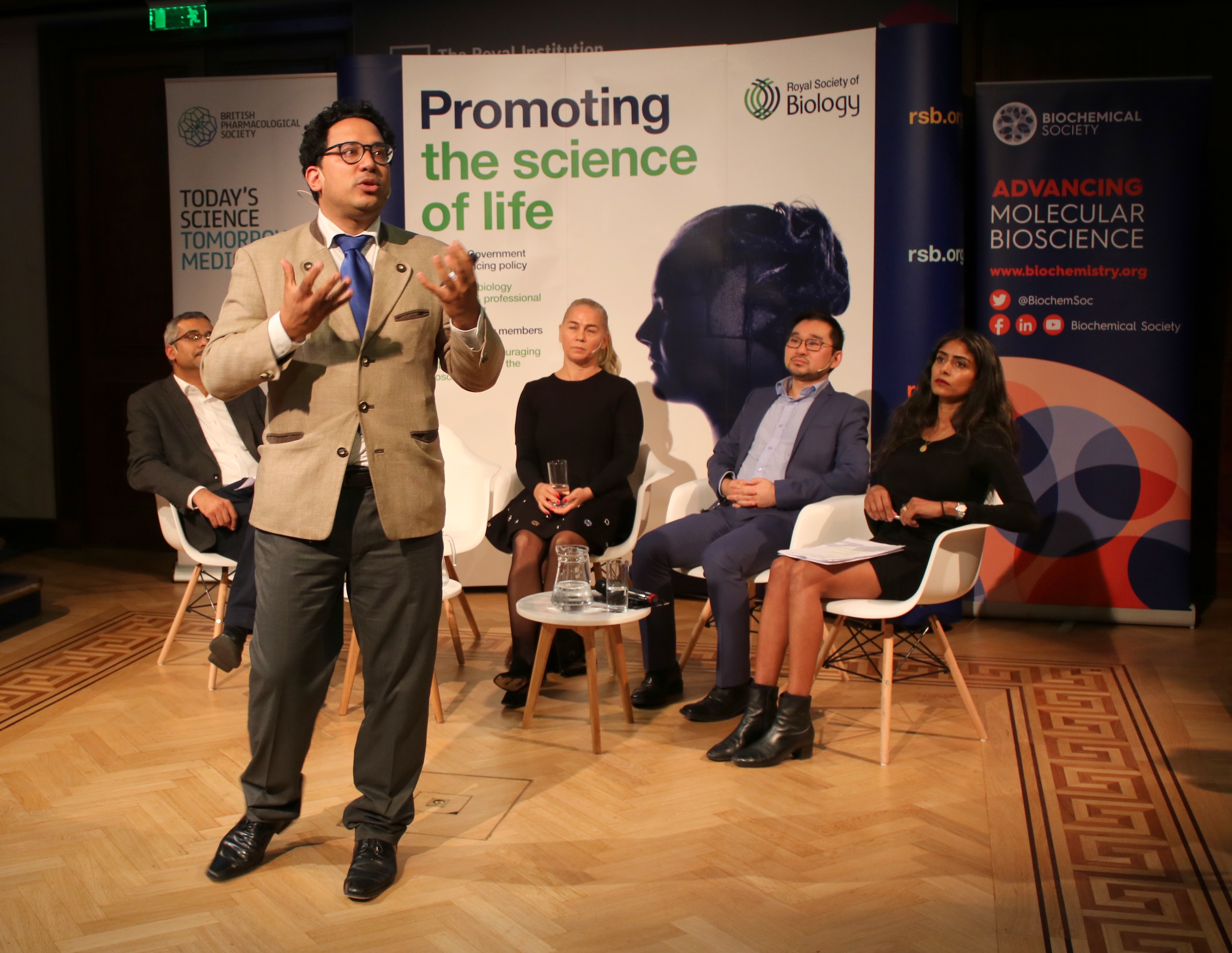 Professor Faisal detailing his research into using AI to better understand human movement
This intention can then be used to help direct a wheelchair, or prosthetic limb, or even help aid memory.
Answering questions on the nature of intelligence, he said that AI was clever in the same way as a person might sound clever "if they have been prepped for one specific task" – but that was not the same as broad, multifaceted human intelligence.
"The challenge we are facing is that there is this impression that an AI revolution is upon us, and everything is changing. Actually there is nothing new that we haven't known about neural networks for many years.
"What we are seeing is that the public imagination is captured by the fact you can now have a conversation with your phone or TV…this brings us into science-fiction land, and feels like things are rapidly progressing, faster than they are."
Dr Ji Zhou, from the Earlham Institute, explained how AI is being put to use in urgent, everyday challenges, such as increasing crop yield to feed the world's growing population.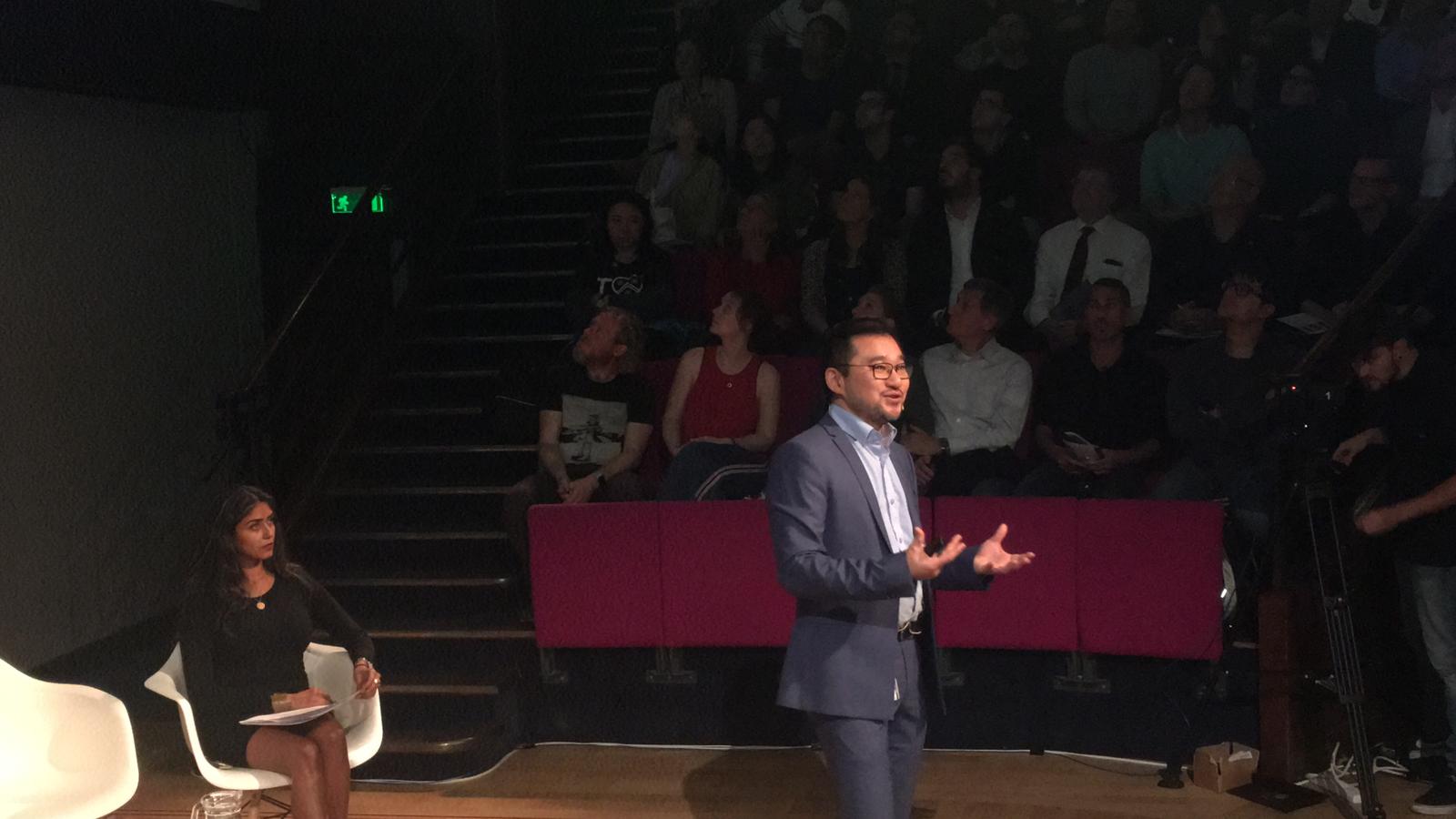 Dr Ji Zhou explaining how AI-based technologies are being used to understand plant stress and crop yield
By flying light aircraft over vast expanses of crops, hi-resolution bioimages can feed machine learning programs that give farmers precise information about which individual plants to harvest and when, increasing yield, and where to irrigate or spray chemicals, reducing resource use.
After the panel presentations there followed a lively debate, with the audience posing their questions to the panellists regarding their views on the future of AI and the potential challenges facing the field.
The panel highlighted post-Brexit funding and access to international talent, the development of quantum computing, and brain-to-brain interfaces as key issues in the development of AI in the future.
For those that were unable to attend, the debate is available to watch in full online and you can catch up with the debate over on twitter.